La Mirada (CA) High School is home to two heralded 2014 prospects that hold offers from the Buckeyes.
Tyler Luatua, the top-rated tight end in the class, was offered back in May, and Dallis Todd, a highly ranked wide receiver, joined him recently when he was offered about two weeks ago.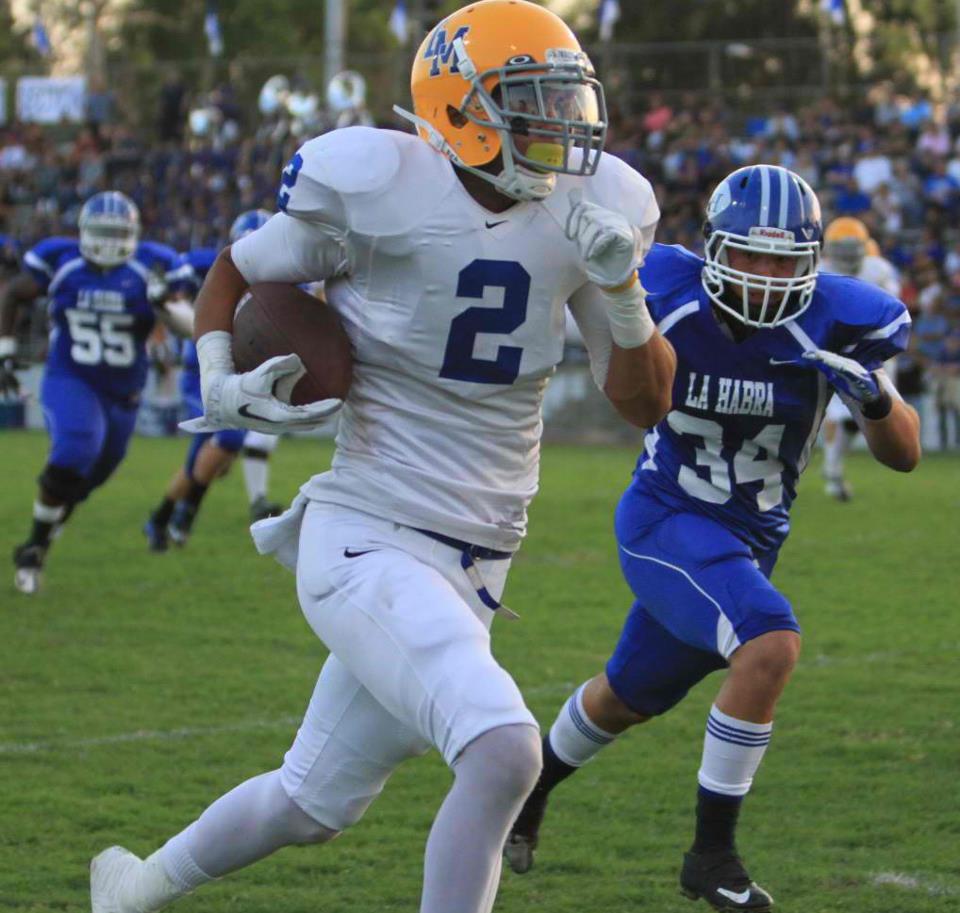 Todd's offer from Ohio State caught the eye of other schools. Since then, offers from Louisville, Clemson, Arizona State, Nebraska, and others have also rolled in.
At 6-5/210, Todd will most certainly be a wide receiver that will play on the outside in college, and can possibly outgrow the position to move to the H-back role in Urban Meyer's offense. Because of his size and athleticism, it is easy to see why the OSU coaching staff has chosen to pursue the California prospect early on.
The Buckeyes 2013 signing class was loaded at the slot receiver position, an area of weakness for the team during the 2012 season. With that position replenished, the Buckeyes' coaching staff will now focus on outside receivers for the 2014 cycle to complement the slot receiver types they just signed.
Ohio State has offered five juniors from California thus far, with Todd being the third. Riverside (CA) JW North TE Marcus Baugh signed with Ohio State last week. Can the Buckeyes strike it rich twice in as many years in the "Golden State"?
Keep reading to find out what contact between Dallis and OSU has been like, where the school stacks up compared to other programs, and if Todd will visit Columbus in the near future.
Ohio State offered recently. Is it an offer you were expecting?
The Buckeyes' coaches started to come around a bit more recently. Coach Moschetti told me that they weren't just interested in Tyler. They were also interested in me and our sophomore quarterback Kevin Dillman. I really didn't think it meant that I would get offered anytime soon, so it was pretty cool. It was one of my first few offers.
What coach do you stay in contact with at Ohio State?
Coach Hinton is the guy that comes and he is very cool. I call and talk to Coach Hinton on the phone at least once every week. He's the coach I talk to the most and have the best relationship with. 
What has the Ohio State coaching staff told you so far? 
They have assured me that I am one of their top targets at the position. My size at the position is what they like, and what they are aiming for this upcoming year in recruiting. They want the bigger guys that can play on the outside.
Being teammates and with both of you being juniors, would you consider yourself and Tyler Luatua to be a package deal?
We have talked about it, joked about it, and it would be a nice luxury and a cool thing but it is not a deciding factor. He has to do what is best for him and the same goes for me. If that makes us college teammates, then great. If not, that will be OK too. 
Have you taken any visits yet, have any planned, or know any you want to take?
I have not really dove into the recruiting process much or cared about it until basically now. I had not taken any visits and I want to look into a few schools more before I choose to travel far for a visit. I do want to get out to Ohio State in the spring though. That is one I definitely want to take and I should be able to. I have discussed going to the spring game. I know the game is not on their campus but I can make it a longer trip and see the campus also.
---