Last weekend my wife informed me she'd rather watch the Pro Bowl this year than the Super Bowl.
That got my attention, because the Pro Bowl is to football what pasteurized process cheese food is to real cheese. I had to ask her to elaborate about such a statement.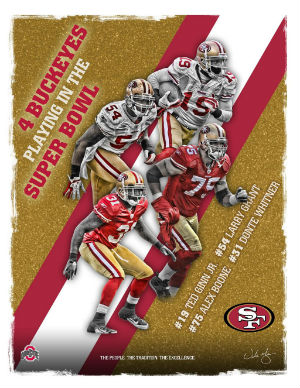 Her reasoning was actually kind of sound. She didn't like either team so she wasn't sure she'd enjoy watching either of them win a championship.
Perhaps, like my wife, you have no rooting interest in the Super Bowl. While you may not like either participant in this weekend's showdown, it doesn't mean there aren't some folks you can cheer for.
Four former Buckeyes will suit up for Super Bowl XLVII — all for the San Francisco 49ers. They've traded in their scarlet and gray for scarlet and gold.
Donte Whitner, Alex Boone, Ted Ginn Jr., and Larry Grant are all part of the rich heritage of Ohio State football. Each player's individual legacy is interwoven into the fabric of Ohio State football. Each is part of a larger, beautiful mosaic. In much the same way, a Geddy Lee bass line and a Neil Peart drum fill are both nice on their own, but together they form artistic brilliance.
All four ex-Buckeyes on the field Sunday will play their part in deciding the outcome of the NFL's version of the national championship game. Which one will provide a decisive play that could turn the game in his team's favor? All are capable.
Our purpose here is to discuss the four Super Bowl-bound former Buckeyes and what they'll be asked to do, to relive their time as Buckeyes, and to see how they got to this point in their careers.
Whitner is San Francisco's starting strong safety. He'll play a significant role in Super Bowl XLVII, being tasked with providing run support against Baltimore's Ray Rice, and also helping stop the Ravens' outstanding receiving corps.
The former Glenville Tarblooder graduated from high school and enrolled early at Ohio State in 2003. Whitner played three seasons for the Buckeyes from 2003-05, starting 18 of 35 games and posting 164 tackles, five sacks, 13 TFLs, nine passes defended, five interceptions, and two forced fumbles.
One of his five picks was a 25-yard touchdown return in a 34-14 win over Miami (OH) his junior season, when Ohio State had the No. 5 defense in the nation. He also fell on a blocked punt by Roy Hall in the end zone for a touchdown in a 19-10 home win over Iowa in 2003.
In January of 2006, Whitner announced he would forgo his senior season and join fellow juniors Ashton Youboty and Santonio Holmes in the 2006 NFL Draft. It was a smart decision, as the Buckeye junior was drafted eighth overall by Buffalo.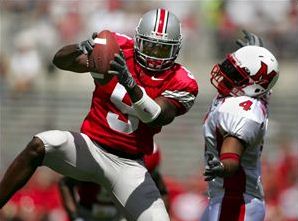 He spent five seasons with the Bills, helping them finish in the top 10 in pass defense three times. The 49ers signed him as a free agent in 2011, where he quickly made a name for himself with his physical play, culminating in being named a Pro Bowl starter this season.
The seven-year pro made 83 tackles during the 2012 regular season — good for third on the team. His 62 solo stops also placed him third on one of the NFL's best defenses. Whitner forced two fumbles, recovering one. His biggest highlight was a 42-yard pick-six at New Orleans in Week 12.
Of the four Buckeyes who will be in position to make a game-changing play, Whitner will likely get the most opportunities to do so.
Boone is a starting right guard for the 49ers. He'll be tasked with protecting quarterback Colin Kaepernick and opening holes for running back Frank Gore, LaMichael James, and Kaepernick.
A three-year starter and two-time All-Ohio selection at Cleveland's (or, more accurately, Lakewood's) storied St. Edward High School, Alex Boone was a highly prized recruit. He appeared in 46 games for Ohio State in his four seasons (2005-08), starting 35 games — 22 of those at left tackle.
Boone is much more maligned in Buckeye lore than one might expect from a two-time All-Big Ten selection who achieved All-America honors as a senior. This, of course, has a lot to do with his battle with alcoholism, which included a DUI citation while at Ohio State. Thankfully, things seem better in that regard these days, but as any addict knows, you never fully recover so much as you learn to keep the addiction under wraps. It's a fight that never ends.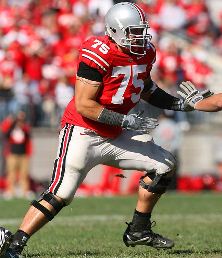 Boone's arrest in 2009 following a drunken tirade after a Super Bowl party was at least partially responsible for his slide out of the 2009 NFL Draft. Rather than wallow in self pity, Boone responded in a positive way. He signed with the 49ers as an undrafted rookie free agent for a $10,000 signing bonus and went to work. He spent his rookie year on San Francisco's practice squad.
After his rookie season, Boone returned to Ohio and worked with another former Buckeye, LeCharles Bentley. Under Bentley's tutelage, Boone dropped 40 pounds, added back 25 pounds of muscle and learned what it takes to become an NFL player.
In the fall of 2010, he made the 49ers roster but was inactive for the season's first 16 weeks, making his NFL debut in the second half against Arizona in the final game of the season, playing left tackle.
Last season, Boone played every game on special teams and in short yardage situations, and saw spot duty on the offensive line, including filling in for injured left tackle Joe Staley. He continued to progress and earned his place in the starting lineup on Sept. 9, 2012 at Green Bay — at right guard. He remained a starter and, along with his linemates, won the Madden Most Valuable Protectors Award three times this season.
With Boone's help, the 49ers became the first team in NFL history to have two 100-yard rushers and a 100-yard receiver in the same playoff game. That feat came against Green Bay on Jan. 12. Boone also helped the 49ers rack up a playoff franchise record 579 yards in that game.
Regardless of the outcome of the game, it's hard not to admire how far Alex Boone has come.
Ted Ginn Jr. is listed as San Francisco's first-team punt returner/kick returner and a backup wide receiver. Above all, he'll be asked to do no harm — to secure the football in the return game and not to take unnecessary chances. Beyond that, if the opportunity presents itself, the 49ers would like him to change the game the way he's done so many times before.
In addition to his return duties, Ginn may get some snaps at receiver. When he does, he'll be asked to get open and catch the football, which are two things he hasn't always been able to do during his NFL career.
Ginn was a multi-sport star at Glenville High School, primarily in track, where he was a national high school champion in the 110-meter high hurdles his junior year, and in football, where he played numerous positions for his coach/father whose name he shares. He played wide receiver, running back, quarterback and returned kicks, but he really shone as a defensive back, earning Parade All-America and USA Today Defensive Player of the Year honors his senior season. His punt return touchdown helped him win MVP of the U.S. Army All-America game.
Thus, Ginn was a well-known commodity when he arrived at Ohio State in 2004, as a consensus five-star recruit at defensive back — he had also been recruited by Ohio State's track staff. What wasn't yet known was that he'd be an offensive player in college.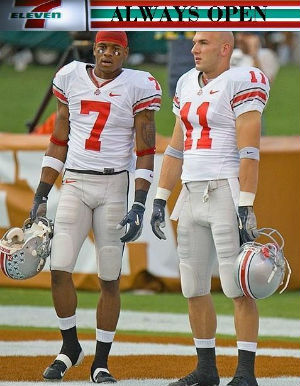 He played three very memorable seasons in Columbus from 2004-06, electrifying Buckeye fans with touchdown catches, returns, runs and even a 38-yard scoring pass to tight end Rory Nicol against Indiana in October of 2006. You remember his greatest ever start to a Buckeye bowl game even though you also recall all of the bad stuff that happened afterward. [Roy Hall'd]
Teddy Ginn put together a remarkable three years at Ohio State. He made 31 starts and played in 37 games, catching 135 passes for 1,943 yards and 15 touchdowns. He carried the ball 28 times for 213 yards and three more scores. He returned six punts and two kickoffs for touchdowns, tying an NCAA record for total return TDs. He picked up All-B1G and second team All-America honors his junior season.
And after all of that, it still hurt when he announced he would leave Ohio State early to enter the NFL. It was all the more painful because he wasn't going alone. Anthony Gonzalez and Antonio Pittman also left early.
Ginn was drafted ninth overall by the Miami Dolphins in 2007. As a lifelong Miami fan, I remember that day well. The Dolphins picked one of my favorite college players and I was still unhappy about it, owing to the team's perpetual need of a quarterback since the retirement of Dan Marino. Still, the results were likely better than if Miami had taken Brady Quinn with that pick, as expected.
Unfairly, Ginn caught a lot of flak from Dolphins fans — more for who he wasn't than for who he was. Still, he started nine games his rookie year of 2007 and set a franchise rookie record for all-purpose yards, with 2,086. He was sixth in the NFL in punt return average (9.6) and put up the second most kickoff return yards in franchise history (1,433). Oh yeah, he also caught 34 balls for 420 yards.
He played two more seasons in Miami in 2008 and 2009, starting 26 games and making 94 catches for 1,244 yards, but only three touchdowns. During that time, Ginn wasn't exactly working with the league's best quarterbacks, but he didn't help his own cause by dropping some would-be touchdowns along the way. On the plus side, he scored two more return touchdowns and had several others called back on holding penalties.
In April of 2010, Ginn got new NFL life in San Francisco when the Dolphins traded him for a fifth-round pick. The Niners have primarily used Ginn as a return man, and it has paid off. Ginn was third in the NFL in punt return average his first season by the Bay, and scored on a 78-yarder against St. Louis.
He already ranks fourth in career punt return yards in team history and is the only player for the 49ers to ever return both a punt and a kickoff for a touchdown in the same game, a feat he accomplished against the Seahawks in 2011. He also set a franchise record with 268 return yards in that game.
If anyone can turn Sunday's game in just one play, it's Ted Ginn Jr.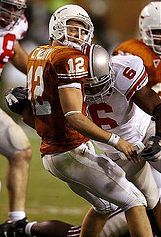 Larry Grant is a backup inside linebacker, playing behind NaVorro Bowman and Patrick Willis. He'll play on special teams, but likely won't see much time on defense unless there's an injury ahead of him on the depth chart. Still, he's capable of making a big play, as he did against the New York Jets on the road on Sept. 30, when he blocked a punt in the fourth quarter, giving his team a first-and-goal situation.
Grant was born in Sacramento, California, and played high school football at three different schools — Foothill High in his hometown, and two stops in Georgia. After high school, he went the JUCO route at City College of San Francisco, where he earned JUCO National Defensive Player of the Year honors in 2005 and played in two straight national championship games. He'd make it four straight after transferring to Ohio State. While in junior college, Grant blocked an amazing 12 kicks — a JUCO career record — and recorded 10 sacks and six interceptions in 24 games.
In 2006 and 2007, Grant played in 25 games at Ohio State, 14 as a starter. He blocked three more kicks in his two seasons in Columbus and notched 69 tackles, 5.5 sacks, two picks and a forced fumble. His time as a Buckeye ended after the loss to LSU in the 2008 BCS National Championship Game.
The 49ers drafted Grant in the seventh round in 2008 and he was signed to the practice squad. St. Louis signed him away late that season and he ironically made his NFL debut against the Niners.
Grant spent all of the 2009 and 2010 seasons in St. Louis, earning more playing time. He played in all 32 games during that span and started eight in 2010. The Rams released Grant in July of 2011 and the 49ers signed him the next day. He played in all 16 games in 2011, starting three for an injured Willis. He acquitted himself well in Willis' absence, and set career highs in tackles (30) and solos (20) in 2011.
He returned to his reserve role this season but appeared in all 16 games once again. His prowess as a special teamer continues to make him a valuable member of an NFL roster, and his blocked punt against the Jets shows he still has a knack for getting to the punter.
Although he may be the least likely ex-Buckeye to do so, don't count Grant out for making a decisive play in Super Bowl XLVII.
So, even though you may not care for either team playing on Sunday, it's good to know that there are at least four men on the field you can feel good about cheering on.