Mornin' Sunshine!
My dad asked earlier this week "who gives a s--- about Lance Armstrong and this Montee Ball's fake girlfriend?" So, rest assured, I won't be talking about Lance Armstrong OR Montee Ball's fake girlfriend in this week's Skull Session.
You're welcome, Dad.
SWITZERLAND. ESPN.com reported on Thursday that as the B1G undergoes some changes over the next couple years, Ohio State athletic director Gene Smith would like to see some neutral-site conference games, should teams be playing nine or 10 conference home games starting in 2014.
Recent additions to the B1G, Rutgers and Maryland, have stadium capacities of roughly 53,000 and 54,000, respectively. Should they be willing to move home games with Ohio State, for example, to neutral sites, they could be increasing capacity by at least 30,000 seats, giving more displaced Buckeye fans on the East Coast a chance to see Ohio State live.
Rutgers has already played home games on neutral sites, and received roughly an additional $2.7 million for the switch. The B1G has already had a couple conference games at neutral sites. Indiana, for example, played Penn State at FedEx Field in 2010, pocketing an additional $2 million over what they usually make for home games.
While certain programs value their home games too much to give one up, this could be interesting to see if certain B1G programs cash in on this idea.
 JOHN SIMON. The Senior Bowl will take place tomorrow in Mobile, AL, giving NFL coaches, scouts and personnel a chance to watch the players they've been watching in practice all week, in a game.
One player who won't be able to show off his talent tomorrow is Ohio State DL John Simon. Simon played at the LB position for one practice this week, but Zac Jackson of FoxSportsOhio.com reported that Simon will be forced to sit out of the game with a lingering shoulder injury from last season, and will be examined by orthopedic surgeon Dr. James Andrews. While Simon sat out the Michigan game in November with a knee injury, he said earlier this week that his knee is completely healed.
Simon was the only Ohio State player on the Senior Bowl North roster this year.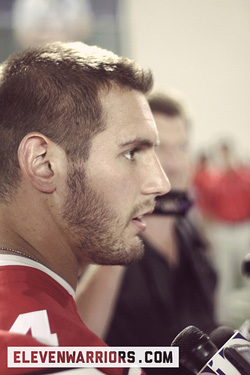 THAT QB/WR UP NORTH. Mlive.com reported on Wednesday that Denard Robinson's practices at the Senior Bowl, as a wide receiver, aren't going so well. He's apparently dropping balls, rounding off corners on his routes, and not getting out of breaks explosively.
As much as I'm not a Denard or TTUN fan, I do have to cut him some slack and point out that, well, he's new to the position and it's expected that he wasn't going to blow anyone away right away. On the other hand, does anyone really think he's the next Jerry Rice?
Despite the fact that he also looked below average on punt returns, NFL Network analyst Charles Davis isn't ready to write him off just yet.  
"It takes some time with guys," Davis said. "We're expecting him to come out right away and run every route correctly and do this, that and everything. That's just not fair to him."
DUDE SOUNDS LIKE A LADY. While I won't be talking about Montee's fake girlfriend, I do have a couple updates on Manti Te'o's saga.
While the original Deadspin story on this whole Manti mess said that the woman in the photographs was a former classmate of Ronaiah Tuiasosopo's, the NY Daily News reported that Tuiasosopo was the voice of "Lennay Kekua" during the long phone conversations with Te'o.
Talk about pouring salt in the wound of things that Te'o won't be able to live down in an NFL locker room... according to phone records he spent 500 hours having intimate conversations with a dude.
Speaking of NFL locker rooms, while it seems that a decent amount of NFL players are convinced that Te'o is gay, he was asked about his sexuality in his first television interview since the Deadspin story, by Katie Couric, which aired on Thursday.
Couric says to Te'o that one of the many theories is that he was complicit in this hoax, as part of a coverup of his sexuality, and then asks if he's gay. In response, Te'o says, "No. Far from it. Faaaaar from it." 
So, because he apparently really wants everyone to know, I'll assist in his efforts to spread the word: Manti Te'o bangs chicks.
And, with that, it seems this story has hit its peak already, and I likely won't be talking about it next week. RIP Lennay Kekua. You are dead to me. For real, this time.
LINKS. LINKS. LINKS. Such a great story... Two of your favorite guys, I'm sure... Interesting perspective on the Manti situations... But this is pretty great too... Johnny Football. Dude Perfect... In case you happened to have missed this before, I laugh every time.