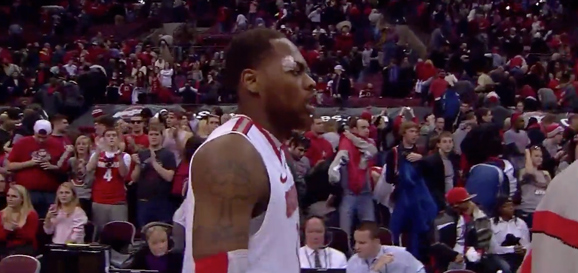 COLUMBUS, Ohio – Defense has been Iowa head coach Fran McCaffery's secret weapon in the Hawkeyes' re-emergence this season. But for the first 28 minutes against Ohio State, it was another road no-show for Iowa. Carver-Hawkeye Arena this was not. 
The Buckeyes led, 53-29, and looked well on their way to holding serve in the Big Ten title race. Losses to good teams on the road – what Ohio State experienced at Michigan State on Saturday – are tolerable in small numbers. Once you fall at home, though, all bets are off.
The 24-point lead seemed like a return to normalcy for No. 14 Ohio State. The scoring was spaced out among seven different players instead of just Deshaun Thomas and turnovers took a backseat to assists off crisp passes.
Then Thomas was elbowed above the right eye, causing a large gash that sent him to the locker room for three minutes. At the same time, McCaffery reminded his team what got them into position to be mentioned among the top-half of the conference: defense.
Fourteen second-half turnovers by Ohio State allowed Iowa to slowly get back into the game, until what once seemed to be an insurmountable lead eventually fell to just four points.
"We dug in defensively," McCaffery said. "A lot of times teams don't have the maturity and the patience to chip away. Once we got a couple steals we got them a little sideways by scrambling a little bit and trapping. We got a couple turnovers, easy baskets and got the free throw line."
A lax defense that was present for much of the game turned into a full-court press, and it was something Ohio State was not prepared for. Point guards Aaron Craft and Shannon Scott had eight of the Buckeyes' 17 total turnovers. Iowa scored 22 points off those miscues.
"That's unacceptable," Craft said. "I had a couple turnovers down the stretch that you just can't have when you want to close out games. Before you know it, you have to find ways to make plays at the end.
"Iowa sped us up and got us out of our rhythm. We finally found a press-breaker we liked, and it started working. They weren't relaxing after one pass, they continued to come and it got us off guard and caused some turnovers."
When it became a free-throw shooting contest in the final 1:30, Ohio State outscored Iowa, 9-4, to close out the 72-63 win.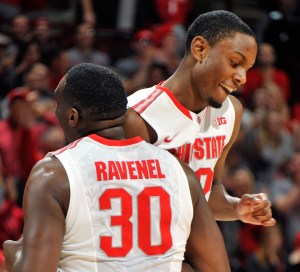 On the coldest day of the year, the Hawkeyes finished 13 of 26 from the free throw line and a dismal 22 of 62 from the field. Otherwise, it may have been a nuclear winter in Columbus. A loss would have sent them tumbling to a 3-3 record in the conference entering Saturday's game at Penn State. Instead, the Buckeyes are 4-2 and still firmly in the hunt for a fourth straight Big Ten championship.
"A win is a win in conference play," Craft said. "That was a big win for us to try to keep us in the hunt. We still have a lot of basketball to play. We didn't do it in the prettiest way. We didn't finish the way we probably wanted to, but we got the win."
Similar to Ohio State, Iowa's four Big Ten losses have all come to ranked opponents – Michigan, Indiana, Michigan State and Ohio State. The Hawkeyes are now 2-4 in the Big Ten.
Thomas finished with a team-high 16 points and seven rebounds despite his bloody cut, Craft and Lenzelle Smith Jr. had 12 points each and Evan Ravenel added 11. Craft had four steals, setting the career steals record at Ohio State, surpassing former record-holder Jay Burson. 
Perhaps the most curious stat line of the night belonged to Amir Williams, who finished with six blocks and zero rebounds.
"I felt I was going after too many blocks and got myself out of position to rebound the basketball," he said. "That's something Coach Matta has talked to me about, getting blocks but staying in position. It's something that's really fixable."
Strongsville, Ohio, native Aaron White led Iowa with 13 points.
Iowa outrebounded Ohio State, 40-34 overall and 22-11 on the offensive glass. Those 22 rebounds helped the Hawkeyes enjoy 24 second-chance points. Unfortunately for Iowa, its season leader in scoring, Roy Devyn Marble, finished 2 of 11 form the field with eight points. He was also 3 of 6 from the free throw line.
The Buckeyes became just the second team this season, along with Michigan, to shoot better than 50 percent from the field against Iowa. The Buckeyes never fell below 50 percent in either half, finishing 27 of 52 (51.9 percent) for the game.
"I do think in the league we're in you take your wins and semi-celebrate them," Ohio State head coach Thad Matta said. "But then you say, 'How do you get better?'"
Said Ravenel: "We're happy we got the win, but we aren't happy the way we won."