Beyond a start of a new chapter for Ohio State football, the 2012 season served as the 10-year anniversary of the national championship team from 2002.
Upsetting the favored and undefeated reigning champion Miami Hurricanes, Ohio State's 2003 Fiesta Bowl triumph started what was a decade of dominance for the Buckeyes. In the 10 years that followed, Ohio State had two undefeated regular seasons (2006, 2012) and won five conference championships from 2005 to 2009.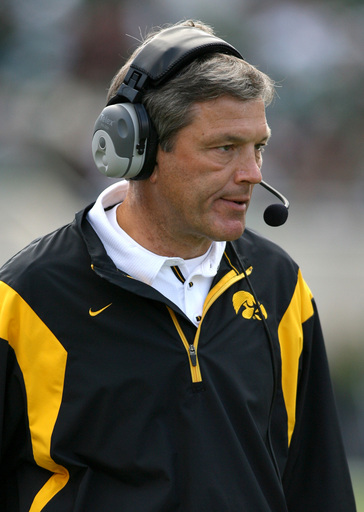 It started with that 2002 team, which may have been the second biggest story of the Big Ten that year.
Yes, the story of the 2002 season in the Midwest, heading into December, was the Iowa Hawkeyes football program, which also experienced a renaissance. Sharing a league title with the undefeated Buckeyes, and losing only to Seneca Wallace's Iowa State team, Iowa took home nearly all the individual accolades. 
Kirk Ferentz was the Big Ten Coach of the Year and Walter Camp Coach of the Year. Brad Banks, who I still think should have won the Heisman Trophy in 2002, was the AP Player of the Year and Davey O'Brien Award winner. Nate Kaeding and Dallas Clark, familiar names for those of you that follow the NFL, won the Groza Award and Mackey Award, respectively. That team had five first team All-Americans, two consensus selections. 
Their season ended with a deflating loss to USC in the Orange Bowl, which had its own renaissance that carried into the next six years. However, that team was the start of something as well. 
From 2002 to 2004, Iowa won two Big Ten championships and 31 games. Iowa finished in the top 10 each of those three seasons.
The years that have followed have not exactly been great. Minus a surprising 2009 run that saw the Hawkeyes win 11 games and the Orange Bowl, mediocrity has prevailed in Iowa City.
Iowa has won more than eight games since 2004 just twice, including that 2009 team. Five of the eight seasons have ended in seven wins or less. The most recent was an abysmal four-win campaign.
Despite all this, Kirk Ferentz seems more secure in his job than he ever was previously. Until recently the highest compensated coach in the conference, Ferentz' job security is never in question. Much of this is Kirk Ferentz' contract. Kirk Ferentz can never win another game and his near $18 million buyout would still make it impossible to fire him. 
If the buyout is making it difficult to hold Ferentz accountable for the downturn in Iowa football, it is but a symptom. In this article, I propose that the problem of Iowa football is one that is familiar to the rest of the conference. 
Iowa is not doing well in recruiting, has subpar facilities, and an assistant coaching staff that may leave a lot to be desired. Kirk Ferentz' albatross contract has only magnified the scale of Iowa football's issues.
Evaluating Iowa's recruiting efforts past 2002 is difficult. Rivals and Scout's services only date to 2002. It also seems like much of the foundation for those 2002-2004 teams, including players like Robert Gallery, and Bob Sanders (among many others), predate what is available. 
Still, there a few patterns to emerge.
First, it is clear Iowa cannot survive on in-state talent alone. A state of only three million people, Iowa does not produce a lot of talent. Even though it is of similar size to Oklahoma, and even Alabama and Mississippi for that matter, it lacks the contiguity with great prep states like Texas and Florida. 
Thus, Iowa's reach already needs to be extended. At the height of Iowa's three-year renaissance, it had done fairly well in tapping two states in particular for talent: Illinois and Texas.
Texas has produced a fair bit of talent for Ferentz, including the Nathan Chandler (via JUCO), Scott Chandler, Charles Godfrey, and Drew Tate. Since then, Iowa has usually signed about one player from Texas a year. This has not always worked out well for Iowa of late.
Much of the signees have not panned out for one reason or another, including players like Jacody Coleman, James Cleveland, and Justin Collins. If Iowa has struck out with a lot of these players that eventually leave the program, it may need to make it a higher priority to sign more from the Lone Star State. Presently, Iowa has one commitment from Texas in the 2013 class.
The other state that may have been even kinder to Kirk Ferentz is Illinois. Illinois, while not the best state for prep football, is a natural pipeline for the Iowa Hawkeyes. Chicago, the focal point of the state, is about three hours from Iowa City via I-80 or I-88. Further, kids from Chicago have nearly zero loyalty to in-state Illinois or Northwestern, making them open season for any program across the country. 
The biggest payoff of Iowa's recruiting efforts in Illinois may have been 2005, which saw Ferentz sign Jake Christensen, Dan Doering, Tony Moeaki, and Dace Richardson. All four were significant contributors in various ways to Iowa football and Moeaki is making a nice living in Kansas City for the Chiefs right now.
Of late, though, Iowa has not done as well in Illinois as it had in the past. The overall numbers from Illinois signed are still there, but the quality really isn't (C.J. Fiedorowicz is an exception). Of all possible culprits, I think Notre Dame and, yes, Charlie Weis, played a big role in this. 
Charlie Weis did a lot of things wrong as coach at Notre Dame, but recruiting wasn't one of them. Notre Dame's reach has been national in scope, but, for Iowa, its effect in Chicago and the rest of Illinois has made it more difficult for Iowa to gain an audience with recruits that it might otherwise attract. 
Further, I think the cat's out of the bag now regarding Illinois recruits. Whereas Oklahoma was the only non-Big Ten or Notre Dame school that did well in Illinois previously, other suitors have come calling. For example, the top three recruits from Illinois this year are going to Ole Miss, USC, and Louisiana State, respectively.
For Iowa, the message should be to try much harder to compete with Ohio State (which took Illinois' no. 1 player last year) and Michigan, which will sign the #4 player from Illinois and, for kicks, signed the #1 player from Iowa last year. 
Ferentz may also want to be more open to JUCO players who can and will go anywhere. JUCO players are a big reason for Kansas State's success and Iowa is already home to one of the better community college football programs.
In addition to falling a bit short in recruiting, which is the lifeblood of any college sports program, Iowa's football facilities leave a bit to be desired. Make no mistake, football-specific facilities are becoming the arms races of college football. 
For example, it is easy to think that the flashy uniforms get recruits' attention when thinking about Oregon, but it's the facilities that often sell them. Oregon, a state that has only about 800,000 more people than Iowa, also needs players to come to Eugene from far and wide (including Texas). Seeing the facilities where they will spend much of their time lifting or relaxing becomes an important recruiting pitch. 
It's a big reason for why Oregon has become nouveau riche of college football, and why Ohio State, for example, is doing fantastic.
Iowa's facilities are scheduled for an upgrade. As late as 2012, Iowa had an indoor practice facility, "The Bubble", which it shared with other sports, an outdoor facility, and an administration building. The new facility expansion will have a budget of $36 million and revamp the existing Hayden Fry Football Complex in order to become a more luxurious place for Iowa football. It will certainly help Iowa compete with regional heavyweights Ohio State and Michigan.
Finally, Iowa seems to be having issues with its assistant coaching group. Namely, it may be that Kirk Ferentz has become so expensive for Iowa football that the athletic department is not finding it in its interest to help Ferentz by paying for the best assistant coaches it can find. 
Iowa, right now, spends $2.1 million on assistants, sixth in the conference.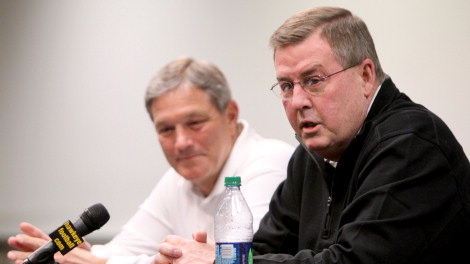 Iowa has already had a few notable defections after the 2011 season. Norm Parker, the excellent defensive coordinator for Iowa, retired after the 2011 season at the age of 70. Ken O'Keefe, who could frustrate Iowa fans at times, left his position as QB coach and offensive coordinator to become the wide receivers coach for the Miami Dolphins.
I found two other moves, though, to be even more telling. 
For one, Iowa lost its defensive line coach, Rick Kaczenski, to Nebraska in a lateral move. Kaczenski, who is not from Nebraska and had no other connections there previously, left Iowa for the same position under Bo Pelini.
The primary motivation may have been money. The lowest-paid assistant under Kirk Ferentz, Kaczenski got a pay raise of about $50,000 for taking the job with Iowa's new rival. Kaczenski had mostly negative reviews from Iowa football fans regarding his responsibilities for recruiting Florida (related to other points raised in this article), but his evaluation as defensive line coach was mostly positive.
The other move I found interesting was replacing the previously mentioned Ken O'Keefe with Greg Davis, whose credentials have long been inflated for having the Texas Longhorns' talent at his disposal and for being connected to Vince Young. 
However, one man's trash became another Kirk Ferentz' offensive coordinator. The end result was a season which saw three and outs start with two zone plays to set up 3rd and 7, and end with a three-yard out route. Iowa won four games last season, finishing next to last in total offense (ahead of only two win Illinois).  
Naturally, Greg Davis is returning for a sophomore season as Iowa's offensive coordinator.
If Iowa is going to compete under Kirk Ferentz, it could do better to attract higher quality assistant coaches and compensate them well, disincentivizing them to make lateral moves to conference foes.
However, this is really nothing exceptional. Iowa's downturn is highlighted only by reference to its three-year stretch from 2002 to 2004. Iowa's problem is no greater than anything else the rest of the conference is facing.  
The $2.1 million afforded to Iowa's assistants is the median for the conference. Wisconsin is next to last among the public Big Ten schools, which is a pivotal reason why Bert left Wisconsin for Arkansas.  
No team in the conference outside of Ohio State and Michigan is recruiting on a national championship caliber. Further, most programs outside of the "big name" programs in the league — Ohio State, Michigan, Penn State, and Nebraska — do not have world-class facilities to attract the top recruits.
As such, Iowa's plight is not terribly exceptional. The implication is that it is even solvable in the short term, especially if you still value Kirk Ferentz' reputation as offensive line coach, game manager, and teacher of zone blocking. For the most part, I do.
However, Ferentz' $18 million buyout is exceptional. If Tim Beckman face plants in 2013 as he did in 2012, despite some of the added commitments he got from Illinois for things like assistant coaches, he becomes a relatively easy person to replace. Kirk Ferentz, though, was essentially tenured for his 2002-2004 seasons and set for life as an inducement to not jump ship to the NFL.  
Iowa's problems are solvable, only if Kirk Ferentz commits to having them solved. Gary Barta has already conceded all the leverage for Iowa's football fortunes to Kirk Ferentz.