When Ohio State sprinted out to leads of 16-3, 26-6 and 29-8 against Michigan on Sunday, many wondered where that offense was all season. In losses to Duke, Kansas and Illinois, the Buckeyes' scoring chances were limited and mostly came on low-percentage jump shots.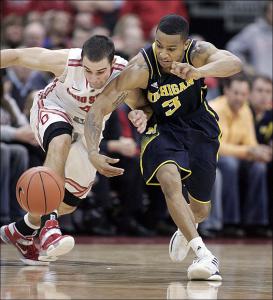 Knowing that trend could not continue if Ohio State wanted to knock Michigan from the land of the unbeatens, Thad Matta urged the Buckeyes to pick up the pace and attack the rim. Ohio State did so with regularity, scoring 28 of their 56 points in the paint, en route to a 56-53 victory.
But it wasn't an elaborate offensive gameplan that ushered the Big Ten's three-time defending champion back into the league's consciousness. Instead, defense was the engine the Buckeyes used to establish themself as a threat to Indiana, Michigan and the rest of the nation's top conference.
At the heart of the turnaround was, guess who, Aaron Craft. To this point, Craft's year has been filled with sluggish offensive performances and critics in his ear diminishing what he brings to Ohio State.
He can't win without Jared Sullinger. Shannon Scott should start over him. Matta made a mistake betting on  Craft and not offering Trey Burke. It's all been said.
Craft played through it and his defense rarely waned. But in a matchup with Burke, whose first 16 games created national player of the year talk, Craft operated at a level few college basketball players can approach.
And he did it alone.
The bulldog of a defender barked at his teammates to stop helping on defense. Craft didn't need help with Burke.
"He had a unique way about him today before the game," Matta said of his pit bull of a guard. "As a coach, you study body language, you study the facial expressions of your players. I knew he was going to be ready to play at the level we needed him to."
What Ohio State needed was a Herculean effort. Even at home, the Buckeyes were staring at a 2-2 start in the Big Ten with a trip to East Lansing looming. The last thing the Buckeyes wanted or needed was to play from behind in a conference that has an entire lot full of bullies.
Understanding the magnitude of the mid-January tussle, Ohio State put on a show for the sold-out, ear-rattling crowd. Michigan was held to a smorgasbord of season lows – points (53), field goal percentage (38.3 percent) and field goals made (18). It entered the game scoring 81 points and converting over half its field goal attempts. The defense didn't just put a cap on the Wolverines' scoring opportunities; they also created offense on the opposite end of the court. Ohio State turned 13 Michigan turnovers into 18 points.
Burke finished an underwhelming 4 of 13 from the field with 15 points. He only had one basket in the first half. The rest of his stat line read: four rebounds, four assists, four turnovers. Not exactly inspiring.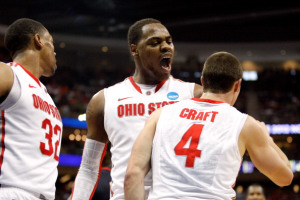 "He's one of the best defenders," Burke said of Craft. "You've got to give him credit, he's a great defender. I love playing against him because he makes me better, he makes me work."
Said Michigan head coach John Beilein: "Thad's teams have always been this way, but this one, the perimeter defense in particular is exceptional. Craft is as good as there is, as good as I've ever seen. He's tremendous. I just applaud that."
No other player brings out the best in Craft quite like Burke. The two Ohioans have squared off four times while three of the games have featured vintage Craft defensive performances.
Due to the dynamic involved, it's apparent both Craft and Burke take the one-on-one showdown personally. But Burke hasn't learned how to channel that energy into a positive outcome on the court.
"When you tend to make things personal in games like this, you tend not to play your best," Craft said. "He's still learning. He's a sophomore, and the sky's the limit for him at this point."
Burke nearly went into orbit in the closing seconds. A step-back three-pointer that would have given Michigan the lead went halfway down before the home crowd willed it out the basket. All Burke could do was look to the heavens and shake his head in disbelief.
"It was a good shot with the clock running down," said Beilein, still having trouble fathoming how the ball didn't go in. "Halfway down."
"I thought he made it," Craft said.
Tim Hardaway Jr. only made five of his 15 attempts from the field and freshman sensation Nik Stauskas went scoreless. Stauskas entered the game as the Big Ten's top three-point shooter, converting more than 52 percent of his attempts, but on Sunday he finished 0-fer from beyond the arc.
"They weren't leaving him," Burke said. "Ohio State did a great job of taking him away."
That was the goal.
"We told our guards we had to chase hard and try to make him put it on the floor and make some decisions," Craft said. "Don't give him anything easy quickly."
Ohio State's team defense was the theme in a week that vaulted them back into the college basketball stratosphere. At 11-3 to begin the week, the Buckeyes' obituary was already being written, the 2012-13 season being deemed a complete bust.
But on Tuesday night in West Lafayette, Ohio State held Purdue to just 38 percent shooting at Mackey Arena. DJ Byrd, who has been a thorn in the Buckeyes' side, only attempted six shots and finished with six points.
The suffocating nature of the Buckeye defense is the element that will keep them alive in the Big Ten race. 
"Ohio State is a really, really good defensive team. Really good," Beilein said. "You're watching a team that plays big-time defense and really buys into it."
Now, they're also buying into their status as a contender.