It's all over.
The college football season was shuttered on Monday night in underwhelming fashion. For over a month we were told a classic between two titans of the sport, Alabama and Notre Dame, would be played. Instead, it looked like a typical September snoozer – a game between non-conference foes that aren't evenly matched.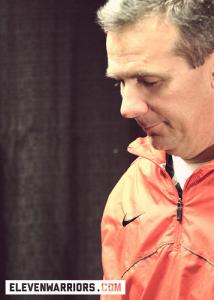 When the fireworks finally stopped booming at Sun Life Stadium, one team was left standing. And, no, it was not the Alabama Crimson Tide. Rather, it was 12-0 Ohio State, the lone undefeated team of the 2012 season. While Alabama won impressively throughout the season, especially in marquee games, when it comes to wins and loss, the Tide can be lumped with 123 other Football Bowl Subdivision teams – those with at least one loss.
"We want to end the season without a loss," Meyer said during the season.
The Buckeyes did. 
A marked improvement was expected in his first season in Columbus. But undefeated? C'mon. Yeah, there were murmurs about it. Easy schedule and all, winning every single game is anything but easy. You can't be just good to rattle through a 12-game gauntlet at the Division I level. There has to be luck involved, and the Buckeyes got some, most memorably against Purdue.
"This is the state I grew up in," Meyer said, referencing Ohio. "This is the state I made a comment on last November, December, whenever it was, that our objective is to make the great state of Ohio proud. I imagine there's a lot of people in this great state very proud of what their football team did, no one else's, this is the state of Ohio's football team."
So just how improbable was Meyer's first year back on the job? Very. Eleven times a coach has left a school where he won a national championship and returned to college football, and only one has won another – Nick Saban, who now owns three crystal football in Tuscaloosa. Meyer may not have completed the task yet, but he is well on his way, and the Buckeyes are tracking in the direction to take on their coach's old nemesis in Saban.
It isn't easy to win at the highest level of college sports, even more so when you leave something that was humming. But that's what Meyer and Saban each chose to do. Their landing sports may be extra cushy. Still, history says their accomplishments are nearly unprecedented.
College football is about turnover – coaches, players, seasons. But a constant for the past decade has been the success rate of Meyer and Saban's teams. Since LSU won the national championship in 2003 with Saban at the helm, he and Meyer have won six titles. Sixty percent! And that doesn't include two undefeated seasons by Meyer-coached teams that didn't win the national title.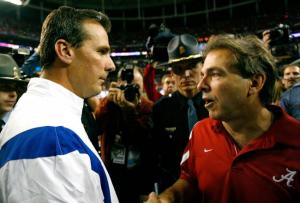 At the moment, both look like they will be at their current schools for several years. For Meyer, that is a near lock. Saban, on the other hand, could be lured to the NFL, although he says that flirtatious period of his coaching career is over.
Why Meyer and Saban dominate their profession lies in how they operate. It's not similar to their peers. Plenty of Americans immerse themselves into their jobs, but then there are Meyer and Saban. It quite literally becomes their lives.
"I don't know if fun's the appropriate word," Meyer said. "You don't have the time to really enjoy it until you have a chance to sit back. When I do, I enjoy it, I guess is more of a proper word. I enjoy being around these players and these coaches and obviously representing Ohio State."
Breakfast, lunch and dinner all revolve around game planning and gaining an edge on the competition. The thirst for winning a national championship is almost unquenchable. Once it happens, the blueprint is drawn up again almost immediately.
There's an old saying that goes, "Behind every man, there is a good woman." Well, a variation of that also exists in the coaching world. It isn't just the head coach who does everything on his own. They need to hire good assistants. Meyer and Saban have done exactly that.
"I think Ohio State deserves the best group of assistant coaches in America," said Meyer, after he was hired to lead the Buckeyes.
Despite being a head coach for just 11 seasons, Meyer has already built a coaching tree that could one day grow to be a California Redwood. Charlie Strong, Dan Mullen, Kyle Whittingham, Steve Addazio, Gary Andersen, Tim Beckman and Greg Studrawa are all included. Nick Saban has hired the likes of Will Muschamp, Jimbo Fisher, Jason Garrett, Josh McDaniels, Pat Shurmur, Scott Linehan, Mark Dantonio, Mike Mularkey, Derek Dooley, Jim McElwain and Kirby Smart. 
During his time at Alabama, only McElwain has left for a head coaching job. It's something that leaves Meyer flabbergasted.
"He doesn't lose coaches," Meyer said. "I'm still trying to figure that out. We had that thing going at Florida and it was a turnstyle – head coaches here, head coaches there. How do you not go hire one of those assistant coaches at Alabama?"
The two big-name coaches have met on the field three times, with Saban holding a 2-1 advantage. A fourth meeting in the near future is likely.
The 2014 BCS National Championship Game, the 16th and final BCS Championship before we embrace our playoff destiny, will take place in Pasadena next January. What more could you ask for than a clash between the two men that have come to own the series?