Two potential Ohio State wide receivers will be in action on Saturday for the East team in the U.S. Army All-American Bowl. Only one will announce his college decision. But whatever he opts to do could set off a domino effect.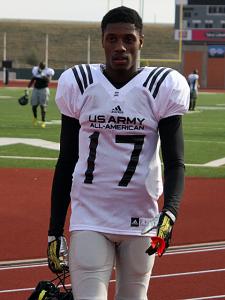 That's because the Buckeyes have limited room due to scholarship reductions. Despite losing Ricquan Southward, Ty Williams and Verlon Reed in the last year, Ohio State must still contend with NCAA shackles.
The top target for the Buckeyes is Louisville native James Quick. Decision day comes on Saturday. Will he stay in his hometown or go north to provide stability to an area of need for Ohio State? Your guess is as good as ours.
In San Antonio, Quick has been hush-hush about his destination. He did provide one nugget, though, saying Ohio State held a slight lead. That ran contrary to what many believed — that the hometown Cardinals were in front for his services. Whatever Quick decides, it will come after a lengthy discussion with his parents.
It will also provide closure and relief to the topsy-turvy life of a high-profile recruit.
"I'm excited to get everything done and over," Quick told us. "I want to let everyone know and have it off my back."
Who can blame him? College football (and basketball) recruiting becomes a bigger part of the sport's consciousness every season with all-star games and print and online content dedicated to the multitude of commitments. And when kids go to the opposing school, fans show their bad side. The advent of Twitter, Facebook and other social networking sites has allowed fans to get closer than ever to the athletes they belove. But it's also given way to ugliness – fans administering death threats and telling players to kill themselves.
But it's only a small percentage of people that give the millions of supporters a bad name. By and large, maturity gives way to possible poor decisions. After all, it's a game that's supposed to be fun for all involved. That's been the case the past week in San Antonio.
In a possible tip of his cap, Quick has hung out with the Ohio State commits. In November, he had an opportunity to make friendships on his official visit during Michigan weekend. In Texas, they've continued to blossom.
One player Quick has called a teammate at the U.S. Army game and could for years to come is fellow wide receiver Shelton Gibson. The Cleveland Heights wide receiver has a final four of Ohio State, West Virginia, Kentucky and Tennessee. Unlike Quick, Gibson is still pondering his possibilities and won't announce his college plans until National Signing Day in February.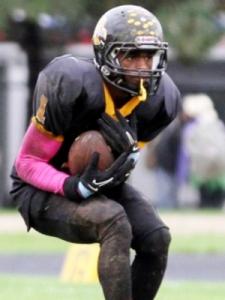 Tennessee is a recent addition to Gibson's list, as the Volunteers replaced Auburn. During the coaching staff transition at Tennessee, new head coach Butch Jones brought over Tommy Thigpen from Auburn, prompting Gibson to consider the Vols. He'll make official visits to Tennessee and Ohio State in January. It should be noted, though, that Gibson has made the two-hour drive down 71 several times already and has grown comfortable in Columbus.
And it's the Buckeyes that hold the upper hand. If Tennessee, West Virginia or Kentucky secures Gibson's commitment, it will come as a surprise. He's long been favoring Ohio State.
"I've been leaning more to Ohio State and seeing who they are getting, Braxton Miller and stuff, it's going to be nice here," Gibson said, in July at Friday Night Lights.
Miller and the Buckeyes' 2012 season would have thought to only solidify Gibson's thinking. But the door is slightly ajar.
"It's not as big as it was before I went to West Virginia because West Virginia is a good school," Gibson said, in San Antonio. "Their offense is great. They have two receivers in the NFL Draft right now sitting in a good spot, and their stats are amazing."
It's a coach's amazing stats that also have drawn attention from the NFL. At this point, it seems to be a foregone conclusion that Oregon head coach Chip Kelly will leave Eugene for the pros. The only intrigue left is which downtrodden team he decides to take over – Cleveland or Philadelphia.
And like linebacker Trey Johnson, who de-committed from Auburn after a coaching change and appears headed to Ohio State – he'll announce Friday night at the Under Armour game – wide receiver Dontre Wilson, of Desoto, Texas, could spurn Oregon if Kelly bolts for the NFL.
Prior to Wilson's commitment to the Ducks, Ohio State was in his final two. But he isn't the only wide receiver the Buckeyes could land late in the recruiting season. Ryan Timmons and Cornelius Elder remain possibilities.
Something that seems like a remote possibility is Urban Meyer making a similar move to the NFL. He reiterated that point on The Dan Patrick Show.
"I got a couple phone calls early in my Florida days asking if I'd be interested," Meyer said. "I love college football and I made that decision that that's where I wanted to be. There was a time where I made some phone calls and had some conversations about it, but never to the point where I got very serious about it.
"I'm intrigued with the collegiate atmosphere. I don't know much about pro football. You start talking about salary caps and those type of things, and I'd much rather talk about recruiting and the part that I love about college football and that's the development of young players. I just never really had an interest."
Timmons, being recruited as a slot receiver and running back, will visit campus on January 11. In his final four, along with Ohio State, is Kentucky, Arkansas and Illinois. He's a two-time state track champion in his home state of Kentucky in the 100 meters and has exhibited similar speed on the football field, racking up more than 2,500 total yards as a senior.
A longtime OSU target, Elder is also scheduled to visit Columbus next weekend and is playing the waiting game with the Buckeyes to see if there will be room for him in their 2013 class. A host of schools including hometown Vanderbilt, UCLA, Ole Miss, Georgia Tech, Alabama, Auburn, Tennessee, and many others have offered the speedy athlete from Nashville, but it appears he wants to play for Urban Meyer if given the green light.
So James, no pressure, but your decision could impact a handful of other players. It's also certain to leave one fan base cheering and another cursing.