Eleven times, five Ohio State basketball players walked to center court to begin the game. On all 11 occasions, head coach Thad Matta used the same starting five. That ended for the season's 12th game on Saturday.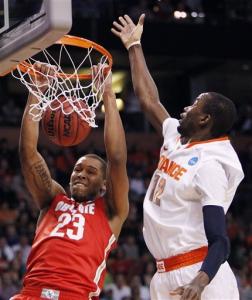 Instead of senior Evan Ravenel occupying the low post, it was sophomore Amir Williams who got the starting nod. It came in the 41st career game for Williams, though he did start the Buckeyes' lone exhibition game this season against Walsh.
"Amir had practiced very well and, truth be told, Evan didn't practice well," Matta said. "With Evan being the only senior on this team, we hold him to a pretty high standard in terms of what we expect from him day in, day out. He's been in college for five years."
The biggest knock on Williams during his still young career has been his inability to bring the same intensity into each game. His best two performances of this season came against Duke and Kansas, when the 6-foot-11 sophomore played a combined 47 minutes and finished with 10 points, shooting 75 percent from the free-throw line, 18 rebounds and three blocked shots.
His carelessness has been the story against weaker opponents, though. Williams should overpower mid-majors with forwards and centers that don't approach his height. But it's been Ravenel, the more physical of the two big guys, that has feasted on the lesser competition.
Through 12 games, Williams is averaging 4.5 points, 3.8 rebounds and 1.3 blocks per game. Ravenel is averaging 6.2 points and 5.2 rebounds per game.
On Friday, Williams spoke of taking the same mindset into every game. When Saturday rolled around, though, and Williams got his first taste of starting, he looked his same lethargic self against a team that he wasn't forced to play his best against.
"I just seemed more focused in the big games this year," Williams said. "It's a big opponent, so why not be ready for those games? But I have to be ready for Chicago State. It's something that I just have to really just key in, no matter who go out and play."
When he was faced with going toe-to-toe with Kansas' Jeff Withey, an All-American candidate, Williams had little difficulty battling the seven-footer. Williams had six points, eight rebounds and two blocked shots. On Saturday, against Chicago State's undersized big men that presented fewer challenges, Williams only had four points, four rebounds and a blocked shot in 15 minutes.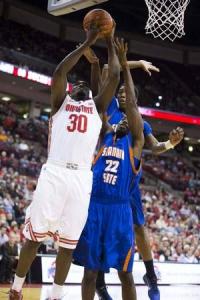 "Coach talked to me just about being consistent," Williams said. "He said I have times where I just tune out and it doesn't feel like I'm playing, like I may be lackadaisical. He just asked me to be more consistent, not playing only in the big games but playing in the games like Chicago State and Winthrop."
Dealing with a demotion, Ravenel rose to the occasion by securing a career-high 10 rebounds and scoring five points. Consider Matta pleased with how things turned out.
"I'll be honest, I love what he gave us off the bench," he said of Ravenel.
Ohio State's lone senior took a page out of Shannon Scott's book by playing selflessly. Some put too much focus on the starting lineup, which, at the end of the day, is low on importance.
Matta stopped short of saying who would be in the first five when the Buckeyes open up Big Ten play on Wednesday against Nebraska in Columbus. Part of that may lie in whoever performs better in practice. Or it could depend on whether Matta values offense over defense.
Williams is more capable on defense, while Ravenel can provide help on the offensive end, though Williams has turned into a force at the free-throw line. When the starting five is on the court, another scorer isn't as big a need.
Ravenel could provide just what Matta needs off the bench. The head coach also could have been sending a message to his senior just before the conference season. Ravenel needs to lead and put forth the same effort in practice as games, especially during a stretch when Ohio State hasn't played its best.
It has been six years since the Buckeyes have had a dominant true center, dating back to Greg Oden. Williams, however, looks like he can fill that void. Ohio State has recycled through one-and-dones and players that couldn't quite get it done against the nation's elite teams.
As a freshman, Williams responded with three points, four rebounds and two blocked shots in nine minutes during the first half of the East Regional final against Syracuse when Jared Sullinger encountered early foul trouble.
"It was one of the biggest moments for me ever, going in and having a chance to factor in to going to the Final Four," Williams said. "That was one of the greatest things ever and I was just excited to be a part of it."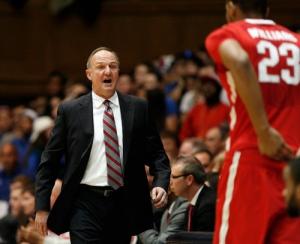 Said Sullinger: "Amir always had talent. Watch out for him next year."
Plenty have had their eye on him and no conclusion has been drawn yet. It was thought to be Williams' introduction to the rest of the college basketball world and a starting off point for a stellar career. It still could be, but the first 12 games have not provided the type of production many expected from the four-star recruit.
"I think you've got to be careful taking people's opinions and casting that on players," Matta said. "I think that's what's kind of wrong with society today. Joe Blow has an opinion and everybody think that's the gospel."
Being unmotivated usually isn't a popular strategy if you want to attract positive attention from your coaches. Williams, however, earned the starting nod with his up-and-down approach to games. When it comes to practice, though, Williams is all-in. 
"He and I had a conversation mid-practice (Friday)," Matta said. "It was very one-sided conversation, and I'll give him credit, he really, really responded. That was exciting for me to watch how he finished out practice."
Now Williams just needs to do it in the games. Every game.
"I believe it's just a mental thing, just bringing it every night," he said. "Sometimes I do feel like I just clock out. I just seem more focused in the big games."
Help could be on the way then, because when Ohio State tips off against Nebraska, every game the rest of the season will be categorized as big or important. The Big Ten is clearly the best conference in the country and quickly becoming the gold standard in college basketball.
"I don't have a choice but to bring it throughout this whole Big Ten season," Williams said.
In the paint, it's the most imposing league. Think the life of a Big Ten running back or linebacker – that's the same working conditions a center is faced with. And this season is especially difficult with Indiana's Cody Zeller, Michigan's Jordan Morgan and Michigan State's Adreian Payne, among others.
"Amir's been in the program for a year. He's been through a Big Ten season," Matta said. "He has that understanding and knowledge now of what it's going to take mentally as well as physically."