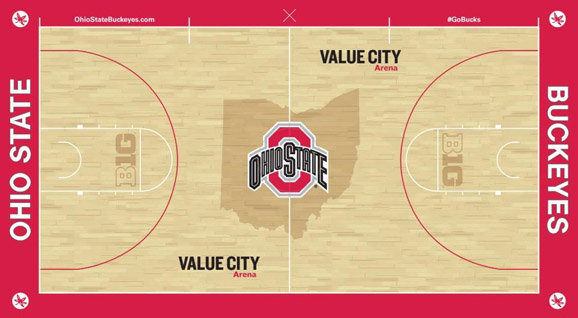 Call it the Year of the Court for Ohio State.
The basketball season was supposed to tip off on Veterans Day Weekend in the Charleston, S.C. harbor aboard the USS Yorktown. But those plans – and the ship – were abandoned after condensation covered the court and couldn't be controlled. If there's one team that goes undefeated every season, it's Mother Nature.
Delayed, the season finally began and crisis has since been averted. But court headlines are popping up again. Luckily for head coach Thad Matta, it has nothing to do with players being arrested. Instead, Value City Arena has been outfitted with a new playing surface.
The current floor, the second in the 14-year history of the arena, has been in use for seven-plus seasons, which might not seem like a long time. But when you consider that both the men's and women's team use it, and it's moved several dozen times a year because of other events in the arena, wear and tear sets in.
"It was starting to get more dead spots and the repairs were starting to get more expensive," Mike Damas, building engineer for Value City Arena, said. "I'm not sure if the coaches and players noticed it, but we could see it. Where it would take us a day or two in the past, it was now taking a couple of weeks to repair. We refinished it twice."
When floors are replaced, it's hardly noticeable. But when fans trickle into the Schott the next time, a familiar sight not seen since 1998 will fill their eyes. The state of Ohio outline was a fan favorite and staple in St. John Arena for decades. However, when Ohio State's basketball programs moved across the street in the fall of 1998, the center court logo remained at the basketball cathedral that is St. John.
But when the university's Creative Services design team presented 12 drawings to Matta, one in particular stuck out.
"Coach Matta was really adamant that he wanted that on there," Damas said. "The state of Ohio in the background is a great look for it."
Athletic director Gene Smith and women's basketball coach Jim Foster agreed with Matta's eye for interior decorating. The Schott will never rival St. John when it comes to atmosphere, but now it can at least look similar – all at a cost of $85,000. That's the going rate for a new basketball court these days.
"The profile is narrower, so it's a shorter court," Damas said. "It's about two and three-eighths inches thick as opposed to the existing court, which is two and three-quarters, so about a half-inch difference. It's a thicker court and a stronger court.
"The new technology that's out there on it – the look, there's a lot that goes into it. It is an NBA-quality court."
This holiday season has been filled with gifts for the Ohio State basketball program. As part of the ongoing, two-part construction project, new locker rooms were unveiled in early December and the new court was first seen by the public in last night's women's game versus VCU. An expanded strength and conditioning area as well as more practice gyms, part of the $19 million project, will be completed in the future.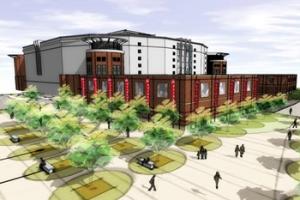 Before the new locker rooms were even completed, assistant men's basketball coach Jeff Boals was already lauding the improvements.
"We spend so much time in the locker rooms," he said during the spring. "It will be a great place to hang out before practice, after practice and between classes. There's 24/7 access, getting in on their own to shoot or to work on their game. To have that access will be huge in the development."
Despite the Schott's youthfulness compared to most other venues in the Big Ten, a renovation was warranted to keep up with the Joneses. Six Big Ten schools (Indiana, Iowa, Michigan, Michigan State, Nebraska and Purdue) have made improvements or built entirely new facilities in recent years.
"The Ohio State University is the premier public university in the country. Just as we strive to have the No. 1 College of Business, Engineering, Medical Hospital, etc., we want our basketball program to be the best," Smith told Eleven Warriors. "All academic units constantly improve their teaching environments and facilities, and so do we."
Michigan's Crisler Arena recently underwent a total restoration that included the addition of a basketball only practice complex. Indiana also built a state-of-the-art basketball facility, Cook Hall, that is the envy of every coach in the country, aside from John Calipari. Kentucky's sparkling new facility makes the White House blush.
College basketball, like its football cousin, is in the midst of a facilities arms race. Recruits are wowed by the best and newest facilities that have features that appear futuristic. Every time a new project is completed, administrators and coaches gather at schools across the country to hatch their plan on building something better.
"Teaching and recruiting are intertwined," Smith said. "We do not strive to 'keep up with the Joneses'. We strive to do what is best for OSU to recruit the best and brightest and have in place the best tools and teaching environments and facilities.
"Working with Thad and Jim, it was critical to evaluate what we need to help keep our facilities top-notch. It was apparent the Schott needed to be enhanced."
The changes to the Schott were more than five years in the making. Smith, unprompted by Matta or Foster, first proposed the subject in 2007. But the world financial meltdown occurred soon after, putting expensive projects on the backburner. Recession-proof fans, however, in the form of major donors and courtside seat holders, helped secure the final capital needed to get the bulldozers and cranes down Fred Taylor Drive.
Most people immediately think of Woody Hayes, Urban Meyer or Ohio Stadium when the university is first brought up. But Buckeye Nation also heartily supports its basketball team. The proof is in the athletic department's balance sheets.
"We are in a community that embraces excellence," Smith said. "We are in one of the best cities in the country with a great population. As long as we do it right, all of our sports can be supported."
Said Boals: "Buckeye Nation never ceases to amaze me. To support the men's and women's basketball programs, it says a lot."