The holiday season has brought Ohio State's basketball schedule to a screeching halt. And even though the Buckeyes are ranked in the top 10 and have only suffered two losses, a week full of practice could be the perfect remedy for what ails them.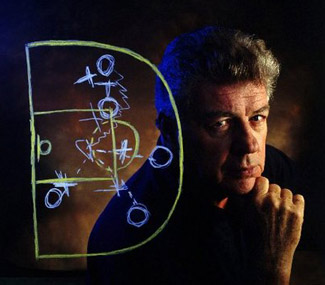 Not many would think Chicago State is the opponent a highly ranked team would need days of preparation for. The Cougars have been an historically putrid program - they're 3-11 this season - but Ohio Stat only has so much time to counter its shortcomings. On Jan. 2 the Big Ten season kicks off when much-improved Nebraska visits Columbus.
In both of Ohio State's losses, Deshaun Thomas, a preseason All-American, has scored a combined 32 points on 10 of 25 shooting. Entering the Kansas game, Thomas was the Big Ten's leading scorer with 20.4 points per game, making 46 percent of his field goal attempts.
While the final shooting numbers were an eyesore, it was the inability to get open for makeable shots that gave Ohio State pause.
Duke and Kansas are elite teams, but if non-conference opponents can render Thomas irrelevant, what will Big Ten teams do? Indiana, Michigan, Illinois, Minnesota and Michigan State also are upper echelon teams, and in the conference, every team knows what its opponent is planning possession by possession.
Much like the Jordan Rules, a defensive strategy employed by Chuck Daly and the Detroit Pistons to stop Michael Jordan and his Bulls, you can imagine opposing teams will implement a similar set of Thomas rules to contain the scorer.
Jordan and the Bulls eventually overcame the strategy, sweeping the Pistons in the 1991 Eastern Conference Finals on the way to six NBA championships. The question is whether Thomas and Ohio State can make similar adjustments.
"They were doubling him at 16 feet from the basket," Ohio State head coach Thad Matta said following Kansas' 74-66 win on Saturday. "They were switching everything to deny. When that happens, you've got to break the dam by knocking down shots and spreading it so it makes them think, 'Maybe we shouldn't do that.'"
But Ohio State barely even had the opportunity to breach the dam, because it couldn't approach it. In both games, no player could make shots with consistency to offset Thomas' lack of production. Thomas himself converted little when he actually got a chance to get the ball in the basket.
Attempting shots against Kansas was a rarity. As Ohio State went cold in the second half, Thomas didn't even shoot the ball over a 10-minute stretch of offensive ineptitude.
"I don't think they did anything special," Thomas said. "They just played hard. We had great looks, wide-open looks. I trusted my teammates. They had open looks, and they didn't knock them down. I told them to keep shooting. I trusted them."
That trust could be waning now for Thomas. But he'll have to keep the faith, because double teams will be used with regularity against Ohio State for the duration of the season. The blueprint to beat the Buckeyes has been used twice this season, and the success rate is at 100 percent.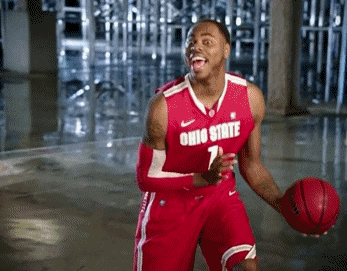 Two Buckeyes besides Thomas finished in double figures at Duke, but both had just 11 points apiece. Only one player had more than 10 points against Kansas. In the second half of both games, Ohio State shot less than 30 percent.
Bad days at the office happen, but when shots aren't near as contested as they are with Thomas, his teammates' ability to knock down open shots must rise. When shots didn't fall, Ohio State used the pick-and-roll to try to generate some offensive success. But even that didn't yield desirable results.
Height advantage be damned, Kansas head coach Bill Self was going to stick an athletically blessed defender on Thomas.
"It was probably a good matchup for us to play a guard on him, then we trapped him in the post with Jeff (Withey)," Self said. "We didn't totally take him out of everything by any stretch."
That last anecdote is just coachspeak. Thomas became a secondary thought when Ohio State needed him the most. Travis Releford guarded Thomas twice last season and did an adequate job. Once again, he drew the assignment, and once again, his defense led to another Kansas win.
"Travis played great defense on Deshaun Thomas," Withey said. "We focused on him because we knew he could go off for 30 easily. He's such a great scorer."
And when the entire country knows Thomas' capabilities and the fact that no one else on the team can convert shots with regularity, a perfect storm of ineffectiveness takes over.  
"All of these guys have shown that they can shoot the ball," Matta said. "Now, is it Jon Diebler-like? Probably not. But somehow, some way we have to figure out how we're going to play our best on game night, but knowing that they may not go down, so let's find an alternative way."
According to Matta, that alternative is spelled U-G-L-Y. That's how a defensive-minded, offensively limited team must game plan. Transition offense is when the Buckeyes get a bulk of their points. It's also when they're most efficient. Like Thomas' offensive acumen, that too is not a secret, which is why Kansas took away Ohio State's ability to attack.
"They basically became a jump-shooting team and that helped us," Self said.
If Ohio State uses its week wisely, help could also be on the way for the Buckeyes.