We have one week until Big Ten season begins, and as brutal as it's expected to be, this past week was a Grinch in many ways.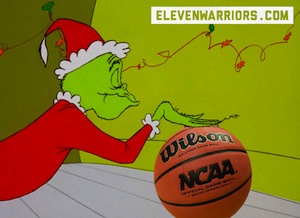 After the weekend, only one B1G team remains undefeated, so the top of the rankings, unfortunately, is unchanged.
Ohio State, however, took a bit of a tumble, but the good news is that power rankings are ephemeral and it only takes a statement victory one week to climb back up.
There were none of those for anyone in the Big Ten this week; the two spotlight games that pit ranked teams against one another ended up being as charming as an eel.
Still, there were plenty of wins since most of the opponents continue to be of the non-marquee variety as teams get ready for conference play.
Besides, nothing says "Happy Holidays" like beating up on the America East Conference and a few directional schools.
1. Michigan (12-0)
"Have Yourself a Merry Little Christmas" is recognized as a great Christmas song, but it's also pretty melancholic.
And as depressing as it is to have to put Michigan in the #1 spot, the Wolverines are a good team who will stay here until someone finally beats them. Unsurprisingly, their friends from Ypsilanti weren't up to the task. In their only game of the week, Michigan crushed Eastern Michigan, 93-54.
Tim Hardaway Jr. led the way with 17 points, seven assists, five rebounds, two steals and a partridge in a pear tree.
2. Indiana (11-1)
Indiana has left the friendly confines of Assembly Hall just three times this season, and even though all three took place at neutral locations, the Hoosiers didn't play their best ball in those games. One of those was the previous week's loss to Butler, but IU cranked up Bing Crosby, who is probably still pretty popular in Indiana, and sang, "I'll Be Home for Christmas."
And when they returned home, they naturally returned to form.
First, Indiana took down Mount St. Mary's, 93-54, with Cody Zeller and Will Sheehey each putting up 16 points. A couple days later, Florida Atlantic was the victim, 88-52. Zeller paced the Hoosiers with 24 points, half of which came at the free-throw line because, well, Bloomington. 
3. Minnesota (12-1)
In their final nonconference matchup, Minnesota breezed by Lafayette, 75-50. After falling to Duke a month ago, the Golden Gophers have now won eight straight and must be feeling pretty happy, like Donny Hathaway's "This Christmas." 
The scoring and rebounding were pretty evenly distributed for Minnesota; every player who saw more than two minutes on the court contributed with points and rebounds. Joe Coleman had the biggest day with 12 points on 6-of-8 shooting, as well as four rebounds and two steals. 
Minnesota outrebounded Lafayette, 40-22, but next up is a New Year's Eve date with a much tougher opponent on the glass. Michigan State will travel to Williams Arena for the start of Big Ten action.
4. Michigan State (11-2)
Despite not looking overly impressive this week, Michigan State still managed to stay unbeaten in the month of December. The Spartans held off Bowling Green, 64-53, on the road and then rallied against Texas, 67-56.
The star of the latter game, senior Derrick Nix, totaled 25 points on 7-of-10 shooting, 11 rebounds and four steals. After the game, he was probably whistling "Merry Christmas Baby" because he must have felt like he was in paradise with that performance.
5. Ohio State (9-2)
Although Ohio State's two losses have come against elite competition, they still dropped in the rankings due to uninspired play. The 10-point win against Winthrop was a harbinger of things to come days later in the loss to Kansas.
"Baby It's Cold Outside" describes the Buckeyes' three-point shooting in both games — 28.6% vs. Winthrop and 25.8% vs. Kansas. However, their shooting woes were not exclusive to outside the arc. Ohio State was 38.6% from the field in the first game, which was efficient compared to making just 30.8% of their shots against the Jayhawks.
Improvements on that end need to be made, but the Buckeyes are better than they looked for certain stretches last week. If the team can come together and play to their potential, then this demotion is only temporary.
6. Illinois (12-1)
No. 10 Illinois lost for the first time all season in their only game of the week. Despite witchy Brandon Paul's 23 points, the Illini fell to No. 12 Missouri, 82-73, for the fourth straight year.
To the victor of the Braggin' Rights game goes the bragging rights, so all Illinois could do afterwards was listen to a man familiar with their state, Sufjan Stevens, and his "That Was the Worst Christmas Ever!"
7. Iowa (11-2)
Iowa may not have faced the toughest competition last week, but the team with the easiest conference schedule still mowed down South Carolina State, 90-46, and Coppin State, 80-50.
Devyn Marble put up 27 points against SCSU while Aaron White had the Hawkeyes dreaming of a "White Christmas" after scoring 20 points, over half of which came on six dunks.
As for that easy — relatively speaking, anyway — conference schedule, it certainly doesn't start out that way. Iowa opens the Big Ten season at home vs. Indiana on New Year's Eve, and a week later, they head to Ann Arbor to take on Michigan.
8. Wisconsin (8-4)
Paul McCartney's "Wonderful Christmastime" is basically a song that is so bad, it's good. Wisconsin is usually the basketball equivalent to that, and although they've had their struggles so far this season, the Badgers probably aren't that far off from annoying their B1G brethren into submission.
In their 74-53 victory over Milwaukee, Wisconsin actually scored 41 points in the first half, thanks in part to a game-high 19 points from Ryan Evans and a career-high 13 points from Traevon Jackson.
9. Northwestern (9-4)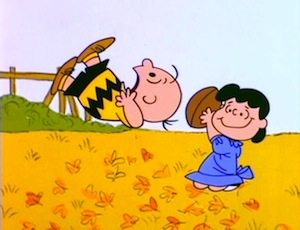 Northwestern is the Charlie Brown of college basketball. Every season, they tell themselves it'll finally be their year to make the NCAA Tournament and every season, they fall short.
So that makes "Christmas Time is Here" the perfect soundtrack for the Wildcats as they played three games last week. On Monday, they beat Texas State, 74-68, though it took a 12-0 NU run at the end of the game. Then Northwestern split the Nerd Series, first losing to Stanford, 70-68, followed by a win over Charlie Brown, 63-42.
In the loss, Dave Sobolewski managed just a single point, but he was the team leader against both Texas State (18 points) and Brown (14 points).
10. Nebraska (8-4)
Nebraska also had three games on the schedule last week, perhaps channeling Darlene Love and not wanting to be "All Alone on Christmas."
After escaping Jacksonville State, 59-55, the Cornhuskers headed to the WestStar Bank Don Haskins Sun Bowl Invitational in El Paso, Texas. On Saturday night, they rode Dylan Talley to the victory over Central Michigan, 89-75. Talley did a little of everything with 21 points, seven rebounds, three assists and two steals. David Rivers came off the bench for 20 points and seven rebounds of his own.
The next night, Nebraska lost in the championship game to UTEP, 68-52. It took the Cornhuskers nearly seven minutes into the game to score. Ray Gallegos came away with 22 points and while Talley was Ohio State-ish from the field (0-for-8), he did hit four free throws and pulled down eight boards.
11. Purdue (5-6)
Purdue didn't have an easy time with Ball State, but they got the win, 66-56. Boilermaker fans can look to the lyrics of "Last Christmas" to figure out how to view such an outcome against a Ball State team that lost to Indiana by nearly 50 points.
"Last Christmas I gave you my heart" — oh, that sounds nice.
"But the very next day you gave it away" — oh, this song is kind of a bummer.
12. Penn State (7-4)
Penn State defeated New Hampshire, 72-45, in a game where Penn State had four players in double figures and UNH shot 22.6% from the floor. It seems to have been a basketball game in name only, similar to how Low's "Just Like Christmas" is considered a Christmas song.
New Friends
Maryland (10-1)
For their 10th straight win, Maryland just got by Stony Brook, 76-69. Proving that "(There's No Place Like) Home for the Holidays", the Terrapins are undefeated at home this season.
Rutgers (8-2)
It was not a "Silent Night" for the Scarlet Knights when they routed Howard, 79-55.