The sky isn't falling yet. For one, it's only December, and December basketball in Columbus, Ohio, is low on the totem pole. But the mysterious decline of Aaron Craft's shooting continued for another night on Wednesday in Ohio State's 85-45 win over Savannah State.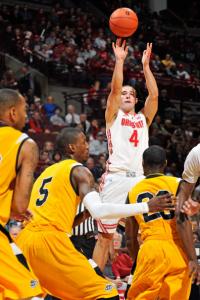 Entering the season, Craft spoke of becoming more involved in the scoring offense due to the departures of Jared Sullinger and William Buford. After the first three games, it looked like all the talk about a new Craft was true.
He averaged 17 points, shot 50 percent from the field and even made seven three-pointers. But all that has quickly washed away. In the past five games, Craft is averaging 5.2 points per game, converting 9 of his last 38 field goal attempts (23.6 percent). He's only made two 3s in the past six games while attempting 15.
On Wednesday, Craft missed all four field goal attempts and was held scoreless for the first time in 49 games, dating to the first round of the 2011 NCAA Tournament his freshman year.
Count head coach Thad Matta among those who aren't worried about the junior point guard.
"I've got no problems with Aaron," Matta said. "I don't know as a coach if you could ever have a more secure feeling knowing he's out there and what he's doing. Yeah, I want him to score more, he wants to score more and our team is going to need him to score more. But that's going to come back for him. There's no doubt in my mind. Hopefully Saturday he'll get back on track."
It's not like Craft is void of production. He had six assists and two steals against Savannah State. On the season, Craft is averaging 4.4 assists and more than one steal per game.
Defense has always distinguished and defined Craft's game. In 84 career games, he already has 184 steals, third-most in school history. He trails David Lighty by two and Jay Burson by 21. Barring any unforeseen circumstances, Craft will shatter that record.
Still, his scoring will need to elevate soon for the seventh-ranked Buckeyes to be among the top half of the competitive Big Ten. And as he adapts to life without Sullinger, the offense should come along.
But as Craft's numbers have fallen by the wayside, Shannon Scott has introduced himself to Buckeye Nation. Don't confuse Scott's arrival for a point guard controversy. Instead, look at it as Ohio State being deep.
Scott is averaging 6.8 points, 2.3 rebounds, 4.5 assists and two steals per game. He's got more assists and steals and fewer turnovers than Craft.
It's a good problem to have if you're Matta.
"The thing that we have been harping on these guys the most is that we have to get better," he said. "We don't go back to tomorrow. Hopefully these things are in order and we can continue to progress forward."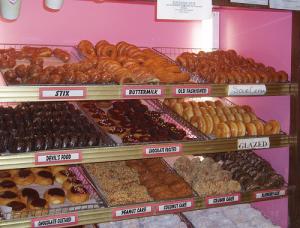 Buckeye Donuts
When Ohio State released its non-conference schedule in August, fans rejoiced. At first glance, the slate of games appeased the legion of fans who have grown tired of uninteresting November and December matchups.
But it's turned out to be more the same. The Carrier Classic against Marquette was cancelled, name schools such as Rhode Island, Washington and Long Beach State are having down years and Kansas is the only marquee non-conference home game.
After last night's shellacking of outmatched Savannah State, Ohio State has won 37 consecutive non-conference home games. The past 14 have all come with margins of victory of at least 20 points. In five home games this season, the Buckeyes have won by an average of 34 points.
That's part of the reason why attendance has dipped into the 12 and 13,000 range.
So why play games against severely inferior opponents? Plenty of teams – Michigan State, Kentucky, Kansas and Gonzaga, to name a few – go the complete opposite route and beef up the non-conference schedule to prepare for March.
"It's getting guys to be who they are and being consistent with their role on the team and taking great pride in that," Matta said.
The Buckeyes were certainly prideful after their win. If nothing else they gained confidence. Deshaun Thomas scored 21 points in the first 20 minutes, three more than Savannah State could muster, Evan Ravenel had his best game of the season and Sam Thompson, LaQuinton Ross and Scott continued their solid early-season play.
"We learned we have to have passion for the game," Thomas said. "That's the one thing Coach (Matta) preached before the game, and we had passion moments out there.
"We have to prepare like it's the Duke game or the Kansas game. It starts at practice."
For Savannah State and head coach Horace Broadnax, every non-conference game is like the Ohio State, Duke and Kansas game. The Tigers, a low-budget school out of the Mid-Eastern Athletic Conference, have no choice but to load up on games that bring a high-money guarantee for the athletics department.
Already this season, they've played at Florida and Ohio State. Trips to Marquette and Saint Louis are on tap.
"Our objective is to try and be as positive and competitive as we possibly can in the MEAC," Broadnax said "We didn't do what we wanted to do tonight. Not necessarily looking at the score, but I don't think we did what we needed to do on the defensive end."
Now, it's back on the road for Savannah State for, more than likely, another lopsided loss. At Value City Arena, it looks like two more blowouts are on the horizon. UNC-Asheville and Winthrop are the Buckeyes next two opponents.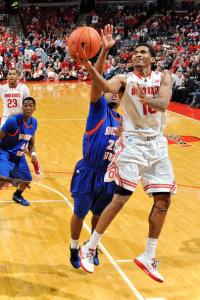 LaQuinton Boss
In the current age of YouTube phenoms and underground personas, it's easy to see how so many people were so wrong about Ross. In the past three games, he's shown that he can be the scorer people marveled at during high school – Ross has averaged 17 points.
But what he's also done is display all-around skills, not just a shooter's touch. The perception of Ross prior to the season, because he'd been virtually invisible during his freshman year, was that he was an all offense, no defense type of player.
He's struggled at times on defense, but he has made a concerted effort to improve on that end of the court. He's sought out players and coaches during games, and even Thomas has offered defensive advice.
Ross has four steals on the season, including three against Savannah State, and two blocked shots.
He's also proven that there is no ball hog in his game. Ross has been very unselfish on the offensive end, dishing out six assists. Rebounding has turned out to be a strength, as well. Ross had a career-high nine rebounds on Wednesday, which helped lead to a lopsided advantage for the Buckeyes. They finished the game with 27 more rebounds than Savannah State and a 26-6 edge in second-chance points.
During his three-game scoring spurt, Ross has averaged nearly nine rebounds per game. His production is needed, and it could lead Matta to inserting him in the starting lineup.
But the odd man out would be Thompson, who is a solid defensive presence. Whether Matta is willing to exchange defense for points will be found out in the coming weeks when Ohio State plays Kansas and begins the Big Ten schedule.
A foreshadowing could have occurred in Matta's postgame press conference at Duke, however. Ross barely played in the second half, a 20-minute stanza in which Duke scored 50 points. Afterwards, Matta said he should have played Ross more.
An opportunity for Ross to spread his wings against a high-caliber opponent comes again on Dec. 22.