Bowl game? YEAAAAAAH, OSU isn't in one of those. But, there are plenty of interesting teams that are. So, from now until Jan. 7, this column will be your primer for all bowls scheduled in the coming week. Are there too many bowl games these days? Sure. Are you saying that in June when college football hasn't been on for the better part of 6 months? Nope. So enjoy it while you can folks. This is your weekly bowl rundown.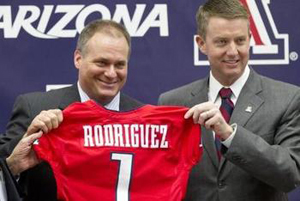 New Mexico Bowl
Who: Nevada v. Arizona
Where: University Stadium, Albuquerque, NM
When: 12/15 1 p.m. EST
TV: ESPN
Nevada Wolf Pack (7-5, 4-4 MWC):
The Nevada Wolf Pack will end their 2012 season right where they began – in a matchup against a school from the Pac-12.
Nevada will no doubt be hoping for the same result as they take on the Arizona Wildcats in the New Mexico Bowl. The Wolf Pack, hailing from the Mountain West, were perfect – for one week anyway – after traveling to Berkeley and taking care of business against the Cal Golden Bears.
Things weren't so golden a week later when they suffered a heartbreaking defeat at the hands of South Florida. Nevada stayed resilient though, getting out to a 6-1 start. Things got a little tougher in their last few games as they faced the top teams in their conference, leading to a 1-4 finish. In a nutshell, these boys are on a losing streak – and with a pretty soft schedule (Nevada only played one ranked team this season) it's hard to tell how good this team really is headed into the bowl game.
Arizona Wildcats (7-5, 4-5 Pac-12):
Arizona finished their season in the middle of the Pac-12 South. The Wildcats went 7-5, but four of those losses came to teams in the Top 25 while Nevada's lone ranked matchup was a defeat at the hands of a two-loss Boise State. One thing we've learned this season is the Wildcats can score – they're averaging 37 points per contest. If they weren't in the same conference as Oregon, they may have led the Pac-12 in that category.
What to watch for:
Rich Rodriguez will be coaching in only his second bowl game in the past five years (THANKS, TRESS!). If that isn't enough to get your fanny parked firmly on the couch, then at least tune in to see two explosive rushing attacks. You better believe Ka'Deem Carey, the nation's leading RB, will get his share of touches throughout the game. Carey ran for 1,757 yards and 20 TDs this year, slightly edging the second-place finisher, Stefphon Jefferson, who'll be lining up for the Wolf Pack. The battle between these two backs could go a long way in determining the winner of the New Mexico Bowl.
Famous Idaho Potato Bowl
Who: Toledo v. #22 Utah State
Where: Bronco Stadium, Boise, ID
When: 12/15 4:30 p.m. EST
TV: ESPN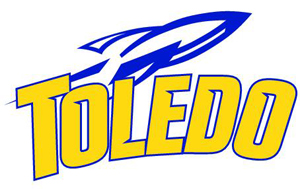 Toledo Rockets (9-3, 6-2 MAC):
Here's a stat for you: out of all FBS schools, the Toledo Rockets trail only Georgia in TD plays netting 50+ yards. QB Terrance Owens and Co. will try to increase that figure as they take their talents from the land of the Glass Bowl to that blue field out west. The 2nd place team in the MAC finished 9-3 in 2012 with wins over the likes of Cincinnati and Bowling Green. In the former, the Rockets managed to upset the Bearcats without scoring a single offensive touchdown. However, if Toledo wants to leave Idaho with a win, a TD on the scoring side of the ball will need to be in the cards.
Utah State (10-2, 6-0 WAC):
The WAC champion and 22nd-ranked Utah State Aggies finished the season red hot, winning their last six. The Aggies' two losses this season came by a combined five points to BYU and Wisconsin. In the latter, the Badgers were spared a defeat after Aggies kicker Josh Thompson missed a 37-yard game-winning field goal. Throughout the season, their defense provided a huge boost, ranking 8th nationally in points against. Now, the Aggies are back in the Famous Idaho Potato Bowl for the second year in a row after losing to Ohio by just one point in 2011. Unfortunately for the Aggies, they're only 1-5 in bowl game history.
What to Watch for:
The Aggies' and Rockets' offensive production in 2012 was almost identical. Each team averaged roughly 450 yards and 33 points per game. The difference is in the defenses. Utah State gave up an average of just over 15 points per game, compared with Toledo's 27. That said, the Rockets do rank 29th in turnover margin and hope to capitalize on any Aggie miscues in an effort to upset their second Top 25 team this season.