It's all starting to come together for the 7-1 Ohio State Buckeyes. Eight games into life without its superstars, Ohio State is gelling and proving that moving parts can become cohesive. But it's the man in the middle that completes the picture.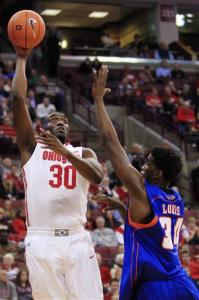 Sophomore forward Sam Thompson, a sub whose value was inconsequential a year ago, has developed into a valued starter. Sophomore point guard Shannon Scott spent a majority of his first year at Ohio State leaving fans to wonder why he was a McDonald's All-American. So far this season he's outshone starting point guard Aaron Craft. LaQuinton Ross, a fan favorite the moment he stepped on campus, played in a handful of games last season after academic issues. But the sophomore has lived up to the hype in Year 2.
Entering the season, head coach Thad Matta didn't know what to expect from his team. Ohio State was coming of a Final Four appearance, but lost Jared Sullinger and William Buford, two of the program's best players in the last half-century.
Despite being the third-leading scorer in Ohio State history, Buford was a piece that could be replaced. Athletic wings that can shoot the basketball are a dime a dozen. Deshaun Thomas was expected to score more – he has – and many predicted Ross to emerge as a reliable second scoring option – he has.
But few players are as dominant as Sullinger was during a two-year stretch. He averaged 17 points and nearly 10 rebounds per game over his 74-game career in Columbus.
Opposing defenses didn't know how to corral the burly big man. One thing is certain: Big Ten coaches rejoiced when Sullinger opted for the NBA after his sophomore season.
That is production that can't simply be reinvented by inserting another player into his position. It would fall on Evan Ravenel to occupy the low post and uphold a proud history under Matta that includes Terrence Dials, Greg Oden, Kosta Koufos, BJ Mullens and Sullinger.
Through eight games, Ravenel is averaging six points and 4.4 rebounds. Those aren't numbers that will lead to being a first-round draft pick. But in Wednesday's 85-45 win over Savannah State, it looked like Ravenel was injected with a magic potion.
There was no more being timid or out of position, a vision that was frequent the first seven games. Instead, Ravenel clicked. He had five rebounds in the game's first five minutes, more than his per-game average. He finished with 11 points, a career-high nine rebounds and two charges taken.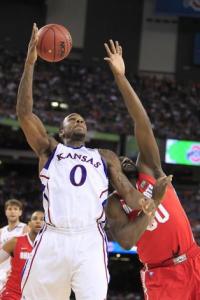 "I have not been a shot-blocker since I came to college," Ravenel said. "One thing my coaches told me was that I am good at being able to see the defense. I can take charges pretty well. It's one thing I can do to my help team out. It's a momentum builder for our team when we go on the offensive end."
The change in Ravenel actually came following Saturday's game versus Long Beach State. It was a 44-point victory for the seventh-ranked Buckeyes, but that didn't matter to Sullinger. He saw his former roommate contribute a lousy two points in a game Ohio State scored 89. What's more, Ravenel only had one rebound compared to four fouls – in nine minutes.
But Ravenel isn't one to brush aside criticism. He views it as constructive and files it in his head for future use. This, he figured, was urgent. So early this week, Ravenel sat down with the coaching staff to have an honest discussion about the state of his game.
After a hearty conversation and film session, the solution was simple. It didn't involve a complex scheme. Rather, Ravenel was zapped of energy.
"If I play with energy, I play like I did today," he said. "It isn't always going to be perfect, but if I play hard and I play with energy, good things happen."
Problem solved.
"He gets a little tired, but I told him that's a good thing because he's playing extremely hard," Matta said. "That's ultimately what you relay in terms of being a senior. He assesses the situation and says, 'What do I have to do in order to help this basketball team?' The more he understands that mode, the better this basketball team will be."
Sophomore Amir Williams also has been called on to help down low. In 16 minutes per game off the bench, he's providing 4.1 points and 3.4 rebounds per game. Williams has a team-high 11 blocks in eight games.
On Wednesday, Williams delivered six points, four rebounds and a block. He and Ravenel helped spur a 48-21 advantage in rebounds for Ohio State.
"Those guys did a pretty decent job tonight in terms of the defensive end," Matta said. "Evan had that tip-dunk. Those are the types of plays we need in that position, as well as rebounding in your area. They did a couple things that really forced the rotation."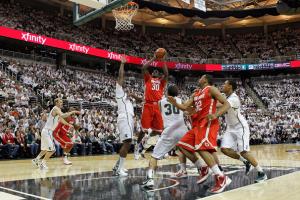 The conversation Ravenel had with the coaches centered on him playing the role that was defined at the outset of the season. If Ohio State wants to accomplish its goals, Matta said, Ravenel is to be a part of that. Thomas and Ross can score all the points they want, but if the Buckeyes are limited down low and virtually playing five-on-four in terms of production, they won't go far.
"They told me what I could bring to the team and what I needed to do to make that happen," Ravenel said.
His early flurry of rebounds coincided with Ohio State building an 18-point lead. Ravenel's vigor didn't just spur himself, but it also led to a rejuvenated supporting cast. 
"He doesn't force anything," Thomas said. "He listens to the coaches. When he is energized, grabbing rebounds, taking charges, he ignites our team."
Some might scoff at reading into a 40-point December win. Ohio State has now won its last 14 non-conference home games by at least 20 points, but on a night when Craft's shooting woes continued, the Buckeyes were able to manufacture what they needed from other sources.
Thomas scored 21 first-half points, but when he only tallied one in the second half, Ross was there to drop 13. Craft was out of sorts shooting, missing all four of his field goal attempts, though he did dish out six assists and two steals. So Scott scored the points from the point guard position, finishing with 12 points, three assists and four steals.
Better to identify the areas that need attention now than against Kansas.
In Lawrence last season, Ravenel started for only the second time in his college career, as Sullinger's back was injured. In one of college basketball's most hostile environments, Ravenel fouled out in 25 minutes. He had nine points, five rebounds and four turnovers. The Jayhawks' Thomas Robinson and Jeff Withey were able to overpower the inexperienced and intimidated Ravenel at the rim. The KU duo combined for 23 points – 21 from Robinson – and 14 rebounds.
Ohio State hung tough, though, and the experience was invaluable for Ravenel.
On the final day of the regular season, when the Buckeyes overcame a 15-point deficit at Michigan State to win the Big Ten, it was Ravenel who, late in the second half, stood tall against Adrian Payne while Sullinger was on the bench with four fouls. In eight minutes, Ravenel had seven key points, two rebounds and two assists.
The foundation for that performance was laid three months earlier in Middle America. One year later, it appears that Ravenel has come full-circle.
"I hope we can continue to expand on that," Matta said.