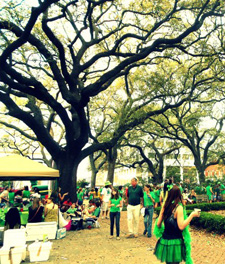 Entering the season, the biggest question mark surrounding the Ohio State men's basketball team was the low-post position. Gone was Jared Sullinger and automatic production night in and night out.
The responsibility fell on the shoulders of senior Evan Ravenel and sophomore Amir Williams. Each showed potential while filling in for Sullinger last season, whether he was injured or in foul trouble. But through seven games this season, head coach Thad Matta is still looking to fill the void.
So far, Ravenel and Williams are averaging a combined nine points, six rebounds and a blocked shot per game. Sullinger put up 17.5 points and nine rebounds per game last season. The offensive and defensive play has left head coach Thad Matta desiring more.
On Saturday, that meant inserting 6-foot-8 sophomore Trey McDonald into the lineup. In 15 minutes of play, McDonald tallied four points and four rebounds. He also provided a spark on the court. Matta was satisfied and said McDonald's minutes could rise.
"I felt like during the game and even watching it afterwards, that number one, he was consumed with doing the right thing," Matta said. "Basketball's not a game of perfection, that's for sure. But he seemed like he understood this is what my team needs me to do and I'm going to do it to the best of my ability."
McDonald has already eclipsed his playing time from a season ago. During Ohio State's run to the Final Four, McDonald was nothing more than a final minutes type of player. He got in for a grand total of 38 minutes in 13 games, scoring two points.
But he used the summer to get stronger and improve on both ends of the floor. McDonald developed a good defensive game and extended the range of his jump shot.
"Trey is very athletic," Matta said. "He's very strong. He's one of the strongest guys on the team.
"I've watched the evolution of Trey and just the progress that he's made since he's been here. There's no doubt in my mind that his best basketball is right around the corner."
It could be sooner rather than later. Matta said he would not shy away from using a three-man rotation in the paint. If McDonald's play screams for added minutes or Ravenel and Williams don't present the coaching staff with what they feel is efficient play, Ohio State's version of the Three Musketeers could become reality.
| # | Name | YR | HT/WT | PTS | REB | ASST | P | # | Name | YR | HT/WT | PTS | REB | ASST |
| --- | --- | --- | --- | --- | --- | --- | --- | --- | --- | --- | --- | --- | --- | --- |
| 4 | A. Craft | JR | 6-2/195 | 11.0 | 3.0 | 4.1 | G | 1 | P. Blackman | SR | 6-0/170 | 11.0 | 2.8 | 2.9 |
| 32 | L. Smith Jr. | JR | 6-4/210 | 11.0 | 5.7 | 1.9 | G | 11 | S. Wilson | JR | 6-1/160 | 6.2 | 1.4 | 1.7 |
| 12 | S. Thompson | SO | 6-7/200 | 7.1 | 4.7 | 1.6 | F | 5 | C. Smith | SR | 6-3/190 | 5.2 | 6.0 | 1.3 |
| 1 | D. Thomas | JR | 6-7/215 | 20.6 | 6.1 | 1.1 | F | 22 | R. Hassan | SR | 6-7/215 | 13.2 | 5.1 | 0.8 |
| 30 | E. Ravenel | SR | 6-8/250 | 5.1 | 3.7 | 0.3 | F | 44 | J. Smith | JR | 6-8/200 | 1.7 | 6.3 | 0.6 |
Opponent
During Matta's first season in Columbus, there was a team that nearly finished the season undefeated. But No. 1 Illinois, on a quest to match the 1975-76 Indiana Hoosiers, stumbled in the final regular-season game at Ohio State.
Another team that season, however, did complete a season with a 0 in their record. Savannah State finished 0-28, becoming the first Division I team in more than a decade to not win a game. Savannah State became a punch line again during football season, when the Tigers lost by a combined 139-0 to Oklahoma State and Florida State.
But the days of losing seem so long ago to the Tigers' men's basketball program. A year ago, they won the Mid-Eastern Athletic Conference with a 14-2 league record and 21-10 overall mark. A loss in the conference tournament sent them to the NIT instead of the NCAA Tournament, but the progress was evident.
The signature for Savannah State is not a high-flying offense. No, the Tigers play at a methodical pace, led by former Georgetown point guard and eighth-year head coach Horace Broadnax.
Last season, Savannah State allowed 59 points per game. Through nine games in 2012-13, that number has dipped to 53 points. And the Tigers aren't just doing it against low-level competition. They held fifth-ranked Florida to 58 points and Middle Tennessee State and Central Florida, two upper mid-majors, to 58 and 53 points, respectively. No team has scored more than 62 points against Savannah State this season.
That style conflicts with what Ohio State is trying to do – run up and down the court as quickly as possible.
"We're going against a great defense," Matta said. "You look at their scores and where Savannah State is defensively, they're a very experienced team. We have to execute and we have to take great care of the basketball."
All five starters return from last year's team. Despite only averaging 54 points themselves, the Tigers still have two starters that average double figures – Rashad Hassan (13.2 points) and Preston Blackman (11.0).
Hassan, a 6-foot-7 forward, is a MEAC player of the year candidate who likes playing down low. Blackman, Savannah State's point guard, is everything you'd imagine in a floor general. He makes the offense go and creates scoring opportunities. The ability to drive and shoot 3s makes him especially dangerous for opposing defenses.
While the Tigers' slow-down style allows them to limit teams' possessions, good defense in the form and steals and blocked shots is another component to their game plan. It's not just a system at work, but it's also players making plays.
A relatively short team by today's standards, Savannah State has still been able to carry a wide advantage over its opponents in rebounds.
Ohio State, suddenly a rebounding machine, may have something to say about that.
"We want to be the aggressors in this game," Ohio State sophomore forward Sam Thompson said. "We don't want them to come in here and dictate pace and dictate how the game is played."
Buckeye Breakdown
In 1968, the Football Buckeyes won a national championship engineered by the "Super Sophs," a group of sophomore players that is revered in Columbus to this day.
The 2012-13 Basketball Buckeyes might not win a national championship this season, but the groundwork to another Final Four could be forming with the help of three sophomores who didn't the see the court a significant amount last year.
Thompson, a forward, is starting and playing 24 minutes per game, averaging seven points, 4.7 rebounds, 1.6 assists and at least one spectacular dunk per game. McDonald was an afterthought last season, and wasn't on many people's radar entering this season. But after a month's worth of games, he's inching his way into being a regular part of the rotation.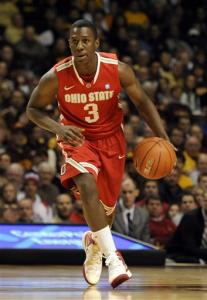 The headliner of the group, however, is point guard Shannon Scott. He came to Ohio State as a McDonald's All-American, but played timid and with a dose of uneasiness throughout his freshman season.
Backing up Aaron Craft is no easy chore. Craft is the team's most popular player, a constant force of production on offense and defense and he rarely exits the game. This season has seen a change. Craft is playing 33 minutes per game, while Scott is appearing in a shade under 20 minutes. Scott's production has also risen sharply.
He's scoring six points and coming away with 2.3 rebounds per game. But the part of his stat line that is bolded and underlined is assists and turnovers. Scott is leading the team with 33 assists – nearly five per game and four more overall than Craft – and has just five turnovers. His assist-to-turnover ratio is tops in the Big Ten and ranked in the top 10 nationally.
Basketball is a psychological game, and Scott said a year ago he was too focused on not turning the ball over. Year 2 has opened his eyes and allowed him to see the court better.
"I'm just focused on making the sure pass instead of making the risky pass," Scott said. "The defenses are actually coming closer to me now, so I'm able to make the easy pass and dish it off to my teammates."
He might not be scoring at will, but following a horrific freshman season when he made just 28 percent of his field goal attempts, Scott's 42-percent rate must feel like he can throw it in the ocean.
"My ability to score a little bit more this year is helping me," he said. "I'm confident with my shot right now. I feel like I should be making more, but I'm not going to be worried about it. They're going to start falling."
Scott's defense is also drawing rave reviews. He has a team-high 13 steals.
"I could not be happier for Shannon in terms of him just letting go and getting into the flow, having a sixth sense out there of what he needs to bring," Matta said. "It's a lot like I said last year late in the season: We had two attackers out there. I love the completeness of that unit."
Etc
Ohio State has the sixth-longest home winning streak in the country versus non-conference opponents (36 games).
The Buckeyes have won 13 straight home non-conference games by at least 20 points, the most in the nation.
Ohio State is 15-0 all-time against schools from the MEAC. It has never played Savannah State. 
In the national rankings, Ohio State is third in fewest turnovers per game, sixth in assist-to-turnover ratio, ninth in scoring margin and 10th in field goal percentage.
Deshaun Thomas' 20.6 points per game ranks 17th in the country. 
Eric Collins and Dan Bonner have the call.