Coming into the 2012-13 men's basketball season, it appeared that the key to Ohio State making a return trip to the Final Four would be Deshaun Thomas's ability to put put up points, as well as Aaron Craft's improvement on the offensive side of the floor.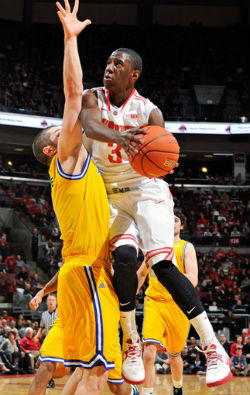 Fans quickly learned that Thomas would get his points and Craft appears to be more of an offensive threat than in his first two years with the program.
More importantly, it was also learned that it wouldn't be these two players that were the key to the team getting to Atlanta in late March, but rather how the other members of Thad Matta's squad would step up to supplement what Thomas and Craft bring to the table.
LaQuinton Ross and Lenzelle Smith Jr. are certainly two players who have stepped up so far this season, as they are averaging 10.3 and 11.0 points per game, respectively, but have been inconsistent, often times disappearing in the middle of games.
Sam Thompson has done his part, filling the stat sheet and showcasing a series of epic dunks, but is limited outside of the paint on offense and putting the ball on the floor.
The combination up front of Evan Ravenel and Amir Williams has been underwhelming at this point in the year, showing flashes of brilliance at times, only to be followed up with a lack of intensity that leads to easy baskets for opponents or missed opportunities to score on the other end of the floor.
The one player unmentioned that has been surprisingly the most consistent throughout this season and could be the key to another Big Ten title run for this Ohio State team is sophomore PG Shannon Scott.
Shannon Scott, 6-1/185, came to Ohio State as a freshman last season after starring at Alpharetta (GA) Milton High School and for the Georgia Kings nationally ranked AAU team. He was a McDonald's All-American and a four-star prospect, rated as high as the sixth best point guard in the nation by Scout, ESPN Scout's Inc., and 247 Sports.
Scott was expected to come into the rotation last season as a true freshman and provide quality minutes off the bench in relief of Aaron Craft, possibly playing alongside him at times to give the OSU backcourt a different look.
As the son of former UNC star and NBA player Charlie Scott, Shannon had a great grasp for the mental part of the game, to go along with his excellent ball-handling skills and ability to penetrate to create on offense, making it easy for people to assume he would pick up the college game quickly.
Things did not go according to plan for Shannon though, as the next level was more of an adjustment than he thought. As a freshman he averaged just over 10 minutes per game, scoring 1.2 points and notching 1.7 assists per contest.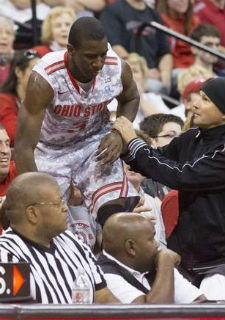 The stats look like nothing to be concerned with for the naked eye, but those who watched Scott had to be concerned with how he would pan out in Columbus. The freshman looked extremely tentative when inserted into the game and it was clear he lacked confidence, especially on the offensive end of the floor.
That showed, as he averaged a turnover a game in his limited minutes and shot just 28.2% overall from the field, including a putrid 5.6% from three-point range and 22% from the free-throw line.
Coming into this season, Scott was sort of the forgotten man on the roster. Everyone was focused on how Amir Williams would solidify the center position or how LaQuinton Ross could be the number two scoring threat for the team, but not many paid attention to the point guard from Georgia who was a gym rat all summer long, working to improve his game and exhibiting the advanced comfort he showed in games towards the end of the season.
The results can't fully be shown in numbers just yet, but the signs are there. Scott is averaging about 20 minutes per game so far this season and is scoring 6 points, grabbing 2.3 rebounds and dishing out 4.7 assists per contest. He notched his first career double-double against UMKC on November 23 with 10 points and 10 assists and has improved his field goal percentage to 42.1% overall this year, shooting 33.3% from behind the arc and 66.7% from the charity stripe.
Using the naked eye test once again, Scott is clearly more confident with the basketball in his hands. He certainly can become more consistent shooting the ball, but he drives the lane with assertiveness, shoots much more frequently, and has become a floor general when in the game.
His improved play and confidence has allowed Matta to insert him in the lineup alongside Craft, giving Scott the responsibility of handling the ball so that the team can take advantage of Craft's enhanced offensive skill set.
More importantly than his contributions on offense, Scott has proven to be a lockdown defender. Overshadowed by the media's (much deserved) love affair with Craft's defensive prowess, Scott has proven to be just as pesky of a defender for opponents to go up against, and he has proven it in the box score, averaging about two steals per game so far this season.
Thad Matta has seen successful in the past using multiple point guards on the court at the same time and fans should expect to see more of this going forward as Scott continues to improve his game with experience.
The key to winning in college basketball has always been good guard play, and if the rising sophomore star continues to play like he has, not only will he provide a big boost to this year's Buckeye team in pursuing another Big Ten title, but he could be the key to fueling another deep run into the NCAA Tournament come March.