As Deshaun Thomas trudged to Ohio State's sparkling new locker room in Value City Arena on Saturday, one would have thought upset-minded Long Beach State was on the verge of upstaging the seventh-ranked Buckeyes.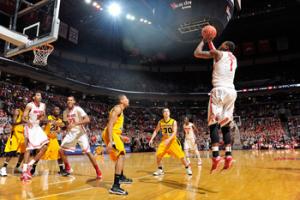 But the scoreboard told a different story. At halftime Ohio State was in control, leading 39-25. What also shone brightly, however, was Thomas' 3 of 10 first-half shooting performance. That is what the junior forward was frustrated about.
Twice in the first half Thomas missed back-to-back three-pointers on the same possession. On each occasion, he flailed his arms and hung his head.
Thomas, a preseason All-American, is Ohio State's pacesetter when it comes to scoring. He's also Ohio State's most emotional on-court player. When things are going well, Thomas can become too confident and is prone to attempting shots that raise eyebrows. But when shots aren't falling, Thomas tends to hoist shots that are just as questionable.
For head coach Thad Matta, though, he's seen a gradual improvement in Thomas' basketball maturity each season. On Saturday, the Indiana native was more excited about an assist on an Aaron Craft three-pointer than a three of his own.
"He was so excited when Aaron hit the three and when he hit LaQuinton on a nice pass for a layup," Matta said. "Those are things from that perspective of just continuing to understand the whole phase of the game and how he can affect it."
It was Craft who, in the first half, tried to calm the agitated Thomas after his consecutive missed shots.
"Aaron just pulled me to the side and said, 'Hey, man, the next one is going to go in,'" Thomas recalled. "After that, the shots were falling and I was making great passes and the game was rolling and I was very excited."
Over the games final 20 minutes, Thomas made 3 of 7 field goal attempts, including two 3s. Perhaps the best evidence that he's a changed player, though, rested on the other part of his stat line – the four rebounds and two assists.
Thomas finished with 18 points and was the Buckeyes' leading scorer for the fifth time in seven games. But that fact doesn't diminish the all-around player he is becoming. In the first half, Thomas, who once treated defense like he was being waterboarded, created turnovers on consecutive Long Beach possessions.
When Thomas arrived at Ohio State, defense was not part of the Indiana high school phenom's background. Neither was passing. It wasn't so much as Thomas being a ball hog, but rather it dealt more with him attending a small school and being athletically superior to his teammates and opponents.
That wasn't the case when he showed up in Columbus, much to the chagrin of Thomas.
"It's just me becoming a (better) player and just knowing the game and understanding it – knowing when to make the extra pass," Thomas said. "Freshman year, I probably wouldn't have made that pass. I would have jacked it up.
"It's just me learning the game and becoming an impact player and knowing there are other things than just scoring. There are other things in the game of basketball."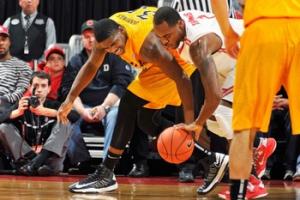 That lesson is being learned this season more so than the previous two. With the likes of Jared Sullinger, William Buford, David Lighty and Jon Diebler on the roster during Thomas' freshman and sophomore seasons, scoring options were plentiful for the Buckeyes.
Now all four of those shotmakers have departed, thrusting Thomas into a leading role on offense.
"It changes a lot," Thomas said of the opposing defenses. "Guys are hugging up on me, and they won't leave me."
That's the life of the No. 1 scoring threat on a top-10 team. Thomas is averaging more than 20 points per game, but Ohio State's struggles, a loss at Duke included, have centered on a lack of complementing Thomas.
It appears that ballyhooed sophomore LaQuinton Ross has answered the call. He's averaging 19 points over the past two games. If Ross – or a group of players – becomes the second scoring option behind Thomas, it creates a tougher game plan for opponents.
The past two seasons the Buckeyes' offense has been a pick-your-poison variety. With just one more option on this season's team, Ohio State becomes a threat to Indiana and Michigan in the Big Ten. And if you're among the best in the nation's toughest conference, you're one of the elite teams in America.
"The best teams I've coached are the ones that have multiple scoring options," Matta said. "The 2007 team was a great example of that. Night-to-night, you never knew who would lead you in scoring."
Said Thomas, about the emergence of Ross: "It frees me up a lot. It helps this team a lot. Last year, teams were double-teaming Sully and left me wide open. So if people keep doing that this year, there won't be anybody (double-teaming) people. I trust these guys. We all can shoot the ball."
That's the same message Thomas preached prior to the season, before he realized it might not be as easy as he anticipated. Even with another option being a must, it doesn't mean Matta or Thomas' teammates want their sharpshooter taking fewer shots. In actuality, they want the opposite approach.
"My most consistent message to him is 'mind right, game right,'" Matta said. "We're constantly trying to get him thinking the right thoughts. He's been in this position before at the high school level, and he has to learn it's a different game now in terms of being the guy."
Make no mistake, Thomas still loves shooting the ball – he said his ideal game would include 30 shots per game – but the message from Matta and observing teammates such as Craft bring selflessness to the court each game has little by little eaten away at Thomas' shell.
"What you can do to help your team at the college level entails a lot more besides just scoring," Matta said.
And that's the mindset Thomas takes when he walks on to the court at the outset of each game.
"I'm learning to do the little things," he said. "Being a leader, playing defense, going after offensive rebounds. This game is all effort. People out there know you can score, but can you do other things? Can you grab 10 rebounds? Can you get a steal? Can you box out? Can you make the hustle plays?
"I'm learning that it's not just all about the scoring, it's all about the effort."
Unlike shooting stats, effort does not show up on the scoreboard.