It's a yearly happening, much like leaves changing hues and tumbling from tree branches in October and November: Thad Matta's ever-changing philosophy on how to utilize his bench.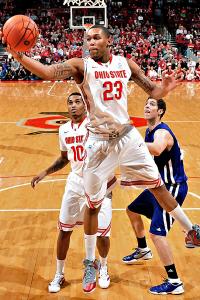 Some seasons Matta will only play six or seven guys extensively. Trust and defense are two key indicators in his decision-making. If he trusts you and if you're solid on the defensive end, chances are you'll earn playing time.
The Buckeyes' bench from last season's Final Four team didn't go very deep due to the starting five's level of experience and cohesion. But Jared Sullinger and William Buford, vital members of that team, are now playing professionally. Their departures have made Ohio State a younger, more inexperienced team.
That has caused Matta to go deeper into his bench than usual. Three reserves are averaging more than 15 minutes per game, and one of them is more offense than defense, going against one of Matta's central beliefs.
"I'm probably a little bit more comfortable with the depth that we have and the different things that we can present when we're on the court," Matta said. "Each guy has to get a couple things that we can hang our hat on every time we take the court. It can't be one game you do this to the next game you don't do that. That's when you become a really good basketball team."
So far, those qualities have been displayed. Sophomore forward LaQuinton Ross is on the verge of developing into Ohio State's No. 2 scorer behind Deshaun Thomas, sophomore guard Shannon Scott has developed into a serviceable player on both ends and sophomore center Amir Williams is a defensive force.
"It's going to help us a lot, having guys like (Scott) and Q come off the bench," Thomas said. "Teams are going to double-team me a lot, and having them there to step up is what we need."
Ohio State's starters are usually subjected to a high number of minutes played. Through six games, though, Aaron Craft's average of 33 minutes per game is the team high. But against Duke, Matta tightened things up considerably.
Craft played 34 minutes but fouled out, Lenzelle Smith Jr. played all but one minute and Thomas appeared in 30 minutes, though the 10 he was absent came in the first half due to foul trouble.
The bench did provide 18 points, 14 rebounds, three assists, two steals and a block in 58 minutes at Cameron Indoor Stadium. It's a welcome stat line for a coaching staff that's using the current homestand as a blueprint for the rest of the season.
"I think we've got more depth," than in previous seasons, Matta said.
In the Buckeyes' Final Four loss to Kansas last year, Evan Ravenel, Sam Thompson and Williams, who all came off the bench, didn't even attempt a shot in 29 combined minutes. That performance followed an NCAA Tournament run that was dominated by Ohio State's bench. In each of the Buckeyes' four wins en route to New Orleans, at least one reserve delivered nine points.
If Ohio State achieves another March to remember, the guys who enter after the opening tip will again be a large part of the story.
"Coach Matta told us he is not going to have a core five or six group of guys he will play," Ross said. "It is going to be a lot of in and out this year. Our team is versatile, so we have the option to have more players play."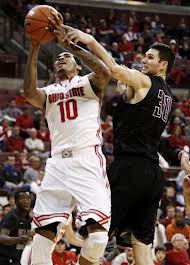 Q Rating
For nearly two years, Ohio State fans have heard about a shadowy figure named LaQuinton Ross. In high school, stories about shooting displays and point-scoring barrages reached epic proportions. When he arrived on campus at Ohio State in the summer of 2011, the stories kept rolling in.
But then the NCAA stepped in and ruled Ross a non-qualifier weeks before the start of practice. For the next couple months, Ross returned to his home state of Mississippi. In December, he rejoined the Buckeyes, but never made his way into the rotation.
Ross was not in basketball shape, a defensive liability who didn't fully learn the offense. Still, fans clamored for the sharpshooter, especially as the Buckeyes three-point shooting waned.
But the 2012-13 season has brought renewed hope to Ross, and through six games, it looks like the sophomore may become the second scoring option that the Buckeyes covet so much.
He's averaging 9.3 points per game in 18.5 minutes off the bench. Ross also owns the highest field goal (20-40, 50 percent) and three-point percentage (6-13, 46.2 percent) on the team. He's also made 77 percent of his free throws.
Ross enters Saturday's game against Long Beach State coming off the best game of his young career. In Ohio State's 70-43 win over Northern Kentucky last Saturday, Ross played a career-high 29 minutes and scored a career-high 22 points. He made 8 of 12 shots from in field, including three three-pointers.
"It was great having more playing time," Ross said. "Our coaches told me to shoot more and get more comfortable with my footwork, and that's what I did."
Northern Kentucky head coach Dave Bezold said he and his staff figured someone on Ohio State would provide made baskets – they just didn't know who it would be.
"To his credit, he stepped up," Bezold said. "We couldn't extend pressure to everyone. We gave up the jump shot. We didn't take away his confidence by breaking his rhythm."
As the season progresses, though, if Ross becomes the unquestioned second scoring option for the Buckeyes, the game plan will no longer be a mystery. Stopping Thomas and Ross becomes the No. 1 goal for opponents.
"LaQuinton is a special type of player. He's  one of the most talented offensive players I've ever had the benefit of playing with," Ravenel said. "It's just the fact of him bringing it every night and staying with that same intensity level."
If Ross can get his points against Kansas, it will add another layer of proof that he is indeed the guy. Against another marquee opponent last week – Duke – Ross scored nine points in 11 minutes. But only one of those minutes came in the second half. At that point, Matta decided he needed defense, something Ross has struggled with since high school. After the game, however, Matta said he regretted that decision.
For the next four months, he'll have a chance to redeem himself.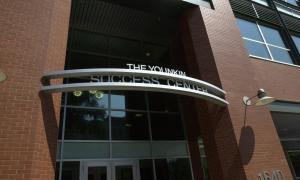 School Days
For the nearly 57,000 students at Ohio State, this week is both the best of times and the worst of times. The semester is nearly over with winter break following. But to get there, one must first navigate finals week.
That includes the 13-member Ohio State men's basketball team.
This season is the first in the university-wide change to semesters. But for Ravenel it's been easy to adapt – he spent his first two years of college at Boston College, a semester school. Still, there is plenty of time set aside for hitting the books.
"Study time has definitely increased tremendously," Ravenel said. "I've been going straight from practice right to SASSO (Student-Athlete Support Services Office)."
Craft, who has spent two years in the quarter system at Ohio State, hasn't been too fond of the changes.
"It's different, taking more classes," he said. "You definitely have to be on top of things. It's been difficult to adjust at times."
The Buckeyes have always been off during finals weeks, but the first month of the schedule has also multiple large gaps between games. Ohio State has already had five, six and seven day layoffs between games – and there have only been six. One – the Carrier Classic – was cancelled.
With a young team, Matta has been able to better suit his team for games due to the high number of practices. But nothing can replicate game experience.
"I think both are important," Matta said. "For this team putting together a collection of practices and then going out and planning is very important. It's kind of like studying and studying then taking the test. I've seen how well we carry over from practice to games, which is good. The gaps are kind of odd, but they are what they are."