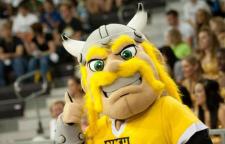 The college basketball season is an arduous five-month journey. November losses do not define a team, nor do they impede possible March success. But Ohio State head coach Thad Matta is not interested in sugarcoating what took place Wednesday night in Durham, N.C. – a loss.
"I'm not happy," he said. "You go home, you look at this thing, and there's going to be some areas where we had chances to make plays and didn't make plays."
That assessment is spot-on, as the Buckeyes led Duke for a majority of the game's 40 minutes, but not when the clock hit 0:00. No. 4 Ohio Sate shot miserably, despite having the lead for more than 24 minutes, and grew weaker down the stretch in a hostile environment.
"If you had told me we were going to shoot 34 percent, I would have said we got ran out of the gym," Matta said.
The biggest positive was the play of the bench and young starter Sam Thompson.
"With the youth of this team, you hope you can find some positives when we get back and build on those, but also correct the negatives," Matta said.
Ohio State's first chance at showcasing changes to its overall product is Saturday afternoon against Northern Kentucky. The Norse are in the process of transitioning from Division II to Division I. They were Matta's first opponent at Ohio State, though it was an exhibition game back in 2004.  
While Ohio State's home non-conference winning streak doesn't compare to Duke's 97 games, 34 straight is still something to note. If it grows to 40 on Dec. 22, when Kansas comes to Value City Arena, the Buckeyes can look back to Duke as a springboard.
| # | Name | YR | HT/WT | PTS | REB | ASST | P | # | Name | YR | HT/WT | PTS | REB | ASST |
| --- | --- | --- | --- | --- | --- | --- | --- | --- | --- | --- | --- | --- | --- | --- |
| 4 | A. Craft | JR | 6-2/195 | 13.6 | 2.8 | 4.4 | G | 1 | E. Faulkner | SR | 6-1/185 | 7.5 | 5.3 | 3.0 |
| 32 | L. Smith Jr. | JR | 6-4/210 | 11.4 | 5.2 | 1.8 | G | 24 | C. Jackson | JR | 6-4/195 | 6.8 | 4.3 | 2.3 |
| 12 | S. Thompson | SO | 6-7/200 | 5.4 | 5.0 | 1.4 | F | 40 | E. Jones | SR | 6-4/200 | 15.8 | 4.0 | 2.0 |
| 1 | D. Thomas | JR | 6-7/215 | 22.4 | 6.2 | 1.2 | F | 5 | E. Watson | SR | 6-7/190 | 6.3 | 4.3 | 0.5 |
| 30 | E. Ravenel | SR | 6-8/250 | 6.0 | 3.6 | 0.4 | F | 21 | J. Billups | SO | 6-6/225 | 8.3 | 3.0 | 0.3 |
Opponent
Northern Kentucky has zero wins against Division I competition during any of Ohio State or the Norses' players' lifetimes. They are currently in the midst of moving up from Division II, where they were a juggernaut. Head coach Dave Bezold has been at Northern Kentucky for eight seasons – the same amount as Matta – and has a similarly impressive record of 161-79.
But 2012 has been a four-game 'Welcome to the big time' moment so far.
Northern Kentucky is 0-4. Its last D-I victory: 1984. The Norse have won 20 games in five of the past six seasons, but that was in the Great Lakes Intercollegiate Athletic Conference. That trend isn't likely to contend as they are now competing in the Atlantic Sun.
"They are going to look at us like we don't have a chance to win this game," Northern Kentucky point guard Ethan Faulkner said about Ohio State. "If we couldn't go out there and compete we wouldn't play them and our coaches wouldn't have put them on the roster. We're going to play hard."
Senior guard Esaunte Jones is Northern Kentucky's most talented player. The Nebraska transfer is averaging 16 points, four rebounds and two assists per game. The biggest problem facing Northern Kentucky is Jones is the leading scorer by eight points. As a team, the Norse are only scoring 57 points every 40 minutes.
Shooting woes have great contributed to Northern Kentucky's lack of points. It is converting less than 40 percent of its field goal attempts and only one of every four shots from long range. 
Those numbers will have to improve tenfold if the Norse have any chance at pulling off the upset.
"I don't think we have anything to lose to be honest with you," Faulkner said. "We are going up there and no one expects us to win outside of the people in our locker room. They go from playing Duke to NKU; all the pressure is on them and off of us. We can go out there and play like we always do."
Buckeye Breakdown
Matta took blame for some of the offensive ineptitude, though it'd be hard to blame him for his coaching decisions. LaQuinton Ross has the potential to be one of Ohio State's top scorers, but taking out Thompson or Lenzelle Smith Jr. hampers the defense.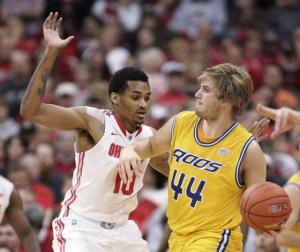 The pick your own poison scenario usually applies to your opponents, but for Ohio State, it applies to itself for the time being.
"I thought LaQuinton was really, really good," Matta said. "I should've gotten him probably in there a little earlier in the second half. Sam was rolling there and we kind of stuck with him."
Ohio State didn't shoot particularly well in either half at Duke, but a 20-6 Blue Devil run in the second half is what undid the Buckeyes. Matta, apparently, thought defense was more valuable during the game's critical minutes in the latter moments. Ross played one minute in the second half.
Duke forward Rasheed Sulaimon scored all 17 of his points in the second half, and that's whom the defensively challenged Ross would have been matched up against. Some might say it couldn't have gotten any worse, but Ross is still slow at times on the defensive end.
In the first half, there was the occasional breakdown in transition and a lack of execution on switches.
"We stopped attacking because we had to take the ball in-bounds because they were scoring every time," Matta said. "That was probably the biggest thing – we weren't able to get out and get into our flow because they were shooting the ball so well."
It's a trend – offense for defense – that's worth watching as the season progresses.
Etc
This is Ohio State and Northern Kentucky's first meeting during the regular season. The Buckeyes beat the Norse in a 2004 exhibition, 77-67.
Northern Kentucky has held a second-half lead in all four of its losses.
Tom Hamilton and Jim Jackson have the call. 
George Clooney studied broadcast journalism at Northern Kentucky.