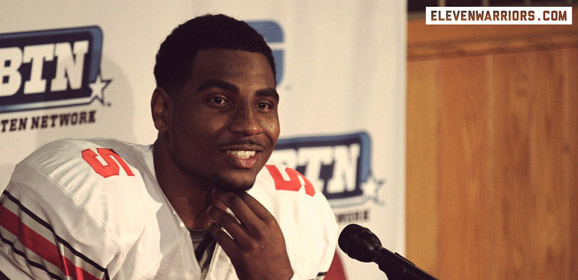 A day after the Big Ten's awards were mocked roundly, Ohio State quarterback Braxton Miller and defensive end John Simon were named the conference's offensive and defensive players of the year, respectively, as voted on by a combination of media and coaches.
The story of Monday night's All-Big Ten selections was the amount of players, not just Buckeyes, which were snubbed. Miller and linebacker Ryan Shazier were two of the biggest. But Michigan's Jake Ryan was also slighted.
Legions of Big Ten fans scorned the coaches, whose ballots differed greatly from the media's honorees. In Columbus, though, a sense of redemption was had on Tuesday as Miller and Simon were honored as the Big Ten's best.
Miller was named the first-team quarterback by the media Monday as well as the Griese-Brees quarterback of the year. Nebraska quarterback Taylor Martinez was tabbed as the coaches' first-team quarterback somewhat controversially.
Miller was second in the league, averaging 275.8 total yards per game. He became only the third quarterback to rush for 1,000 yards in a season in Big Ten history, joining Antwaan Randle El and Denard Robinson. Miller rushed for 1,271 yards and 13 touchdowns, the first Meyer-coached player to eclipse the 1,000-yard plateau.
"I'm grateful for this moment and this honor," Miller said. "And I am very thankful for the coaches we have and for their working so hard with us."
In the season opener, Miller broke the single-game rushing record for an Ohio State quarterback and did so again versus Nebraska, tallying 186 rushing yards. 
Five times Miller totaled 300 yards of offense, which tied a school record. He topped the school record in total yards for the season with 3,310 yards, breaking the 17-year record held previously by Bobby Hoying.
The Davey O'Brien finalist threw for 2,039 yards and 15 touchdowns. He completed almost 60 percent of his passes.
"Winning this award is quite an achievement for this young man because he can still get better," Ohio State head coach Urban Meyer said. "I am happy for him and very proud. This is a terrific honor for a Buckeye to receive."
Miller's predecessor, Terrelle Pryor, was named the conference's preseason offensive player of the year but never took home the postseason honor. 
Simon, referred to as the 'heart and soul' of the Buckeyes by his teammates and coaches, led the conference with nine sacks. He had a school-record tying four sacks in his final collegiate game at Wisconsin.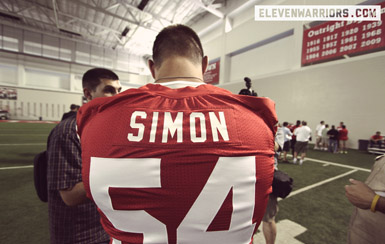 "It means a lot," Simon said on winning the award. "It's truly a great honor, but it's a team award first and foremost. I praise those guys for helping me get this."
It was during the game against the Badgers that Simon suffered a knee injury that knocked him out of his Senior Day versus Michigan. Ohio State won, 26-21, to complete an undefeated 12-0 season.
"It was extremely tough to have to stay on the sidelines that last game and to watch your family go out there and play," Simon said. "But they stepped up and got the win and I've never been more proud of a group of guys in all my life."
Simon was second on the team and third in the conference with 14.5 tackles for loss.
"I think everyone knows how highly I think of John Simon," Meyer said. "He is absolutely one of the finest young men I have had the privilege to coach. His determination and effort and selfless approach are second to none, and there is no better player or person to be honored with this player of the year award."
Miller and Shazier's second-team honors were from the coaches, leading many to believe it was a direct shot at Meyer. The Big Ten coaches have not welcomed the fiery and uber-competitive Meyer with open arms.
During the height of the 2012 recruiting season, Bret Bielema and Mark Dantonio each accused Meyer of dirty tricks on the recruiting trail. The mud slinging got so bad that commissioner Jim Delany got involved and helped patch things up.
A few weeks after National Signing Day, Meyer addressed the situation at the annual Ohio High School Coaches Convention in Columbus.
"You know what, I've got nine guys who better go do it again," he said, referencing his assistants' aggressive recruiting. "Do it a little harder next time."
In September, Spartan defensive coordinator Pat Narduzzi accused Meyer and the Buckeyes of sending game film that didn't include important signals, motions and shifts.
"We had tape cut off all week, where they changed the tape," Narduzzi said after the game. "I'm not going to lie to you. They send you tape and they've got it all cut off, and you don't get to see shifts or motions or anything else."
Meyer said he was unaware of the situation and athletic directors from both universities said the matter was handled earlier in the week.
Winning and changing the culture of the antiquated Big Ten might not win over fans in the 11 other Big Ten locales. But Meyer is already being hailed as a Pope in Columbus.