One year ago, Urban Meyer was introduced as Ohio State's head football coach. At his introductory press conference, he spoke of how he wanted to make the state of Ohio proud and that it could happen because the football program wasn't broken.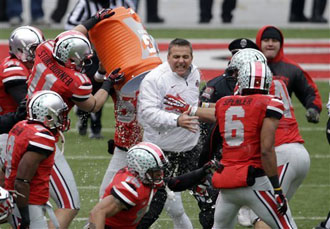 Meyer proved that by leading the Buckeyes to a 12-0 season just one year removed from seven losses. As the final seconds ticked off the clock Saturday afternoon in Ohio Stadium, more than 11.5 million Ohioans celebrated in unison. From Toledo to Pomeroy, Cincinnati to Ashtabula, Meyer's goal had come to fruition.
But now the hard part comes – sustaining that success and keeping the current players hungry. Complacency is common after teams win championships and have undefeated seasons. That's the battle Meyer and his coaches will have to face for the next year.
Step one came Monday morning when part of the Ohio State roster reported for a 6 a.m. workout at the Woody Hayes Athletic Center with strength coach Mickey Marotti. Meyer and his assistants are not permitted by NCAA rules to observe offseason drills.
Staff meetings galore have already taken place in the few hours following Saturday's 26-21 win over Michigan. Just because the Buckeyes have no conference championship game or bowl to prepare for doesn't mean the work stops.
"We need an angry team next year," Meyer said. "If we have to manufacture that, we will. If something was taken from you, we're going to use that. We're going to use a lot of things, but we're going to try to push that to get an angry team."
What Meyer had in 2012 was a self-sacrificing bunch. No seniors left when the postseason ban was handed down, no one said no when the coaching staff asked for extra contributions during practice and games, players played out of position and backups stepped into leading roles. In a word, Ohio State was a team.
"The memory that I'll always have of this season, without getting overly dramatic, is just the complete selflessness," Meyer said. "Arguably the best I've ever seen. You always talk about team, and it's a cliché that every coach dreams of.
"You're always taught as young kids to put the team before (yourself) and all that. But how many times does that actually happen? It's rare, but there's example after example of this team doing that."
It was the senior class that personified that selflessness. Zach Boren, Etienne Sabino and John Simon, all captains, did everything that was asked of them. It's a trait that exposes itself in all great teams, including Meyer's 2004 undefeated Utah team and 2006 and 2008 national championship teams at Florida.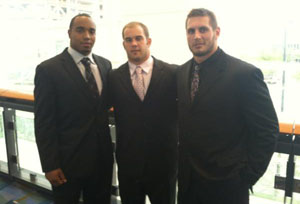 "This group just has incredible character, determination and genuine love for one another," said Meyer, about the 2012 Buckeyes. "For those of you who've never played the game or covered it or been around those kind of people, it's real – I witnessed it, I saw it. I saw a team that had holes and filled holes."
But those attributes didn't always define the 2012 Ohio State football team. The first four games were sloppy affairs, though they each resulted in a win. Week Five brought the season's first road trip, at Michigan State. At the time, the Spartans were thought to be a favorite in the Big Ten. That stock dropped throughout the season, but it didn't diminish what happened in an East Lansing hotel ballroom on Sept. 29 at 11:22 a.m.
It was then that Meyer, his coaching staff and the players realized they were onto something.
"That's when I saw it," Meyer said. "Up until then, I didn't think we had them, to be honest with you. They weren't playing like it and they weren't acting like it."
Ohio State didn't have its best game of the season that day – the Buckeyes turned the ball over three times – but it overcame the mistakes and leaned on the defense to grind out the Big Ten-style victory.
Seven games later, the Buckeyes finished just the sixth perfect season in school history. It's a team, according to Meyer, that can play with anyone in America.
Next season, Ohio State will have the opportunity to play in the national championship game if all goes well. But it will have to do so without eight starters from the 2012 team, including six on defense. That number could grow depending on what junior defensive lineman Johnathan Hankins and redshirt sophomore cornerback Bradley Roby decide regarding their possible NFL futures.
Meyer said he has not spoken to either about their impending decisions, but added that he will do so when they ask.
With Sabino and Boren departing, the linebacker position is by far Ohio State's biggest hole entering next season. Sophomore Ryan Shazier, the leading tackler from 2012, returns, but behind him is a group of young and inexperienced players.
"That's the weakest area of our team," Meyer said of the linebackers. "We're losing a right tackle (Reid Fragel). I worry about the depth behind those guys, but next year I feel our offensive line will be very good. I worry about cornerback a little bit because we're losing a really good player in Travis (Howard). The D-line, I think there are some good young players, but you're losing a guy like John Simon."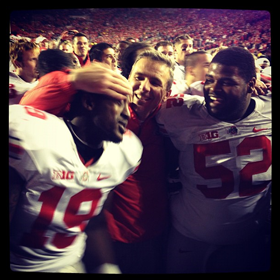 Ohio State's nine assistants are assured of returning, unless, of course, other schools come calling. Meyer was used to losing talented assistants at Florida, and the same trend could develop in Columbus.
That list could include defensive coordinator Luke Fickell, someone Meyer was concerned about after Indiana scored 49 points against the Buckeyes in October. But Fickell and the rest of the defensive staff rallied and put the shiny exterior back on the Silver Bullets.
"I did have the same concerns that probably every person in America had in watching our defense play," Meyer said. "You can see the steady growth of our defensive staff. I don't want to use the word phenomenal, but I felt the comfort level between Everett Withers and – Mike Vrabel's never coached D-line before, and it really showed his experience as that group developed."
The biggest piece to the Buckeyes' 12-0 season was unquestionably the play of dynamic quarterback Braxton Miller. He accounted for 3,310 total yards, an Ohio State single-season record, breaking a 17-year mark held by Bobby Hoying. Miller threw for 2,039 yards and rushed for 1,271 yards with 28 total touchdowns. The sophomore averaged more than 275 total yards per game.
Still, while Meyer may have counted Miller among the Heisman Trophy candidates, the head coach didn't walk away from 2012 awestruck. That's what is in store for the future – at least he hopes.
"Our quarterback was not the most fundamental quarterback in the country, so (offensive coordinator/quarterbacks coach) Tom Herman and I are going to have a talk about that," Meyer said.
"A quarterback, he has to run the show, and he did not a year ago. And he certainly did not early in this year. But he began. I saw him call the team together and say some things to them. So he still has a long way to go. If he becomes the best fundamental quarterback in America, I think he'll be the best quarterback in America. I think it'll be comical what he'll do."
The Meyer family is hoping for added achievements as Urban's coaching career at Ohio State continues. But more important is the contract he lived up to. No, not the one that pays him million. The pink one he took out of his pocket last November.
A reenergized Meyer lived up to daughter Nicki's demands and paid for doing so – literally.
"Every Sunday I busted out of here at noon and went and watched my son (Nate) play football," Meyer said. "That would have never happened (before).
"I was 15 minutes late and getting texts from my wife (Shelley) saying, 'You'd better get here.' So I went through a couple of red lights. That's 50 bucks, but it was worth it. 
"Great story, isn't it?"