Braxton Miller's historic season ended with multiple Big Ten accolades. On Monday, Miller was named the Big Ten's quarterback of the year (Griese-Brees Award) and a first-team All-Big Ten selection by the media.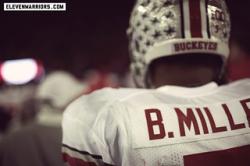 "I saw all the immeasurable talents we look for," Ohio State head coach Urban Meyer said of Miller on Big Ten Network. "Great athleticism, he has a tremendous release and arm strength. Everything in our offense is quarterback based. To win a game, you can't have a bad day at quarterback."
Nebraska quarterback Taylor Martinez was the coaches' first-team selection. Miller earned second-team honors.
Ohio State capped off a 12-0 season this past Saturday with a 26-21 win over archrival Michigan. Miller was the catalyst on offense, finishing the season with a single-season school-record 3,310 total yards. A Davey O'Brien finalist, Miller threw for 2,039 yards and 15 touchdowns. He completed nearly 60 percent of his passes.
But he was just as big a threat on the ground. Miller rushed for a team-high 1,271 yards, becoming Meyer's first 1,000-yard rusher in 11 seasons as a head coach. Miller rushed for an Ohio State quarterback record 186 yards against Nebraska. On the season, he had 13 rushing touchdowns. Miller averaged more than 275 total yards per game.
Left guard Andrew Norwell, selected by the media, was the only Ohio State offensive lineman on the first-team offensive line. He helped contribute to the 10th-best rushing attack in the country. The Buckeyes averaged 242 rushing yards per game. Ohio State scored 37 rushing touchdowns, fifth-most in the nation.
On defense, end John Simon was named the Smith-Brown defensive lineman of the year. He wasn't able to play on his Senior Day against Michigan, but that didn't diminish his production for the first 11 games. Simon led the conference with nine sacks. In his final game as a Buckeye, he tied a school record with four sacks at Wisconsin. Simon also tied a school record with five tackles for loss against Nebraska.
Simon was just the eighth two-time captain in program history and was singled out by Meyer repeatedly for his leadership qualities.
Linebacker Ryan Shazier and cornerbacks Travis Howard and Bradley Roby were all named first-team All-Big Ten by the media, while Simon, Roby and Johnathan Hankins were all honored on the coaches' first-team.
Shazier finished with a team-high 115 tackles. That total was second in the conference, but he led the league in tackles for loss with 15. Howard intercepted a Big Ten best four interceptions, while Roby is second in the country with 19 passes defended. He broke up 17 passes, a school record, and intercepted two passes, including a pick-six against Nebraska. Roby is the only defensive player in the FBS to score touchdowns three different ways this season. He finished third on the team with 63 tackles. Hankins had 55 tackles, including four for loss and one sack on the season.
"Being named all-Big Ten just shows that hard work really does pay off," Roby said. "I think I was having a pretty good year, but I am most happy that we won all of our games. That's what makes you feel really good."
Hankins was a second-team selection by the media. Shazier and safety Christian Bryant were second-team selections by the coaches. That's great news for Bryant, but think about this: The Big Ten's coaches, the esteemed and highly successful talent scouts that they are, think Ryan Shazier is – at best – the 4th-best linebacker in the conference. Let that sink in for a minute.
Running back Carlos Hyde was a second-team selection by both the coaches and the media.  Wide receiver Corey Brown was on the coaches' second-team and offensive lineman Jack Mewhort was a second-team selection by the media.
Coaches Honorable Mention: Safety C.J. Barnett, Howard, offensive linemen Corey Linsley, Mewhort and Norwell
Media Honorable Mention: Barnett, Brown, Bryant, offensive lineman Reid Fragel, Linsley and linebacker Etienne Sabino.
Zach Boren was Ohio State's Sportsmanship Honoree.
"I am happy for all of the members of this team who are being honored, and also for their teammates, whose hard work helped these guys earn this Big Ten recognition," Meyer said. "It is a tribute to the work ethic of both John Simon and Braxton Miller, coupled with the fact that they are both excellent football players, that they were named players of the year at their positions."