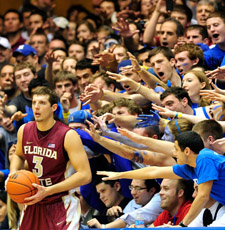 As far as basketball venues go, they don't get much more historic than Duke's Cameron Indoor Stadium. Built in 1940, the 9,314-seat arena is one of the biggest homecourt/field advantages in all of sports.
Duke has won 84 percent of its games at Cameron and 88 percent since Mike Krzyzewski was hired before the 1980 season. The Blue Devils have currently won 96 consecutive home non-conference games – 9,000 straight as Ohio State head coach Thad Matta said. The streak, which Ohio State will attempt to break, dates to February 2000.
One player on Ohio State's roster that does have a victory in Cameron is senior forward Evan Ravenel. The Boston College transfer was victorious along with his Eagles teammates against the Greg Paulus-led Blue Devils.
"I bring it up all the time," Ravenel said. "I bring it up almost daily."
Paulus, now one of Ravenel's coaches, has turned into a valuable resource for Matta. He detailed where all the dead spots are in the old gym.
"He's got it all mapped out," said a laughing Matta. "There's a big chart with pins stuck in it."
Playing in hostile environments is nothing new for the Buckeyes. They played at Florida two years ago and Kansas last season. Instead of being intimidated, though, Ohio State's players have embraced it.
Junior point guard Aaron Craft said opposing fans have chanted his girlfriend's name and sung Miley Cyrus' "Party in the USA" when former teammate Jared Sullinger was shooting free throws. That's because Craft and Sullinger did a karaoke sketch for the Value City Arena scoreboard that soon after went viral due to the awful vocals.
At the end of the day, Craft said the taunting is all in good fun.
"The road games help us the most toward the end of the season," junior guard Lenzelle Smith Jr. said. "We've heard about the Cameron Crazies. I'm excited."
The Crazies aren't likely to forget last season's affair, which ended with Ohio State winning, 85-63. Ohio State scored the first 11 points of the game, in front of LeBron James and Dwyane Wade, and led by as many as 25.
"It was a defining moment for our team," Smith said, who added it was the best game he's been a part of at Ohio State.
If the Buckeyes get a win tonight, there may be a new No. 1 on that list.
| # | Name | YR | HT/WT | PTS | REB | ASST | P | # | Name | YR | HT/WT | PTS | REB | ASST |
| --- | --- | --- | --- | --- | --- | --- | --- | --- | --- | --- | --- | --- | --- | --- |
| 4 | A. Craft | JR | 6-2/195 | 14.3 | 2.5 | 5.3 | G | 2 | Q. Cook | SO | 6-1/175 | 10.7 | 3.2 | 5.5 |
| 32 | L. Smith Jr. | JR | 6-4/210 | 11.5 | 5.3 | 1.8 | G | 30 | S. Curry | SR | 6-2/185 | 17.0 | 2.3 | 0.8 |
| 12 | S. Thompson | SO | 6-7/200 | 5.8 | 4.3 | 1.8 | F | 14 | R. Sulaimon | FR | 6-4/185 | 12.0 | 4.3 | 2.0 |
| 1 | D. Thomas | JR | 6-7/215 | 24.0 | 7.3 | 1.5 | F | 34 | R. Kelly | SR | 6-11/230 | 11.8 | 5.2 | 2.3 |
| 30 | E. Ravenel | SR | 6-8/250 | 5.5 | 4.0 | 0.5 | F | 5 | M. Plumlee | SR | 6-10/235 | 19.7 | 10.0 | 1.7 |
Opponent
In a few short weeks, Duke has shot up the college basketball rankings, from No. 8 in the preseason to second. In this week's poll, the Blue Devils are one spot behind Indiana and managed to garner first-place votes.
Duke is coming off an impressive showing at the Battle 4 Atlantis in the Bahamas, winning the tournament title and knocking off previous No. 2 Louisville. Already this season, Duke has defeated two top-five teams at neutral sites – Kentucky at the Georgia Dome being the other. The Blue Devils get a crack at their third when the fourth-ranked Buckeyes enter Cameron Indoor Stadium.
"To me it's easy to get up for these games," Duke senior forward Mason Plumlee said. "And I think that this is a team that loves these kind of games, judging by how we've played so far this season."
Prior to the season, Duke was highly thought of, but the fast start was not entirely expected. With the three triangle schools – Duke, North Carolina and North Carolina State – each ranked in the top 10 to start the season, the Blue Devils have quickly distinguished themselves.
In short, that is why Duke, not top-ranked Indiana, is off to the most impressive start of the season. Along with wins over the Kentucky schools, Duke owns victories over Minnesota and VCU. The Blue Devils have played the sixth-toughest schedule in the country.
"This has been a good team thus far," Krzyzewski said. "In fact, a very good team. We've ended up playing the toughest schedule in the country. The competition has helped us improve but also learn more about one another."
They've done it with a combination of experience and youth.
Duke starts three seniors, a sophomore and a freshman. It is the senior Plumlee who has done most of the damage in the first six games, averaging nearly 20 points and 10 rebounds per game.  Sharp-shooting senior Seth Curry is scoring 17 points per game, while underclassmen Quinn Cook, a sophomore, and Rasheed Sulaimon, a freshman, are putting up a combined 23 points, 7.5 rebounds and 7.5 assists per game. 
The Blue Devils' starters all average more than 30 minutes per game, and only one reserve plays more than 10 minutes per game. That could catch up with Duke tonight, as they're attempting to get fresh legs after playing three high-level games in three days in the Bahamas.
But like Matta's teams that had short benches, Duke has cohesion. The three starting seniors know each other's every move and Cook, whom Ohio State passed over for Shannon Scott, has developed into one of the best point guards in college basketball.
Cook was the tournament MVP in the Bahamas, helping to silence critics, Coach K among them, that felt he couldn't be the offensive facilitator after a forgettable freshman season for the Blue Devils.
"The main thing with Quinn is that he hasn't shown any weakness," Krzyzewski said. "He has a great face, a great demeanor. A leader has to look strong before he is strong. He has to look like a winner and act like a winner before he is a winner."
The names on the front of the jersey have been impressive, but Cook and Duke have not faced a defender quite the caliber of Aaron Craft.
"(Craft) is definitely a great defensive player," Duke junior guard Tyler Thornton said. "He puts on a lot of ball pressure and plays passing lanes very well. He controls his team very well."
If Cook dices up arguably the best on-ball defender in the country, Duke fans might want to invest in a return trip to Atlanta.
Buckeye Breakdown
A year ago, Austin Rivers, the son of Boston Celtics coach Doc, was the shooter Ohio State had to keep its attention on all game. This season Seth Curry, the son of former NBA star Dell and brother of Golden State guard Stephen, will garner the attention.
Rivers got his points against the Buckeyes last season – 22 – but the lopsided score makes that total easy to forget. Curry is a similarly gifted shooter and slasher. He's averaging 17 points and is capable of scoring points in bunches.
"He can shoot the ball really well," Smith said. "I'm definitely going to have to try to take that away from him. From the film I've seen, he puts the ball on the floor well. It's definitely going to be different than guarding Austin Rivers last year."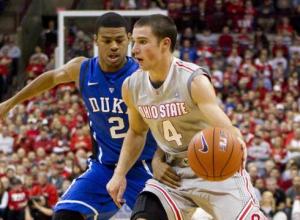 Last season Curry averaged 13 points a game, yielding shots to Rivers. Instead of changing the offense around, Curry has just assumed Rivers' old role. With more opportunities to score, Curry's numbers have risen in nearly every category. He is shooting considerably better from the field, behind the arc and at the free throw line.
There is also a threat down low, which gives Duke its dangerous offense even more freedom. Mason Plumlee has leapt to the top of early national player of the year lists by averaging a double-double through the Blue Devils' first six games. And it's the top-tier opponents where he's done the most damage.
Plumlee missed one shot against Kentucky, scoring 18 points. He had 20 points and 17 rebounds versus Minnesota, 17 and 10 versus VCU and 16 and 7 versus Louisville.
"You try to get a read on his tendencies, and he's just so big and athletic," Matta said. "He scores a plethora of ways.
"It's hard to say, 'OK, he's going to do this when he catches it.' He's really, really good."
Plumlee finished with 16 points and eight rebounds against Ohio State last season, and that was against Sullinger. This year he gets to go up against Ravenel and Amir Williams, who are still finding their niche on defense.
It could be a long night for the Buckeyes, but one way or another, Matta will find out a great deal about his team from 9:30 to 11:30 p.m. There will be good and bad, but as the season progresses, he can point to Durham and the lessons that were learned.
"You go into the game and you're saying, 'Hey, at the conclusion of this game, you're going to know a lot more about your team,'" Matta said. "Road environment, it's going to be hostile, you're playing a great basketball team. From that perspective, as much as you want to look at (tonight), you're thinking long term as well."
Etc
Ohio State is 6-5 all-time in the Big Ten/ACC Challenge. But the Buckeyes have won their past four. They are the only Big Ten team with a winning record in the Challenge.
Duke previously beat Ohio State in the Challenge, 91-76, in 2002 at the Greensboro Coliseum. 
The Buckeyes are 3-3 versus the Blue Devils but have never played in Cameron Indoor Stadium. Ohio State is 2-2 in neutral site games and 1-1 in Columbus.
Ohio State leads the country in three-point field goal percentage (32-67, 48 percent).
Brent Musburger and Jay Bilas have the call.