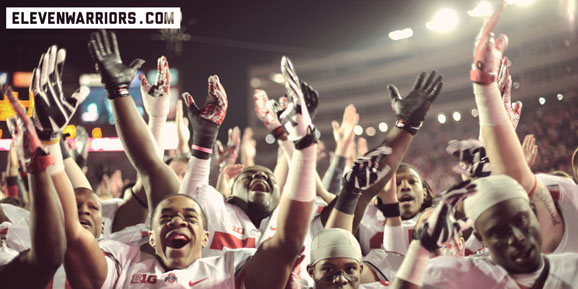 If you rewound the scene 10 years, the imagery was remarkably similar. Ohio State, with a newly hired head coach, was clinging to an undefeated season on a cold November day. Late in the fourth quarter against Michigan, a Buckeye interception near the south end zone acted as the final straw, leading to thousands of fans streaming on the field in euphoria. 
Fast-forward to Saturday in Ohio Stadium and the movie replayed for 105,899 scarlet-and-gray clad fans. But instead of making reservations for a winter haven like they did a decade ago, Buckeye fans are finalizing plans to spend the holidays with grandma, in-laws and at home on the couch.
There is no Big Ten title game in Indianapolis, no national championship game in Miami, no Rose Bowl in Pasadena; heck, there is no Gator Bowl in Jacksonville.
Ohio State, stung with a postseason ban after former head coach Jim Tressel knowingly used ineligible players throughout the 2010 season, was banned from the 2012 postseason. A coaching staff and team are left to ponder all the 'what-if' scenarios.
The 2002 team, honored between the first and second quarter during Saturday's 26-21 win over Michigan, knew their fate after they won the rivalry game. Tempe, Ariz., was the destination, and there was nothing that could happen to change that. So, in a way, the 2012 team shares that certainty. It's just not the formality they were hoping for.
Blame for Ohio State's current situation has been passed around to several different people. But athletic director Gene Smith has drawn most of the fans' ire, despite Tressel putting Smith in the position to make a decision regarding the NCAA penalties.
Smith has ben criticized for not taking a bowl ban a season ago, though there was no guarantee Ohio State would have steered clear of a ban this season anyway.
"No, I don't have any regrets," Smith told Eleven Warriors earlier this month. "A lot of people want to talk about that, but the reality is you make a decision based upon the information in front of you. We had a lot of smart people (involved). I didn't make that decision on my own. You look at all the previous cases and I think we did the right thing at that particular time.
"Hindsight is always 20/20. It's the easiest thing in life."
On Saturday, it was Tressel who was hoisted triumphantly on his players' shoulders and paraded around Ohio Stadium while Buckeye Nation approved with an ovation reserved for a king.
"This is a special place with special people," Tressel told the Columbus Dispatch as he walked off the field.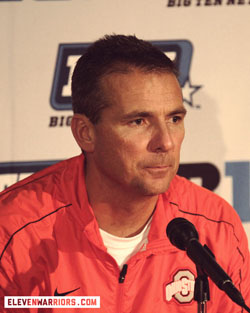 Nearly two years after the initial reports of NCAA impropriety, fans are ready to move on. Tressel gave them 10 years of near unprecedented success. They thanked him, there is closure and now it's on to the Urban Renewal.
Saturday provided the final chapter in an opening act that will be remembered as one of Ohio State's finest and most improbable seasons. The Buckeyes' play didn't always resemble a Van Gogh, but the final product was, like The Starry Night, perfect.
"For the moment, this is as good as it gets," Meyer said.
There were many reasons for the jubilation – a 12-0 season and win over Michigan being the most obvious. But there was much more than that rattling around Meyer's head.
Here was the Ohio-born and bred Meyer who just led his lifelong favorite team to prominence. Next to him – eventually – was his family, the group that allowed him to return to coaching after a year sabbatical. It was moments like the postgame celebration that the Meyers missed and welcomed back.
"My two daughters came back, and I was trying to find them (on the field)," Meyer said. "Obviously, the nut-job students won't let me find anybody, so that's okay. But to be with my wife and children on that field is something special."
Meyer's career has been chock full of special moments. A program overhaul at Bowling Green, an undefeated season at Utah and two national championships at Florida are just the headliners.
A national title may be in the offing for Meyer in Columbus, but it almost certainly won't happen this season. But that hasn't stopped Meyer and his players from stating their case.
"I'd say at this point in time Ohio State could go play with anybody in America," Meyer said.
For large swaths of the season that argument did not exsist. During the month of September, Ohio State made Central Florida look like the Gators, California appeared to be Bay Area rival Stanford and Alabama-Birmingham looked more like the Crimson Tide than the Blazers.
Still, the letter next to each game was a "W".
"I think we should be No. 1," junior running back Carlos Hyde said. "I feel like we're the best team in the nation. It's sad when you think about it. That was our last game, and the season's over."
Past history is proof of how difficult it is to navigate a season undefeated. There are rarely more than two perfect records when all is said and done, and in 123 years, Ohio State has only had six unbeaten and untied teams.
In the past month, Alabama, Oregon and Kansas State, three teams few believed would lose this season, all lost.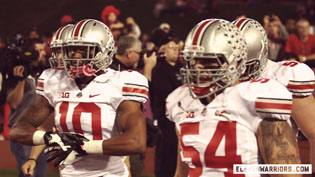 "That's the thing about college football," senior linebacker Zach Boren said. "If you go undefeated, it's a special thing no matter who you play."
Selflessness is one component, according to Meyer, that contributed to Ohio State's perfect season. The biggest example was Boren's move from fullback, where he started for three and a half years, to linebacker in mid-October after fellow senior captain Etienne Sabino suffered a broken leg.
After three years of being an offensive lineman in the backfield, Boren was finally carrying and catching the football in Meyer and offensive coordinator Tom Herman's up-tempo power spread offense. In the season's first six games, prior to his move to defense, Boren had 16 touches for 75 yards with two touchdowns.
He finished the season as the Buckeyes' sixth-leading tackler with 50 stops, including 3.5 for loss and one sack. Boren also forced a fumble and recovered a fumble, the latter against Michigan.
The most improbable of Ohio State's 12 wins this season came against Purdue, in a game the Buckeyes trailed throughout, including late in the fourth quarter. After quarterback Braxton Miller was injured in the third quarter, Kenny Guiton took the reins and engineered a drive that will live in Buckeye lore.
Trailing by eight points, Guiton took Ohio State 61 yards in 44 seconds, throwing a touchdown pass on the final play from scrimmage in regulation. The Buckeyes still faced a two-point conversion. But the calm Guiton lobbed the ball to a wide-open Jeff Heuerman in the end zone.
Guiton continued his heroics in overtime, as the Buckeyes won, 29-22. The next week, Guiton gave the football back to Miller with nary a complaint.
"I've never been around a team like this," Miller said. "The toughness and the swag we have had throughout the whole year. I'm just thankful this team is 12-0."
If nothing else, Saturday was the completion of a giant springboard to 2013. The senior class laid a foundation that's as sturdy as the stadium that hosted them the past four and five years.
"I want to make sure they're properly recognized as one of the great groups of seniors in the history of this program," Meyer said. "Maybe we'll get 19 bronze statues somewhere."
Ohio State will likely begin the 2013 season ranked in the top five, and with another favorable schedule, 25 consecutive wins is not out of the realm of possibility. And if that happens, there will be no guess game. The Buckeyes will be in the Rose Bowl for the final BCS national championship game.
Said Hyde: "Next year, we've got a chance."