Twelve and OH. Nine of the last eleven against Michigan. Urban 1, Hoke 0.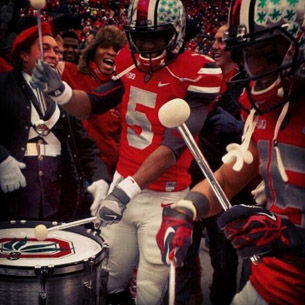 The first half of Urban's first Michigan game as head coach was an ugly display of missed tackles, stupid penalties and questionable decisions but a dominant 2nd half from the Silver Bullets ensured the Buckeyes would cap their perfect season with a 26-21 victory in the 'Shoe.
Braxton wasn't dominant but did have an impressive day through the air and Carlos Hyde was a difference maker once again with 146 yards rushing and a touchdown. 
It's hard to believe what this team accomplished with virtually the same roster that stunk up the joint a season ago. 
Examining the growth curve this group experienced under Meyer in year one, I can't wait to see what this program can accomplish in 2013 when it all starts to count again. 
But before we jump ahead to 2013, let's take a look back at The Game in the final installment of Five Things for 2012. 
On the Mark
Braxton came into the Michigan game with pedestrian numbers over his last four outings, including a 49% completion rate and just 3.8 yards per carry as the Buckeyes took down Purdue, Penn State, Illinois and Wisconsin.
Miller had flat out regressed through the air and ran tentative in three of the four, save his 25/134 numbers against Penn State.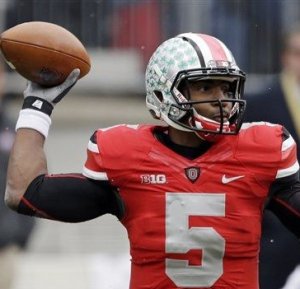 Yesterday, Miller was again bottled up and looked unsure on run plays (20/57, 2.9ypc) but he was decidedly better with his arm, connecting on 14/18 for 189 yards and a touchdown. His 78% completion was a season high and he even had two throwaways plus a couple completions wiped away due to the barrage of penalties.
In two games against Michigan, Braxton isn't exactly Troy yet but he does have a combined 581 total yards, including 424 combined yards passing and another 157 on the ground (4.4ypc) with four touchdowns.
Coming in, Michigan had one of the nation's elite pass defenses but Miller had little trouble finding open receivers.
He hit Devin Smith for 52 yards on the opening scoring march as he allowed Smith to high point a fairly decently thrown deep ball down the middle on 1st and 10.
Miller also hooked up with Philly eight times, leading him nicely on a 14-yard scoring strike to put the Buckeyes back in front, 17-14, midway through the 2nd quarter.
On the missed field goal drive, he hit Stoney for nine yards to move the chains after initially looking for the deep ball and eventually checking down to his TE/WR.
He showed great pocket presence on the connection with Stoney but for much of the day, he again held the ball too long in the pocket, helping Michigan record four sacks.
Overall, it was nice to see Urban follow through with his promise to open up the offense a little more and Braxton impressed with his accuracy. On the run, Miller looked less aggressive once more and again struggled with zone read decisions.
I'm wondering if what we're seeing isn't just the growing pains of trying to become a more complete quarterback versus being a gun-shy from taking so many hits early in the season.
Either way, if Miller can get back to making quicker decisions to tuck and run and carry the ball with a little more purpose while still being mindful of avoiding big hits, the kid will definitely be in New York next season, but I don't think he earned that right with what he gave OSU down the stretch this year.
Locked and Loaded
No question about it, the Bullets are the main reason we're celebrating Urban's first win in The Game.
Fickell's crew was an embarrassment in the 1st half, giving up 219 yards including a 75-yard touchdown toss to Roy Roundtree and a 67-yard touchdown burst from Denard. The long pass to Roundtree saw the Buckeyes bust their coverage before C.J. Barnett whiffed on a tackle. On Denard's streak, Christian Bryant failed to wrap up and when he collided with Robinson, he also knocked Travis Howard off his hinges to spring the play.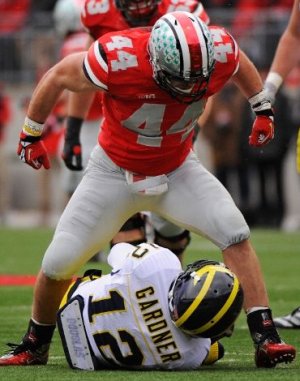 The defense missed no less than 10 tackles in the opening half and extended two drives with stupid penalties on 3rd down. Even with those mistakes, watching the Buckeyes fail to attack the line of scrimmage when Denard was at quarterback – when it was obvious he wouldn't throw – was even more damaging to the retinas.
But then halftime came.
I don't know what adjustments Fickell made other than to crowd the line of scrimmage when Denard lined up at quarterback but the results were drastically different. My guess is that he showed a film strip on the fundamentals of tackling and if so, good on him because it worked.
The Bullets were simply dominant in the 2nd half, holding Michigan to 60 total yards and not allowing them to run one play on the OSU side of the field.
How good were they? Michigan ran only 15 offensive plays in the final 30 minutes. Ohio State ran 38. That's insane.
Here's how Michigan's 2nd half offensive possessions worked out:
Turnover on Downs (6 plays, 21 yards)
Fumble (2, 23)
Punt (3, 8)
Punt (3, 7)
Fumble (2, 0)
Interception (5, 0)
Shazier, Bryant, Boren and Howard were all beasts in the decisive half. Shazier blew up Hoke's 4th-and-3 gamble to open the half and also stopped Vincent Smith for a two-yard loss on 3rd and 1, not allowing Michigan to capitalize on Braxton's fumble early in the 4th quarter.
Boren came up big on 3rd and 3 on the play preceding Shazier's 4th down stop, holding Thomas Rawls to no gain, and he led the Buckeyes with nine stops including two TFL, a sack and a fumble recovery.
Howard was exposed a few times in the first half but did pounce on a fumble caused by Big Hank giving the Buckeye offense the ball at the UM 10-yard line up 23-21 midway through the 4th quarter.
Bryant came up huge on Michigan's last gasp possession, nearly intercepting Gardner on 1st down before breaking up a 2nd down toss intended for Jeremy Gallon. He's still susceptible to trying too hard to make the big play or big hit but he does bring the wood and finished the season 2nd on the team in tackles with 71 and passes defended with 13.
A tip of the cap this group for straight locking down the Wolverines in the 2nd half to secure an unbeaten season.
Ups-Hyde Ya Head
Carlos Hyde was once again an absolute monster, racking up 146 yards on the ground via 5.6 per carry and one touchdown.
Hyde went to work early rushing four times for 18 yards, finding the end zone on Ohio State's opening possession to set the tone.
Interestingly, Hyde got just one (freaking) touch on Ohio State's next two drives combined, a total of 13 plays, though he did recover a Braxton fumble keeping alive the field goal drive that made it 10-7 good guys.
Late in the 2nd quarter with Michigan in front 14-10, Hyde did some of his best work of the afternoon, doing major damage as the Buckeyes started a drive from their own 41-yard line.
Complete Game Coverage
On 1st and 10, Hyde knifed up the gut for 15 bullish yards and following a modest three-yard churn, took the next carry behind Linsley for 11 tough yards. 
After a Wolverine offsides and a Braxton run for zilch, Hyde took another handoff through the middle for 11 yards, grinding his way to a 1st down at the UM 14. Miller would find Philly on the next play to make it 17-14 Buckeyes, but it was Hyde who accounted for 40 yards of the 59-yard march.
Early in the 3rd, with OSU trailing, 21-20, Hyde went back to work after the Bullets gave the Buckeyes excellent field position at the UM 46 following a turnover on downs. Seizing momentum, Hyde took the first play for 17 yards off a sweep left that saw him shake a safety in space before dragging two Wolverines the final three yards.
After a six-yard Braxton keeper, Hyde dragged 308 lb. defensive tackle Will Campbell for a four-yard carry and a 1st down. Two plays later, Hyde turned a 2nd and 11 play into another rugged five yards and two plays later, Basil hit from 28 yards out to make it 23-21 Buckeyes. Hyde racked up 26 of the 35 yards on the scoring drive.
Bottom line, Hyde came up huge on virtually every Buckeye scoring drive and when Ohio State got the ball back up 26-21 with 4:50 left, all he did was carry it four times for 27 yards, racking up two crucial 1st downs and allowing the Buckeyes to run out the clock to cap a perfect season.
With today's outstanding performance, Hyde finished the year with 970 yards and 16 touchdowns on 5.2 yards per carry and 97 yards per game, emerging as one of the elite running backs in the country.
Just Kickin' It
Before yesterday, Drew Basil had attempted exactly six field goals in eleven games this season. In fact, he'd attempted just one field goal in the last three games and only three in the last four contests.
Against Michigan, the junior out of Chillicothe drilled four of five field goal tries, scoring the last nine Buckeye points and turning a 21-17 deficit into a 26-21 victory.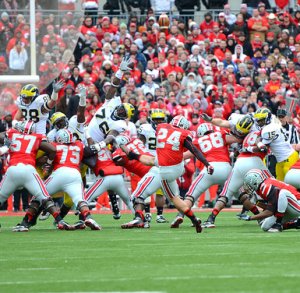 His first points came after a keystone cops drive that saw the Buckeyes chew up 6:33 of clock on an 11-play, 47-yard drive that featured a Braxton fumble off one of many high snaps from Corey Linsley, a false start on Nick Vannett, a holding call on Philly that wiped out a completion to Hyde and put the Buckeyes in a 1st and 25 hole, and a Marcus Hall false start creating a 2nd and 21.
Two plays after Hall's jump, Basil stepped into a 41-yarder to give the Buckeyes a 10-7 lead late in the 1st quarter.
Basil's 2nd field goal was a 52-yard blast coming on the last play of the 1st half. The kick was gigantic in that it snuffed Michigan's momentum after Denard ripped off a 67-yard touchdown to give the Wolverines a 21-17 lead with just over a minute left in the half.
Trailing, 21-20, to start the 2nd half, the Bullets stopped Michigan on 4th down from their own 48, helping the Buckeyes continue the momentum Basil created. The Buckeyes advanced the ball to the Michigan 11 thanks to 26 yards from Hyde, and when the drive stalled on a failed Braxton keeper, Basil drilled a 28-yarder to give the Buckeyes the lead for good at 23-21 with 8:12 left in the 3rd quarter.
With the Buckeyes still clinging to the two-point lead midway through the 4th quarter, Michael Bennett forced a Gardner fumble and Travis Howard pounced on it at the Michigan 19.
The offense immediately sputtered, gaining two yards in three plays, but Basil hit a 25-yarder to give the Buckeyes a 26-21 lead with 6:26 to play.
Basil did miss a 39-yarder in the 3rd that would have been equally huge but considering how few kicks he's attempted all year, let alone how few came in big moments, the kid deserves his props.
Imperfectly Perfect
Anyone willing to be critical, even in the midst of a wonderful victory filled with huge plays, saw a team that often shot itself in the foot with a rash of missed tackles, stupid penalties and various other mistakes.
In special teams alone, the Buckeyes booted a kickoff out of bounds and roughed the kicker and muffed a punt for a turnover on the same play. Philly's botched punt return led directly to a Gardner touchdown run that put Michigan in front, 14-10, with 10:42 left in the half.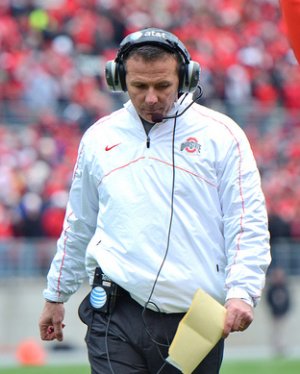 A missed tackle by C.J. Barnett on a busted coverage was chiefly responsible for Gardner's 75-yard touchdown toss to Ray Roundtree that allowed the Wolverines to tie the score at 7-7 midway through the 1st quarter.
Looking to answer Michigan's strike, the Buckeye offense somehow managed to move the ball from their own 29 to the UM 24-yard line, despite the previously noted Braxton fumble following a high snap and three penalties that forced Ohio State to settle for Basil's field goal, which gave them a 10-7 lead.
Ohio State would lose the 10-7 lead on the possession following Philly's punt muff as Noah Spence's roughing the passer flag on 3rd and 5 paved the way for Gardner's touchdown run three plays later.
Trying to answer Gardner's score, Michael Thomas was flagged for motion on a key 3rd and 2, setting up a 3rd and 7 that resulted in a Frank Clark sack.
On the drive that culminated in Basil's lone miss (39), Linsley unleashed one of his many high snaps on a 3rd and 7, resulting in a 12-yard loss that not only cost the Buckeyes a shot at a touchdown but significantly lengthened the field goal try.
Despite the myriad of miscues, the Buckeyes found a way to overcome them all which is indeed the mark of a championship caliber team.
Better yet, for all their imperfections, the Buckeyes still improved dramatically at so many positions and facets over the year that the rest of the country best take notice.
Yes, Urban loses key guys like Simon, Boren, Fragel, Sabino, Williams and Goebel but if Roby and Hankins stay, the Buckeyes could still very well be better at every position group next year even if they get nothing from what is going to be a sick group of incoming freshmen.
The Buckeyes just pulled off an improbable 12-0 season and it feels like things have only just begun.