The Ohio State men's basketball team did its best impersonation of its football brethren the first two weeks of the season: win ugly. But that came to an abrupt end Friday night at Value City Arena. Ohio State dispatched overmatched Missouri-Kansas City, 91-45.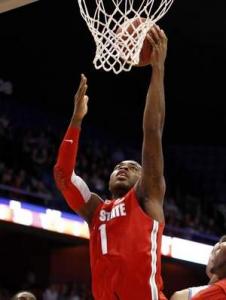 The Buckeyes put aside any early suspense by jumping out to a 20-3 lead in the first seven minutes. UMKC missed its first eight shots from the field.
The Buckeyes ended the first half on an 18-2 run and led, 53-18, at the break. Ohio State had assists on 15 of its 19 first-half field goals. Ten Buckeyes appeared during the first 20 minutes, scoring 18 points, which equaled UMKC's 18-point output.
"I was excited to see our guys play from start to finish," Ohio State head coach Thad Matta said. "We felt like going in the game we didn't want Kansas City to be comfortable on offense. We wanted to be as disruptive as we possibly could."
Positive results on 13 of Ohio State's first 20 shots set the tone. In the first half alone, the Buckeyes forced 12 UMKC turnovers, turning them into 21 points – three more than the entire Kangaroo team had.  
"That's what coaches look for in this team," Thomas said. "We know we have another gear in us. We came out with a fire, and we didn't stop. That's what we need to do when we're up – keep the foot on the gas."
Five Buckeyes finished in double figures with Deshaun Thomas leading the way. Thomas was Ohio State's high scorer for the fourth time in as many games, tallying 21 points in 21 minutes, making six of his eight shots from the field. He converted two three-pointers. As a team Ohio State shot 61 percent from the field and 56 percent from three-point range.
Lenzelle Smith Jr. scored 13 points and pulled down six rebounds, Sam Thompson and LaQuinton Ross added 11 points apiece and Shannon Scott finished with 10 points.
Ohio State's suffocating defense kept UMKC at bay for 40 minutes. The Kangaroos only made 14 field goals for the game and converted just one of 15 three-point attempts.
For the Buckeyes, Scott was the story of the game. The sophomore guard played the most complete game of his career, finishing with 10 points and 10 assists, good for his first career double-double.
"I couldn't be happier for Shannon," Matta said. "He's a very, very talented young man. He works extremely hard. Just the completeness of what he did (tonight), he took his talents and put them to use on both ends of the floor."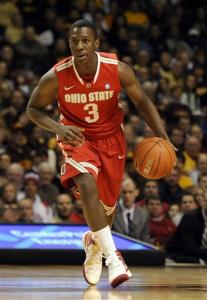 The Georgia native entered Ohio State last season as a highly-touted recruit, but Scott was never able to have the type of production that was expected. Scott averaged 6.3 points and 1.7 assists per game on a team that eventually advanced to the Final Four.
His best performance before Friday night came in the Sweet 16 against Cincinnati, when Scott was thrust into a leading role after Aaron Craft got into foul trouble. In 16 minutes, Scott had three assists in the 15-point win.
"If he can continue to do that, obviously they're going to be a very good basketball team," UMKC head coach Matt Brown said Friday night.
Instead of taking a day off for Thanksgiving, Ohio State was in the gym yesterday. After three sloppy performances to open the season, Matta thought his Buckeyes needed more fine-tuning. Friday's results gave him reason to see hope heading into Wednesday's top-five showdown at Duke.
"We've been very, very competitive in practice this week," Matta said. "We've been getting after it. Yesterday's practice was pretty high level. Hopefully, they continue to understand the way we practice is the way we play."
The next opponent will offer Ohio State a much tougher test – No. 5 Duke at Cameron Indoor Stadium. The Blue Devils have already knocked off one top five team – Kentucky – and they're looking to repeat that on Wednesday night.
"We know that Duke is a great team," Scott said. "We'll prepare for them, and they'll be ready for us."
Two cheers stood out from the others. The first came late in the first half when freshman guard Amedeo Della Valle sank a 3 for his first career points as a Buckeye. The curly-haired Italian has become a fan favorite already.
But the main event came when play on the court stopped. At halftime, Urban Meyer and the football seniors were honored. Meyer and senior captains Etienne Sabino and Zach Boren spoke to the crowd, thanking them for their support throughout the season and urging them to help contribute to a victory over Michigan on Saturday.
"We've been waiting a year to have a rematch with the guys from That Team Up North," Boren said. "We need your help to go out as champions and to go out 12-0. Go Bucks!"
It sent 17,478 fans in Value City Arena into a frenzy.
Said Scott after the game: "I'm not really a big fan of Michigan."