Devin Gardner was a wide receiver the last week of October. Zach Boren was a fullback the first week of October. As Michigan and Ohio State get geared up for their titanic clash in the final week of November, Gardner and Boren will be focal points.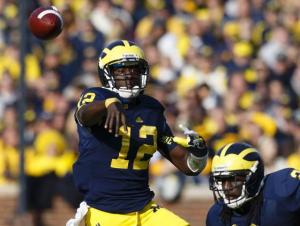 But they won't be at the positions Michigan and Ohio State's media guides list them at. Gardner is Michigan's quarterback, a newfound beacon of light during Denard Robinson's struggles, while Boren is a linebacker, like his Michigan-playing father, having lifted the Silver Bullets up from the depths.
Since relieving the injured and sometimes erratic Robinson the first week of November, Gardner has been nothing short of sensational. The past two weeks he has been named the Big Ten's offensive player of the week.
In three starts, Gardner has completed more than 65 percent of his pass attempts for 834 yards with seven touchdowns and three interceptions. He's also run for 105 yards and seven touchdowns. Gardner is averaging nearly four yards per carry.
"I think he's a well-coached quarterback," Ohio State senior safety Orhian Johnson said. "Those guys are putting him in some great situations up there. He has some guys that are making plays for him, and the offensive line seems to believe in him and is protecting him pretty well."
Gardner's performance last week was historic. He became the first quarterback in 12 years to throw for three touchdowns and run for three touchdowns in a game.
Despite Gardner's recent success and Robinson's lingering elbow injury, Robinson is listed as the starter for high noon Saturday. But that doesn't mean Robinson will be featured exclusively at quarterback. 
"You just don't know what to plan for," Buckeye senior linebacker Zach Boren said. "You don't know if you're going to show up on Saturday and Denard's going to be the starting quarterback and Devin's going to be at wide receiver or Devin's going to be the quarterback and Denard's going to be at tailback. You don't know, and that's the hard thing about scheming for them."
In Saturday's 42-17 thrashing of Iowa, Robinson finished the game with 122 total yards – 98 rushing and 24 receiving. His two receptions were the first two of his career, and they came on Senior Day in Michigan Stadium. 
Robinson did take snaps at quarterback, though he never threw a pass. Quarterback, running back and slot receiver were each areas Robinson dabbled in during last week's game. He was used as a weapon and a decoy.
"When Denard had the ball, of course he made big plays," Gardner said. "But when he didn't have the ball, we had our even bigger plays. The attention that he gets is amazing."
With starting running back Fitzgerald Toussaint out, Robinson's Velcro effect could be even stronger.
"It definitely makes it a little bit harder to prepare, but you don't think about it too much," Ohio State senior defensive lineman Garrett Goebel said. "You prepare for everything and react to what happens."
In last season's game versus Ohio State, Michigan's first win over the Buckeyes in seven tries, Toussaint ran for 120 yards. He gained over 1,000 yards last season, but 2012 was doomed before it even began.
Toussaint was charged with drunken driving during the summer and was suspended for Michigan's 41-14 loss to Alabama in Arlington, Texas. In his place, Thomas Rawls and Vincent Smith combined for 42 yards on 19 carries. Toussaint has played in 10 games and gained just over 500 yards.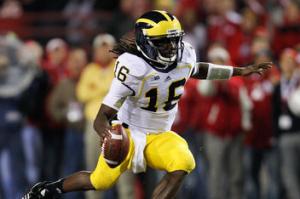 Rawls is listed as the starting running back on this week's depth chart.
The absence of a 1,000-yard rusher would cause most offensive coordinators to shutter, but Al Borges, Michigan's play-caller, has something in his back pocket.
It's called "Denard in the backfield" and "Two quarterbacks in the backfield," according to Borges.
"He's one of the finest athletes in America, so you'd better know where he's at every snap," said Ohio State head coach Urban Meyer, who developed a friendship with Robinson while recruiting him. "I think he'll probably be able to throw that ball well enough. I know they have something waiting, so we have to be ready for it."
This isn't the first time the well-traveled Borges has featured two dynamic runners in the backfield. During a stint as Auburn's offensive coordinator, Borges had the luxury of interchanging Ronnie Brown and Cadillac Williams. That duo helped lead the Tigers to a perfect 13-0 season.
"That's fun," Borges said. "My creative juices are flowing all the time. Depending on the game, I'm considered creative or idiotic.
"That's what makes this game fun for coordinators. There are so many things you can do with 11 guys. It's like no other game."
But Borges still doesn't feel like discussing any wrinkles Michigan might have in the backfield or what personnel will line up with Robinson or Gardner at quarterback. For Borges, that would be akin to telling the Russian media state secrets.
"As far as that package goes, that's game-plan stuff. I'm not addressing it," Borges said.
The unique offensive set was used for 15 snaps last week. Michigan scored touchdowns on its first six possessions. The Wolverines went a two-week stretch in October scoring 21 total points and being generally ineffective on offense. The second game during that stint came when Robinson suffered his elbow injury at Nebraska.
But when Gardner moved from receiver to behind center the next weekend, Michigan's offensive production went to heights not seen since the 2011 season.
"I think Al does a tremendous job of taking personnel and the playmakers that you have on the team and having the ability to get them the ball and let their God-given ability take over," Hoke said.
He'll have his work cut out for him against the Buckeyes. The Silver Bullets field the 17th-best rush defense in the country, allowing 117 yards rushing all season and just 12 touchdowns.
Nebraska's Taylor Martinez is the only true dual-threat signal-caller Ohio State has faced this season. Under a nighttime sky in Ohio Stadium, Martinez had his worst game the season, throwing three interceptions, including one for a touchdown, and only rushing for 40 yards on 18 carries.
"The good thing is that we know that they're going to run or pass the ball," Johnson said. "Either way it goes, the ball is going to have to be declared some way, so we just have to go out there and make sure once it's declared, we're in our right spots and go out there and make plays."
Said Borges: "This game is won or lost by the players. Our job is to put them in the best position to succeed, knowing sometimes it's not going to work. They're all like that, but this Ohio State game in particular is all about the players rising to the occasion and overcoming adversity."
Players like Devin Gardner and Zach Boren.