Comparisons to the 2002 season are being made to this year's campaign, and why not? It's the 10-year anniversary, the Buckeyes are undefeated heading into Michigan Week and they've done so by winning in dramatic fashion.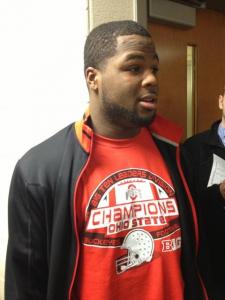 Late against California, late against Michigan State, holding on for dear life at Indiana, rallying with a backup quarterback versus Purdue and reversing momentum in an overtime victory at Camp Randall.
Not only is Ohio State champions of the Leaders Division, the Buckeyes' hopes at winning the Associated Press national title became a whole lot more realistic on Saturday when No. 1 and No. 2 lost minutes apart.
They say a win is a win, but that doesn't mean you don't learn from wins. Ohio State must do that after allowing 191 yards to Wisconsin running back Montee Ball. This week the defense must contain Denard Robinson and Devin Gardner.
"Our defense is really playing well," Ohio State head coach Urban Meyer said. "You think about how far they've come and that's a credit to a bunch of good people working as a coaching staff on defense and a bunch of players listening because that's a good team.
"Great effort."
So how did Ohio State win on Saturday when all hope seemed lost?
"We have a saying, 'A team that refuses to be beat won't be beat,'" Meyer said. "Somehow, someway."
It's been talked about by fans all season: an undefeated season. But the coaching staff and team didn't dare touch the subject this year. With one game to go now, though, the topic will be brought up.
"We can talk about it now," Meyer said. "We've kind of put a muzzle on it. They're going to get a ring. They're champions of their side. If you're going to keep score, you want to be a champion. Our guys did that."
In the second half, there was surprise from many when Ohio State's offense sputtered, yet running back Carlos Hyde didn't see many carries. Meyer explained what the thinking was, but he also admitted the bruising running back should have seen the ball more often.
"(Wisconsin was) No. 1 in the Big Ten versus the rush and we couldn't get that going," he said. "We're certainly not a finished product on offense and it showed. I think we need to give (Hyde) the ball a little bit more. Usually we are a team that when we block someone, we have a chance to win and I don't feel like we blocked them like we have in past and we have to get back to that, especially for this week coming up."
Hyde may have seen his carries fall as the game progressed, but he was certainly lobbying on the sideline to get more touches.
"I was trying to tell my coach, 'Come on, let me run some power or something, let me get this going, let me get this spark going for this offense.' I just felt like if they would have given me the ball more, I could have gotten the momentum going."
Whereas Hyde was effective but wasn't touching the ball, quarterback Braxton Miller was ineffective and had the ball on every play.
"I have no idea what they did, but they did a good job at it," Miller said. "I couldn't get to the edge. Whenever I tried to cut back there was somebody shooting the gaps. They had a good game plan. It was frustrating."
The buildup to the Wisconsin game was big and magnified by Ohio State's bye week. The celebration was equally as big, but Meyer made it apparent what the thinking was in the locker room.
"This was a great game against a very good team that's been to the Rose Bowl a bunch," he said. "This is not our rival. The next one is. So when you use that 'R-word,' we're talking about this week, we're going to dive into it as soon as we get back."
Fans complain about stagnant offenses, but don't think it doesn't bother coaches.
"I can't stand watching it, and I'm sure people can't stand watching it," Meyer said about Saturday's season-worst performance.
But linebacker and captain Zach Boren had a message regarding the close win.
"You can go out there and play the ugliest game, but if you get the win, it's a win," he said. "We celebrate after every win, and this is a great win. We got shirts and stuff, which is pretty cool. But we still have so much to finish this next week."
The play that jumpstarted the Buckeyes on Saturday was Corey Brown's first-quarter punt return. Special teams is often the source of momentum-swinging plays in evenly matched games, and it was no different at Wisconsin.
"We knew we'd be able to break one on these guys this week because of the scheme," Brown said. "Those guys out there, they gave 110 percent. Anybody could have ran through the hole."
But one of the biggest plays of the game came on defense. Late in the fourth quarter, Montee Ball went up over the Wisconsin line to try to score from the one-yard line. The only problem with that was linebacker Ryan Shazier assumed that was the game plan. They met before the end zone and the ball came loose with Ohio State recovering.
"Once he jumped, I knew I was going to jump," Shazier said. "Whatever was in my face, I hit it. It could have been him. It could been anyone.

"We knew that he needed two to break the record. We were not going to allow him to break it on us."
Shazier played outstanding, finishing with a team high-tying 12 tackles. But John Simon was the star on defense, tallying a school record-tying four sacks. Even when records are set, though, Simon deflects all the attention.
"It was great coverage," Simon said. "That quarterback was holding the ball for an awfully long time. One time he ran into me. Another time, we ran a great stunt where Nathan ran him into me."
The sadness meter was running high in the Wisconsin locker room, as it should have been. It was Senior Day in Madison and the Badgers wanted to get revenge on the Buckeyes badly.
Complete Game Coverage
"It was extremely disappointing," quarterback Curt Phillips said. "There was no doubt in my mind that we were going to score there. It was the same as a two-minute drive. I thought we left some plays on the field that we definitely should have made."

"This is a tough one," fullback Derek Watt said. "We knew we could have won that game. We just missed opportunities. We moved the ball pretty well on offense, and the defense got quick stops. We just have to make a few more plays."

"It's pretty disappointing," defensive lineman Brendan Kelly said. "One of the hardest things is just seeing the looks on the seniors' faces. As far as I've been here, we haven't lost a Senior Day game and it's definitely hard to see those guys."