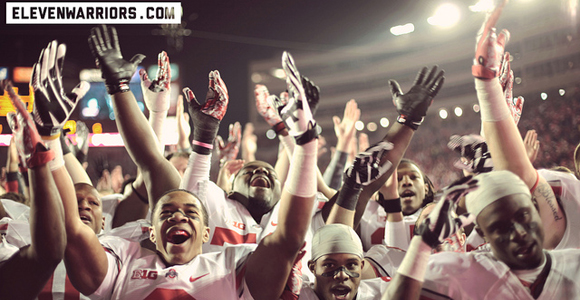 Ohio State finally decided to give the ball to Carlos Hyde...in overtime. 11-0 feels mmmmmmmk, and now it's Michigan week. These boys are going hard in the paint headed into the last game of the season, and you've been there every step of the way. Let's dissect it.
Water Cooler Prep (Everything You Need to Know…in More Than One Paragraph)
Both teams traded punts in the beginning before Corey Brown said, "I'm more partial to points", promptly returning a punt for an untouched 68-yard TD. Curtain closes…end of first quarter.
To open the second, the Buckeyes simply drove it down the Badgers' throat, taking the pill 69 yards for a Carlos Hyde 15-yard score. This is right around the time Bielema started making "that" face.
On the ensuing drive, Wisconsin decided to start playing football, giving it to their best player, Montee Ball, for a number of big gains before he catapulted himself into the end zone. The score helped Ball tie the NCAA record for career TDs (78). 14-7 Buckeyes…end of half.
Here's all you need to know about the third quarter: punts. Seriously though, here's the overall play-by-play: Ohio State punt, Wisconsin punt, Ohio State punt, Wisconsin sustained drive. End of quarter.
Wisconsin started off the fourth with a missed 40-yard FG. Then punt-a-palooza kicked off again (pun certainly intended).  
With roughly 7 minutes left to go, Wisconsin put together a solid drive, taking it 54 yards down to the OSU 2. On a 4th and one, Montee Ball went airborne and Ryan Shazier poked out the pigskin, smacking it right into an unsuspecting Christian Bryant's arms. It was Ball's second fumble on 907 touches. Buckeye fans, I challenge you to find anything on YouTube even remotely resembling that play. 
The game looked like it could be over, but the Scarlet and Gray failed to generate anything on offense, giving the ball right back to a hungry Badgers team. With no timeouts remaining, the fighting Bielemas were able to take it 41 yards for a score, knotting the game at 14 and cueing up the second overtime of the season.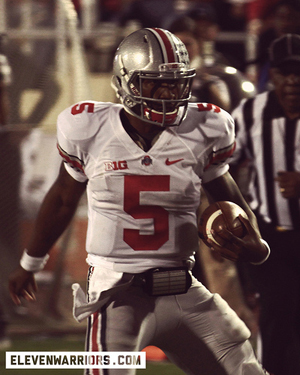 OSU lost the toss and was forced to take the ball first. FINALLY Tom Herman decided to give the ball to Hyde and in four snaps the Buckeyes scored.
Four plays and a Christian Bryant pass break-up later, the Buckeyes were 11-0. This team is starting to feel a lot like the 2002 squad. 
JUST WIN.
Heard at the Tailgate (The Talk Before the Game)
"They'll be feeding Ball all game and our D is built to defend that type of attack."
"Wait Borland is out? That bodes well for Braxton and the Buckeyes."
"If Miller plays well in these last two, he won't be denied a trip to NYC."
"Let's hope there's no rust from the bye week."
Heard at the Afterparty (The Deets at the End of the Game)
"Ryan Shazier could be a first-round pick in the coming years."
"John Simon opens non-twist offs with his bare hands."
"We won despite our predictable offensive gameplan."
"THEY FINALLY GAVE IT TO CARLOS!!!"
Complete Game Coverage
Give That Man a Buckeye Leaf (Player of the Game)
This was a split decision, as both John Simon and Ryan Shazier had career days. Simon tallied four (yes four) sacks, while Shazier notched 12 tackles, three for a loss and poked the rock out of Ball's iron grip at the goal line, quite possibly earning the Buckeyes the W.
Weekly Snot Knocker
In the fourth, Ryan Shazier smashed himself into Montee Ball in the open field and was down for a few minutes before walking off under his own power. I'm quite convinced Shazier enjoys the feel of opponents' spittle on his brow as he forcefully ejects it from their mouth holes.
Did You See That?! (Play of the Game)
You already know what it was. 
When You Sank Into Your Chair (The Moment Buckeye Football Disgraced Your Family)
Panic alarms going off in Buckeye land.
Jim Tressel's Least Favorite Moment of the Game
Freshman Michael Thomas put a pop on a defenseless player after a near interception, leading to a 15-yard personal foul penalty and effectively killing OSU's drive. To ensure the most efficient emergency preparedness plan, Jim Tressel was on ConsumerReports.org checking reviews for recommended generators. He saw the play and shut down his Gateway 2000 in shame.
What You Texted Your Friend at the End of Each Quarter
First Quarter: Philly Brown is becoming a game-breaker. Shades of Teddy G.
Second Quarter: Give Carlos the nugget!!! Seriously.
Third Quarter: Give Carlos the nugget!!! Seriously.
Fourth Quarter: Give Carlos the nugget!!! Seriously.
OT: THIS TEAM FINDS A WAY!!!! BEAT MICHIGAN!
It Was Over When
Christian Bryant broke up Wisky's last-ditch effort on a fourth-and-six pass in OT. This team is 11-0. Unreal.
This has been your Wisconsin debriefing. End transmission.