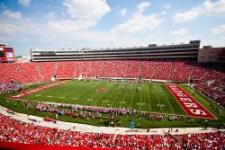 Camp Randall Stadium.
It's been a house of horrors for Ohio State. In the past 13 trips to Madison, the Buckeyes are 6-6-1. Four times they've entered undefeated and four times they've left without a win. Thrice the Badgers have ended long Ohio State winning streaks at Camp Randall. In 1958, it was a 13-game unbeaten streak, while the "Lee Evans Game" in 2003 ended a 19-game Ohio State winning streak. The Buckeyes had been victors of 12 consecutive games over two seasons when they lost at Wisconsin in 2010.
On Saturday, Wisconsin is looking to continue that trend.
The Ohio State-Wisconsin game, once an afterthought, has grown into one of the top games in not only the Big Ten but also the country. Prior to the 1981 season, the Buckeyes had not tasted defeat to the Badgers since 1959. The series has tightened considerably ever since. Over the past 20 years, Ohio State holds a slight 15-11-1 advantage. It's even closer when you only consider games played since 1999 – 6-5 in favor of the Buckeyes.
In the past two seasons each team has delivered a crushing blow to the other. In 2010, Ohio State arrived in Madison undefeated and ranked No. 1 in the country. But in front of a national television audience and under the night sky, Wisconsin ran roughshod over the Buckeyes, returning the opening kickoff for a touchdown and winning, 31-18.
Last season, Ohio State returned the favor, sending an already-reeling Badger football team to even lower depths. Wisconsin came into the game off a heartbreaking defeat to Michigan State, a game that ended on a Hail Mary. The Buckeyes closed out the game in similar fashion, on a Braxton Miller-to-Devin Smith 40-yard prayer that was answered in the final minutes.
The annual meetings are almost certain to carry heavy significance for years to come, as well, with Ohio State and Wisconsin competing in the Leaders Division. Illinois, Indiana, Penn State and Purdue aren't likely to be competitive in the near future.
"When the divisions came out and Ohio State was in our division, I thought that was a great thing for us just because we knew we were going to get to play them every year," Wisconsin head coach Bret Bielema said.
Saturday's game will be the division clincher for Ohio State if it wins. But Wisconsin will represent the division in the Big Ten championship game due to the Buckeyes' postseason ban.
"We're in a race that we're trying to win the Leaders Division crown," Bielema said. "Ohio State is at the top of the list. We're in a race to finish at the top of our division, and this opportunity this week is a chance to play the team that's at that No. 1 spot."
Opponent
It's been an up-and-down year for the Badgers. Coming off two straight trips to Pasadena, Wisconsin had high hopes for 2012. But those were flushed quickly when Oregon State, in what was thought to be an upset at the time, beat Wisconsin the second week of the season.
The loss was jarring for the Badgers. So much so, in fact, that Bielema decided to fire an offensive line coach that was just two games into his career in Madison.
But it apparently worked. Wisconsin has won four of five games since a horrendous 3-2 start, and running back Montee Ball is back on track. In the past five games, he's run for 773 yards and 10 touchdowns. A once-stagnant run game now ranks 17th in the country, producing 219 yards per game.
Last week, the Badgers ran for 564 yards in a 62-14 win over Indiana. Ball had 198 yards and three touchdowns, putting him one touchdown shy of tying Travis Prentice's NCAA record.
Still, if you limit Ball and Wisconsin's team rushing total, victory usually follows. In the Badgers' three losses, the bowling Ball has averaged less than 70 yards per game. The team has been held under 100 rushing yards in all three losses. But in wins, they're averaging nearly 300 yards on the ground.
Ball has never gained 100 yards rushing against Ohio State. He rushed for 19 yards on three carries his freshman season and 85 yards and a touchdown as a junior. But in the Badgers' 2010 upset, Ball was disciplined and did not play.
And he isn't just a threat running the football. In two games against OSU, Ball has five receptions for 52 yards and a touchdown.
Wisconsin's offensive line has been vastly improved the past seven games under coach Bart Miller. No starter is listed under 6-foot-4 and none weighs less than 300 pounds. Tackle Rob Havenstein and guard Kyle Costigan anchor the group. Travis Frederick is the only all-conference lineman back from last season's unit, but he has moved to center.
The top receiving threat remains Jared Abbrederis. The former walk-on emerged as one of the top wide receivers in the conference a season ago. He has 38 receptions for 689 yards and five touchdowns this season. His yards per game average – 76.6 – is second in the Big Ten. But the production trails off considerably after him. Wisconsin's second- and third-leading wide receivers have zero touchdowns. Some of the fault falls on the scattered quarterback play, but there is also blame on those trying to catch the ball.
Tight end Jacob Pedersen is the real threat out wide aside from Abbrederis. He has 18 catches for 264 yards and three touchdowns on the year.
The situation at quarterback is even more perilous. Maryland transfer Danny O'Brien started the season and was expected to be a repeat of North Carolina State transfer Russell Wilson. But Joel Stave replaced the ineffective O'Brien in the third game.
After Stave suffered a season-ending injury, Curt Phillips stepped in at quarterback. His story is one of redemption. This is Phillips' fifth year in the program and three ACL tears, all in his right knee, have marred them.
"Since I was like 13 years old, I've loved playing football," Phillips said. "I was going to keep playing as long as I could, until somebody told me I wasn't allowed to anymore. That wasn't going to be my call."
In his first career start against Indiana, Phillips only attempted seven passes. He completed four of them for 41 yards and a touchdown. What Phillips brings is mobility. He ran for 68 yards on seven carries, including a 52-yarder. Phillips has 22 rushes in his career and averages more than nine yards per carry.
"The plan was to not put a lot on Curt," Bielema said. "Obviously, it worked very, very well. Curt's very good at certain throws and we just got a situation in the second half where we didn't need to throw it."
But to upset the undefeated Buckeyes, Phillips will likely have to complete a couple passes of significance. Ohio State should be keying on the run almost exclusively, which could make them susceptible to the play-action pass.
Ohio State has the 97th-ranked pass defense in the country, but it also has 13 interceptions, 17th in the country. Cornerback Bradley Roby is an All-American candidate, while Travis Howard is no slouch. His three interceptions ranks 15th nationally.
What Ohio State does do well is stop the run. The Silver Bullets have allowed 11 rushing touchdowns all season and opponents are gaining 108 yards per game on the ground.
Wisconsin defensive end David Gilbert, the Badgers' top pass rusher, missed last season's game with an injury. Pressure on the quarterback was lacking in his absence and Ohio State's Braxton Miller rushed for 99 yards and two touchdowns. This season, Gilbert has 31 tackles, four sacks and two forced fumbles.
Fellow defensive end Pat Muldoon has 4.5 tackles for loss and 2.5 sacks.
The rush defense ranks 13th in the nation, allowing just over 100 yards per game. They've limited opponents to five rushing touchdowns all season.
Ohioan Chris Borland leads a linebacker corps that is one of the best in the conference. Borland, though, suffered a hamstring injury last week against Indiana and is questionable for Saturday. If he does go, it keeps 82 tackles, nine tackles for loss, 4.5 sacks and three fumble recoveries in the ballgame.
But Mike Taylor actually leads the team in tackles with 95.
Buckeye Breakdown
Wisconsin has been done in by Ohio State's mobile quarterbacks before. In 2008, during Terrelle Pryor's freshman season, the youngster led a game-winning drive at night in Camp Randall Stadium. Pryor and the Buckeyes won again in 2009. Wisconsin tripped up Ohio State in 2010, but it was Miller, only a freshman at the time, that saved the day last season with heroics that led to an epic Ohio State win.
The Badgers' defense ranks in the top 15 of the country in yards allowed and points allowed per game, but they've struggled against good competition. Mobile quarterbacks from Utah State and Nebraska seized the day and made Wisconsin pay. But where Miller is most inefficient – passing – Wisconsin's defense is experienced. The secondary has helped Wisconsin to a pass efficiency defense rating of 26th.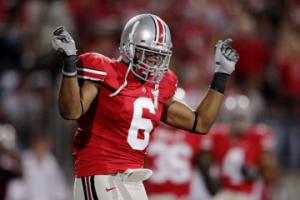 Wisconsin defensive back Devin Smith – yes, the same name as the Ohio State wide receiver – has returned form injury this season to lead the team with three interceptions. Safety Dezman Southward has 44 tackles, five tackles for loss, a forced fumble and interception.
Miller's arm and the Ohio State receivers have had a bit of a lull in recent weeks. Meyer lamented the fact that the playmakers on the edge are no where near what the Buckeyes need to be considered a great team. Devin Smith, Corey Brown and Jake Stoneburner will each have their number called Saturday. Whether Miller gets them the ball or plays get busted remains to be seen.
While Ohio State needs the passing game to open up, it figures to rely heavily on the run, as it has all season. The Buckeyes are averaging well north of 250 rushing yards per game against Big Ten competition. The two-back tandem of Carlos Hyde and Rod Smith seems to be gaining more credibility each week with Meyer. It's a combination to pay close attention to this week.
All eyes will also be focused on linebacker Etienne Sabino, who returns from a six-week hiatus after breaking his right fibula in the first half against Nebraska.
"He looks great. You can't even tell there was ever an injury," defensive end John Simon said.
In his absence, fullback and fellow captain Zach Boren moved to linebacker. Sabino, Boren and Ryan Shazier will be the three linebackers on the field when Ohio State is in its base defense, which should be often since Wisconsin operates a power offense.
The Buckeye defense has dealt with injuries all season, but after the bye week they are as healthy as they've been since fall camp. It's fortunate for Ohio State, because Wisconsin beats them up like no other opponent.
How Simon, Johnathan Hankins and the rest of the defensive line fares versus the Wisconsin line and running backs should set the tone for the game.
On his call-in show, Meyer said the Buckeyes will play man coverage against the pass, allowing the safeties to creep toward the line of scrimmage to help stymie the Wisconsin ground game.
"I think it's more fun when there's pressure on you and you know you have to go out there and make plays," Boren said. "You know you're going to be in the action all the time."
How it Plays Out
The matchup between the Ohio State defense and Wisconsin offense will decide this game. All season, and for the past two decades, if Wisconsin ran the ball effectively, they won.
The Badgers' three losses this season have come to Oregon State, Nebraska and Michigan State, teams with a combined record of 20-9. It shows that quality opponents have no problem shutting down the vaunted Badger rushing attack.
Ohio State has already proven that it has no problem limiting the output of the best running backs it faces.
Michigan State's Le'Veon Bell, in the mold of Ball, was held to 45 yards rushing against the Buckeyes in September. Bell has 1,249 yards on the season and five games of more than 120 yards rushing, two over 200. The next week Nebraska I-Back Rex Burkhead got his yards – 119 to be exact – but 73 of them came on one carry, while dual-threat quarterback Taylor Martinez was stymied much of the night and held to 40 yards. Penn State gained just 32 rushing yards on 28 carries against the Buckeyes.
Running alone won't win this game, however. Phillips will need to complete passes. Wisconsin hasn't thrown the ball well all season, averaging 167 yards through the air per game. Only 12 teams in the country are worse. A balanced approach is not in the language for the Badgers.
Urban Meyer is 14-1 following off weeks and 32-2 when having more than one week to prepare for a game. Those numbers will hold true on Saturday in Madison.
Ohio State 31, Wisconsin 24