It has only been nine days since Ohio State last played a football game, but it seems like nine months ago. During the off week, the basketball Buckeyes managed to have a game canceled and actually play one.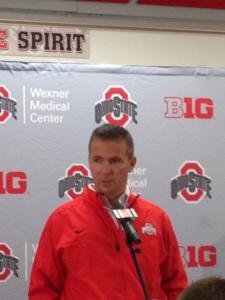 Now the football team returns to its playing field. Two games remain in a season that could go down as one of the most talked about in Ohio State's 123 years of playing the sport.
When the NCAA handed down Ohio State's punishment in December, which included a postseason ban for the 2012 season, many people glanced at the schedule and thought the Buckeyes could "stick it to the establishment" by going undefeated.
The punishment was unjust, legions of Buckeye fans screamed. They already lost a head coach that was worshipped each Saturday and a quarterback that was gearing up for a potential national championship season in 2011.
Instead, Ohio State languished for months on end and stumbled to a 6-7 record, the most losses in school history. But interim head coach Luke Fickell held the team together enough to offer high hopes for the year to come. Quarterback Braxton Miller's potential was on display much of the season, a young receiving corps was raw with a promising future and underclassmen Ryan Shazier, Johnathan Hankins and Bradley Roby looked to offer hope for the future of the Silver Bullets.
The 2012 offseason was a near 180 from the year before. Urban Meyer was hired as head coach and good recruiting news paled in comparison to the negative onslaught of TatGate.
Ohio State heads to Madison full of confidence. The offense is clicking, the defense has steadily improved the past month and special teams is solid.
To review Illinois, the champions were as follows:
Defense: John Simon (player of the week), Travis Howard, Bradley Roby and CJ Barnett
Offense: Carlos Hyde (player of the week), Corey Linsley, Marcus Hall, Reid Fragel, Corey Brown, Braxton Miller and Evan Spencer
There were no special teams champions.
Wisconsin struggled a lot at the beginning of the season, but Meyer said Wisconsin is much improved since then. Probably playing its best football all season.
Linebacker Etienne Sabino will start Saturday, according to Meyer. Sabino broke his right leg six weeks ago.
Fellow linebacker Storm Klein will play Saturday. He had been battling a bulging disc in his back. Sabino, Ryan Shazier and Zach Boren are the starting linebackers.
Due to inclement weather, the Buckeyes moved up their Monday practice. Meyer said it was an "excellent" performance.
Linsley, Ohio State's center, had issues snapping the ball in the spring. But he has been fine since the season started. Meyer said Linsley takes his job very serious and tries to perfect it.
The bowl ban hasn't been brought up to Ohio State much this season because, according to Meyer, it hasn't been needed. The AP poll is not a topic of conversation.
Not playing in a bowl has crossed Meyer's mind – both the experience and losing so many practices.
Meyer said Boren has developed into a great leader throughout the season. His presence on defense has been stabilizing.
Cornerbacks coach Kerry Coombs was lauded by Meyer for his work with the secondary. Meyer also praised Bradley Roby and Travis Howard for turning it into the strongest unit on team.
The Meyer-Bret Bielema issue was covered again. Meyer said it was a situation that was blown out of proportion. 
Meyer said the team will be made aware that Saturday's game will win the Leaders Division.
Average or below average (C or C-) is how Urban Meyer grades Ohio State's offensive playmaking.
Bri'onte Dunn sprained his MCL. He won't play Saturday and is questionable for Michigan.
Armani Reeves will return to special teams Saturday.
Linsley and Orhian Johnson have each battled injuries but will play Saturday.