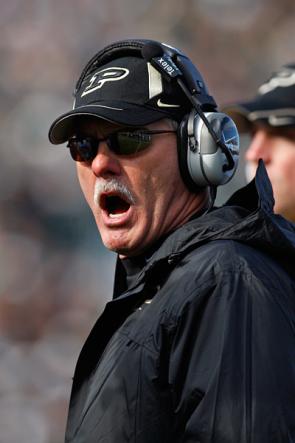 Purdue will have good football teams in the future, but if ever there was a year where the Leaders Division championship was there for the taking, it was 2012.
Instead of seizing it, Purdue has faltered the past two weeks, losing to Michigan by 31 points and Wisconsin – its main competition in the division – by 24 points. And both games were played in Ross-Ade Stadium.
Two games into the Big Ten conference schedule, the Boilermakers' potential dream season is already running off track. Every game is now a must-win, while Wisconsin has to lose three conference games since they hold the tiebreaker over Purdue. Even with a road game at undefeated Ohio State on tap, head coach Danny Hope isn't panicking – yet.
"You have to be yourself," Hope said. "If you're not, that's when you can start losing the team and the people that believe in you. We've been open, honest and direct with our dialogue and always put the cards on the table. The good, the bad and ugly were all addressed on Sunday."
The good for Hope, as oddly as it might sound, has been facing Ohio State. Since taking over for Joe Tiller in 2009, Hope is 2-1 against the Buckeyes, as his Boilermakers have won both games at home as heavy underdogs. After the 2009 win, Hope told Ohio State to "get used it." So far, he's lived up that pronouncement.
The bad is that Purdue hasn't been able to use such big wins as springboards. It's had just one winning season under Hope and is 19-24 in his three-plus seasons. At 3-3 this season with more losable games on the schedule, critics could become vocal in West Lafayette. One fansite has already published a wish list of coaches to replace Hope.
"This is nothing new," Hope said. "This is big-time football. This is Big Ten football. It's competitive. It's no place for the faint-hearted or the squeamish. Football at Purdue is tough, and you have to be tough-minded and a tough person.
"You have to work really hard to be successful at Purdue. We knew that when we signed up."
The ugly has been the past two weeks' shellackings – at home, no less. The rush defense for Purdue has been downright awful. Michigan and Wisconsin rushed for 771 yards. Denard Robinson had 225 yards and Montee Ball had a career-high 247 yards. Braxton Miller and Carlos Hyde have each rushed for more than 100 yards in the past two games, so it could get ugly real quick in Ohio Stadium.
Opponent 
If you can't stop the run, you have a minimal chance of beating Ohio State, who is eighth in the country in rush offense. Entering the season, the defensive line was supposed to be a strength for the Purdue defense. But with Kawann Short as the only threat, opponents have been able to neutralize him and run wild on the Boilermakers. Purdue's rush defense is ranked 11th in the Big Ten, allowing nearly 200 yards per game on the ground. Six times the defense has allowed runs of 30 yards or more.
"The result was from our team not being fundamental," said Hope, a similar message Meyer preached in the wake of his team's 52-49 victory at Indiana. "We weren't able to wrap guys up and were diving at ankles too much. We needed to cover in the back half of the defense and cover better. We weren't able to stop their play action attack and they had guys wide open. That kind of thing is inexcusable."
In the past three games, Purdue has given up nearly 530 yards a game. For the season they are being outgained by 25 yards per game (412 to 387).
Short still has impressive stats for being part of such a bad unit. He has 20 tackles, including an impressive nine for loss, four sacks and a forced fumble. He's also been a machine blocking field goals throughout his career, getting a paw on one last week for his school-record sixth block.
"Player personnel director John Cooper gave me a sheet of paper, and there are a lot of NFL prospects on there," Meyer said of Purdue. "One is a very early round draft pick on defensive line (Short), and he's a dynamic player."
Another reflection of Purdue's porous defensive line play is its lack of pressure on quarterbacks. It has produced just 11 sacks on the season. That has allowed signal-callers to see the field and pick out targets. But for the Buckeyes it also makes it much easier for Miller to run.
Linebacker Will Lucas is Purdue's leading tackler with a less than stellar 33 stops.
The one strength of the Boilermakers' defense is the secondary. Purdue has three interceptions returned for touchdowns, second-most in the country. All three pick-sixes were scored by different players – Ricardo Allen, Josh Johnson and Landon Feichter.
Allen is the unit's best player, but the owner of four career pick-sixes is hampered by an ankle injury. Johnson, Feitcher and Frankie Williams have combined to make 81 tackles and six interceptions. Feitcher is leading the Big Ten in picks with three.
"They play a bunch of different defenses, so we just have to be on our game," Meyer said.
Purdue's offense is of the variety that Ohio State has struggled with this season. But the Boilermakers haven't been able to get up to speed lately. During the non-conference portion of the schedule, Purdue averaged more than 460 yards a game. But that has since fallen by the wayside.
In the past two losses, Purdue has scored a combined 27 points. Michigan held Purdue to 56 yards rushing and forced four turnovers. If you take away two big plays – a 52-yard pass play and 81-yard run – Purdue only had 133 total yards. It was more of the same against Wisconsin, as the Boilermakers were limited to 252 total yards.
"We have to rally up and bounce back and prove our worth to one another and also to our fan base as well," Hope said.
Granted, like Ohio State, Purdue has been decimated by injuries. A handful of Boilermakers are questionable for Saturday's game, some of them their best skill players. Kick returner Raheem Mostert will not play and wide receiver OJ Ross is iffy.
Ross leads the conference in receptions, but he may not play Saturday because of a turf toe injury. Antavian Edison will be the Ohio State secondary's biggest threat. He has 31 catches for 371 yards and five touchdowns on the season.
Quarterback Robert Marve tore his ACL for what seemed like the hundredth time earlier in the season. But, miraculously, he has returned. Purdue uses a two-quarterback system with Caleb TerBush starting and Marve serving as the backup. But it got so bad last week that a third quarterback, Rob Henry, saw action. The trio combined to complete just 11 of 31 passes for 124 yards with zero touchdowns and one interception. They were sacked five times.
Running back Ralph Bolden suffered a knee injury in last year's regular-season finale and didn't return to game action until last week, rushing for seven yards on four carries. The run game has been in complete disarray without Bolden, who had a combined 1,600 yards rushing as a sophomore and junior.
No running back averages more than 55 yards per game. Last week, eight Purdue players had a carry. They totaled 28 rushes for 128 yards. Starting running back Akeem Shavers hasn't rushed for more than 74 yards all season.
"I see very good players," Meyer said. "I see an aggressive scheme. It's not a vanilla scheme. The last couple of weeks they kind of played and showed you their hand and played it. This group's all over the place."
Buckeye Breakdown
Ohio State's offense has really ratcheted up its play the past two weeks, scoring 63 points against Nebraska and 52 against Indiana. For the first time in school history, Ohio State had two 100-yard rushers and a 100-yard receiver in the same game.
Much of the offensive publicity, however, has gone to Miller. Seven weeks into the season, he has distinguished himself as a legitimate Heisman Trophy candidate. With five games left, three of which will be high profile – Penn State, Wisconsin and Michigan – Miller has a chance to become the first Heisman winner from a probation team since 1989, when Houston's Andre Ware took home the bronze trophy.
Another emerging threat on offense has been running back Carlos Hyde. He's had career high rushing totals the past two games, giving Ohio State a much-needed weapon not named Braxton Miller.
At 7-0 and ranked in the top 10 of the Associated Press poll, the Buckeyes are riding high again and enjoying their return to glory. The next step is getting past Purdue, a precarious task the past few seasons.
Meyer said he hasn't brought up Ohio State's losses in 2009 and 2011. But it's apparent the team hasn't forgotten.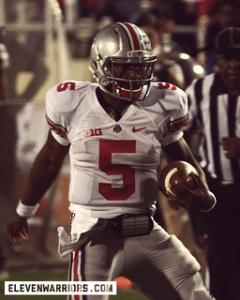 "There's definitely a chip on your shoulder," cornerback Bradley Roby said. "When you go into a game, you're like, 'We lost to these guys last year, so we can't lose to them this year.' Especially last year we felt like we should have won the game, so it gives you even more of an incentive to go out and make plays and win the game more dominantly."
Of the seven teams Ohio State lost to a season ago, five are on the schedule this year. Two of them – Michigan State and Nebraska – have already been defeated. Three - Purdue, Penn State and Michigan – remain. Ohio State hasn't lost consecutive games to a conference opponent since Wisconsin accomplished the feat in 2003 and 2004. USC beat Ohio State in 2008 and 2009. Purdue has never done it.
The Ohio State defense, nicknamed the Silver Bullets, is used to being in the news. But this year it's for all the wrong reasons.
The Buckeyes scored 115 points the past two games but also gave up 87. They're giving up 278 yards through the air – 107th in the country – and 122 on the ground per game. Their total yardage surrendered per game ranks 10th in the Big Ten.
"At some point you have to play some really good defense," Meyer said. "The top two right now is Alabama and Florida, the two best defenses in America. And that's not by accident."
Injuries have certainly contributed to Ohio State's struggles, but some of the problems being experienced showed up early in the season, as well.
"Instead of just complaining and whining and making noise, we have to put a plan together," Meyer said. "That's eliminate big plays. How do you eliminate big plays? No. 1, four to six seconds, No. 2, missed tackles and No. 3, leverage on the ball. Those are three things that we're going to really emphasize."
Do-everything player Zach Boren will get the start at linebacker, and the Buckeyes also welcome back Nathan Williams. Due to true freshman defensive lineman Noah Spence's reliability on the defensive line, the Buckeyes will shift Williams to linebacker at times when Ohio State is in the 3-4.
"Noah Spence and Nate Williams play the same position, so let's have a conversation about that, and we are," Meyer said. "How do you get them both on the field at the same time is the conversation.
"I'm not saying that's happening. We're just identifying who the best 11 players are and putting that puzzle together."
Following the Indiana game Meyer said he would become more involved in the defense. Boren confirmed on Wednesday that Meyer has been more interactive with them.
"I have to get more involved and find out what the issues are," Meyer said.
How it Plays Out
Purdue has won just twice in Ohio Stadium in the last 60 years, with the last win coming during the Reagan Administration, in 1988. Ohio State's offense is perfectly positioned to win big against the Boilermakers. If it was a road game – Ross-Ade Stadium has turned into a House of Horrors for the Buckeyes – and Purdue's offense was clicking, it might be a different story.
If games are won and lost in the trenches, as we've been told since the beginning of time, Ohio State has a decisive advantage on both offense and defense. Miller and Hyde can already be penciled in for their third straight 100-yard rushing games. Purdue doesn't have near enough athletes on defense to contain Miller.
The challenge for Ohio State comes on defense. Not being able to put pressure on quarterbacks has led to a domino effect down the rest of the defense. But the Purdue offensive line has not been a strong suit, allowing 2.5 sacks per game. That could lead to the defense finally busting out of its shell.
The Boilermakers offense hasn't been one- or two-dimensional since the Big Ten season started, it's been no-dimensional. If Ohio State's front four can get involved, Purdue's quarterbacks will be forced into making near perfect decision-making.
In the end, Ohio State has an opportunity to put together its best all-around game of the season – sixty minutes of four to six seconds of relentlessness.
Ohio State 47, Purdue 20