Struggling the past two weekends on defense, Ohio State welcomes Purdue's spread offense to Ohio Stadium on Saturday – exactly the kind of outfit that has made the Buckeyes' defense look less than average.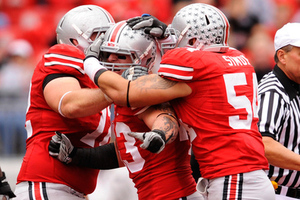 "Spread offensives are really exposing us right now," head coach Urban Meyer said after Saturday's 52-49 win. "We have got to get something fixed."
A major contributor to the poor defensive showing has been a rash of injuries. Defensive lineman Michael Bennett missed the season's first four games, cornerback Bradley Roby missed a game, safety CJ Barnett has been slowed by injuries, linebacker Etienne Sabino is out with a broken fibula and defensive end Nathan Williams, coming off of microfracture surgery, has been sidelined multiple games, though his latest problem was a concussion.
Ohio State didn't have Williams at Indiana or any of its linebacker depth, prompting Zack Boren's move to defense. Boren will stay on that side of the ball for the foreseeable future.
Injury updates: Nathan Williams will play, Jordan Hall and Etienne Sabino are out, Ryan Shazier is sore (will play) and Joshua Perry is fine.
Boren will start. Meyer said he could play both ways once Sabino returns.
Boren's future is brighter if anything. Meyer said NFL scouts are always looking for all-purpose players. Since Boren can play fullback and linebacker, he has more options to work with.
Curtis Grant still has a ways to go, according to Meyer.
Meyer said the recent struggles against Purdue have not been brought up this week.
The Leaders Division race also hasn't been a topic of conversation, Meyer said. He said the early part of the week was chaos because of Saturday's game. Buckeyes had more pressing matters.
Williams could play linebacker when Ohio State is in the 3-4. Meyer said Noah Spence's play Saturday made that possible. He's comfortable with them using the 3-4 because Spence has played so well and Williams has past experiences at linebacker.
On Monday, Meyer said he was looking for tough guys. He said the whole team took to that message and had good practices on Tuesday and Wednesday.
Meyer said the defense has been fired up, adding that Boren's presence over there helps.
The defense will be improved, according to Meyer, because there has been such an emphasis on four to six seconds, tackling and getting leverage. He said it will be fixed.
Braxton Miller said his body is fine. The only time he's been scared this season was when his leg buckled at Michigan State.
The offensive line has contributed greatly to Miller and Carlos Hyde's success. Miller said the body types have allowed the line to play better this season.
Corey Linsley is the leader of the unit, according to Miller. He pointed out that he is the guy who calls the signals when they line up.
Miller said he hasn't played a complete game yet. It would include more balance and a high completion percentage.
Bradley Roby said if Miller played a complete game, Ohio State might score 100 points.
Asked about the Heisman, Miller said he had no idea he was in the discussion. Don't know if I believe that.
Purdue's front four presents a big challenge, according to Miller, especially Kawann Short.
Boren said he is never nervous before games, but last Saturday he said he was extremely nervous. It took him two series to get calmed down.
Having a week of practice under his belt and more knowledge of the playbook has made Boren feel much more comfortable entering the Purdue game.
Boren lost 20 pounds before the start of the season.  He said that has been a big help in his move to linebacker. In fact, he said he probably couldn't have done it without that.
Boren's father, Mike, was a star linebacker at Michigan, but Zach said he leaned on Luke Fickell last week. He did say his dad was excited about the change.
Winning is the most important thing to Boren. He said he didn't care if he played safety as long as Ohio State is undefeated.
Meyer said he would be more involved in the defense this week; Boren said he's been more interactive with them.
Roby said Ohio State maybe hasn't taken Purdue so serious in the past. He said the field is subpar and there are a lot of empty seats at Purdue, as well, making it hard to get pumped up.
But he said you can't take anyone lightly and have to treat every game the same.
At Indiana, Roby said Ohio State checked out in the fourth quarter. He said they have to play a full 60 minutes.