Coming off the biggest recruiting weekend in the Urban Meyer era, things are really starting to heat up on the trail when it comes to the Buckeyes finishing up their 2013 class and pursuing the top players in the nation for the class of 2014.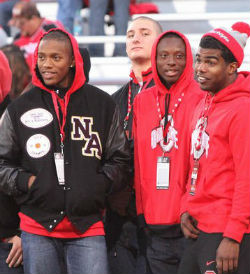 On top of hosting a slew of elite talent for the 63-38 win against Nebraska, the Buckeyes found out they have a bit more room to work with when it comes time for high school seniors to sign on the dotted line come February.
News broke last week that wide receivers Tyrone Williams and Ricquan Southward were dismissed and leaving the team, respectively, while redshirt junior safety Jamie Wood found out he'd miss the rest of this year due to a chronic shoulder injury that he said on Facebook will end his playing days.
While nobody wants to see good kids leave the program, whether they were contributors or not, attrition is good for the future of the OSU football program. Working with limited scholarships for the next couple of seasons due to NCAA sanctions, the Buckeye coaching staff certainly could use all of the room they can get in each of the next two recruiting classes in order to stock up on national championship caliber players.
In this week's edition of the 11W Recruiting Notebook, there is plenty of buzz on how the Bucks are now attacking the recruiting trail, what new names have emerged to the surface, what prospects had to say about their visit experience last week, and more.
Join us after the jump to hear the latest going on in the world of Ohio State recruiting.
The Buzz
As mentioned above, Ohio State hosted its biggest recruiting weekend of the season on Saturday as the Bucks took on Nebraska in an 8 PM EST showdown under the lights on ABC.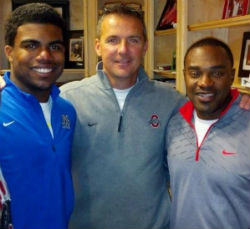 The best of the best in both the classes of 2013 and 2014 were in attendance to see Braxton Miller and Carlos Hyde thrash the Cornhuskers' defense and lead OSU to their biggest offensive outburst under Urban Meyer.
In addition to some of the stories we'll feature on the site, we caught up with some recruits who were in attendance and have their reactions after the game:
Joey Bosa: Bosa loved his official visit to Columbus and if there were ever questions he would not be a Buckeye, those are squashed. Bosa continues to recruit for Ohio State and thought the experience in the Horseshoe was outstanding.
Jayme Thompson: Called the experience "amazing, one of the most exciting games I have ever been to." He also said the atmosphere was "extremely hype and way more exciting than when I visited Michigan last year when they played Ohio State." Thompson said he talked to the other commits and they were recruiting 2013 WR James Quick and 2014 QB Drew Barker.
Tracy Sprinkle: Said the trip resulted in "a very exciting atmosphere" and also went on to say "I love what Coach Meyer has done with the team." Sprinkle said he didn't have much free time to recruit on the visit but does what he can.
James Quick: A home run for the OSU coaching staff when it comes to Quick. The speedy receiver from Louisville says the Bucks are at the top of his list with the hometown Cardinals, but it appears this one is trending towards Ohio State and away from the Cards.
Dorian Johnson: Looks like the Buckeyes graded out an A+ for Johnson on this visit and he says OSU is very close with his leader Pitt. He will return for the Michigan game and you better believe Meyer and the staff is going to try to close this one then. The Ohio State commits took an active role in trying to meet Johnson and make him feel welcome.
Donovan Munger: Munger had a great time on his visit to OSU, but is not ready at this time to make a commitment. I have always maintained that I think Munger is in this class, although I'm curious as to what the holdup is. Keep your ear close to the ground on this one.
De'Niro Laster: Laster is playing linebacker and wide receiver for Cleveland Heights after transferring from Shaker Heights and is having a solid senior season. OSU has been in constant contact and are recruiting him as a linebacker. He had a great time in Columbus and feels like the Bucks could be close to offering.
Kyle Trout: The 2014 offensive lineman from Lancaster has been mentioned a lot when it comes to OSU, despite not holding an offer yet. The offer still hasn't come, but the Buckeye coaches showed Trout a lot of love this past weekend and took care of both him and his father very well. His father told me, "they paid more attention to Kyle even more so than some of the elite recruits that were there and really made us feel at home." Kyle said, "the visit was very cool and it was really loud in the stadium."
Nick Richardson: Another top offensive lineman from Central Ohio, Westerville Central's Nick Richardson said, "the visit was a lot of fun and it was a great atmosphere in the stadium." The staff has yet to offer Richardson, but it may just be a matter of when rather than if.
Allen Lazard: The 2014 wide receiver from Iowa made the trip in and had an amazing time in Columbus. He really likes the OSU program and was impressed with the atmosphere in the Horseshoe.
Stay tuned to 11W for more to come about this past weekend.
Also mentioned above is that the Buckeyes had some players leave the program last week. News of this not only opens up scholarships for next year, but has the staff now aggressively pursuing everyone and anybody who is showing interest, including commits from other schools.
One reportedly new 2013 offer has gone out to WR Tyler Boyd of Clairton (PA) High School. Boyd has been interested in OSU for a while and even took two visits to campus despite having no offer. West Virginia was considered the favorite last week, but if the offer to Boyd is a committable one, the Buckeyes may be in the driver's seat. This one needs to play out a bit, but watch out for a visit from the consensus four star to Columbus in the near future.
Another new offer coming today is to 2013 LB Skai Moore of Fort Lauderdale (FL) University School. Moore was previously favoring Rutgers and Vanderbilt, but this sleeper prospect will certainly have more to consider now that the Bucks are in the mix. Moore was very impressive when University School took on Trotwood-Madison earlier this year and his offer list is expected to grow with OSU jumping into the mix. We'll try to get in touch with Moore to bring you further details, but one thing to keep in mind is that the newest offer is a teammate of one of Ohio State's top defensive back targets for 2014, S Quincy Wilson.
A new 2014 offer has gone out as well, this one to TE Bryce Dixon of St. Bonaventure in Ventura, California. Dixon is a 6-4/220 tight end in the same mold as Marcus Baugh, and having a fellow Californian in his position group may help the Buckeyes out for the four-star junior.
The other 2014 offer that just went out today is to Myles Autry of Norcross, Georgia. Autry is a 5-9/175 athlete with great speed and calls Ohio State his dream school. Right now he holds 11 offers and says that Oregon and Florida would be the schools that could give OSU a run for its money.
As for flips, Tony Stevens has certainly opened things up from his Florida State verbal pledge despite maintaining he is still committed and rumor has it the Buckeyes top his list if he bolts Tallahassee. Stevens is planning a visit to Columbus for the Michigan game in late November. If all goes according to plan, it wouldn't be shocking to see the Florida native commit to the Bucks shortly after that trip, although a lot can happen in the next two months.
Another player from the Sunshine State that is considering a flip is Tallahassee (FL) Lincoln LB James Hearns. Hearns is currently committed to Florida, but recently told the O-Zone that Urban Meyer is recruiting him and that he wants to take two visits to Columbus. Hearns plans to come for the Michigan game on an unofficial visit and then after the season on an official visit, so the Bucks will certainly get a fair shake. Right now, Hearns tells the O-Zone he is 70% UF and 30% OSU.
When it comes to the uncommitted, Mike Mitchell has finally spoken and things are still looking good for the Buckeyes. The four-star linebacker is visiting OSU in mid-November (exact date unknown) and claims that Ohio State is still his leader despite not having seen the school or campus yet. Oklahoma and Oregon are the biggest threats to OSU and Mitchell has been to Norman already and has plans to get to Eugene the week before he goes to Columbus.
Finally, a 2014 uncommitted stud is Jalen Hurd of Hendersonville (TN) Beech Senior. The 6-3/210 five-star running back has offers from ultimately everybody in the country and a little while ago claimed Alabama as his leader and Ohio State a close second. Fast forward to this past week and Hurd is now claiming the Buckeyes in the top spot, with Florida trailing in second. There is a long way to go in this one, but right now things are looking good for the Scarlet and Gray to land the nation's top back for 2014.
High School Football Recap
We start off the High School Football Recap with some bad news regarding future OSU quarterback JT Barrett.
Barrett's Wichita Falls team handed Fort Worth (TX) Brewer its first loss of the season by a score of 44-17, but the star signal caller left the game early after "twisting his knee". Early MRI results show a torn ACL, MCL, and meniscus, but Barrett says he was able to walk without pain and is getting a second opinion today to confirm what the injury is.
Before exiting the game, JT had 49 rushing yards and a touchdown and was also 2/4 for 41 yards through the air. Stay tuned to 11W as we'll update you when we hear more about Barrett's knee.
Taivon Jacobs had just 3 receptions for 42 yards and Suitland lost for the first time this season by a score of 2-7 to Lanham (MD) DuVal. Jacobs has been racking up video game stats this season, but was ultimately shut down for the first time all year.
Darron Lee rushed for two second-half touchdowns and snagged a key interception as New Albany served Olentangy Lewis Center its first loss of the season by a score of 33-14.
Joey Bosa and St. Thomas Aquinas fell to Miramar by a score of 27-24, but the star defensive lineman gave forth his best effort. Bosa finished the game with 5 tackles and a sack in the loss.
Tracy Sprinkle continues to shine for Elyria and helped his team to a 28-14 win over Cuyahoga Falls as he notched 10 tackles with 3 coming for a loss.
Top target Vonn Bell helped his team to a win over Dalton (GA) by churning out 271 yards and 4 touchdowns on just 5 touches on offense. Bell caught touchdown passes of 88, 63, and 32 yards and had a 79 yard run for a score.
Ryan Timmons followed Bell's lead and carried the ball 6 times for 156 yards, caught 4 passes for 148 yards, and returned a punt to the house en route to 6 touchdowns and a victory for his team before he headed to Columbus to see the Bucks in action on Saturday.
Finally, Corn Elder had a good week as well, rushing for 207 yards and 3 scores in a 35-7 win over Nashville (TN) MBA. Elder is being recruited as a running back/wide receiver hybrid by Ohio State, but the possibility is also there for him to play cornerback.
Week 8 Games to take note of include:
St. Francis (NY) at St. Ignatius (Jimmy Byrne, Michael Siragusa, Tim McVey)
Cincinnati St. Xavier at Lakewood (OH) St. Edward (Trey Kilgore, Solomon Warfield)
Cleveland Heights at Warren (OH) Harding (Shelton Gibson, De'Niro Laster, LeShun Daniels, Jalyn Powell)