Saturday's slate of college football games features several matchups of undefeated teams. There may not be two more confident teams in the country than Nebraska and Ohio State, though.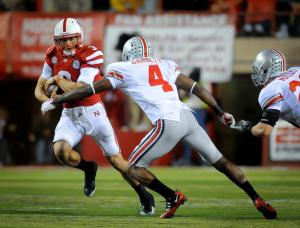 The one-loss Cornhuskers enter Saturday night's game off a comeback win over Wisconsin that was eerily similar to last season's victory against Ohio State. In a near replay of the Buckeyes' 21-point collapse last October, Wisconsin led, 27-10, in the third quarter before Nebraska quarterback Taylor Martinez engineered the turnaround.
Nebraska won, 30-27.
The come-from-behind win over Ohio State doubled as the biggest lead blown by the Buckeyes since they started playing college football and the biggest comeback for the Cornhuskers. The Wisconsin win was Nebraska's second-largest turnaround, and without the first, they may not have had the ammo to corral Wisconsin.
"We knew we had done it before and could do it again," Martinez said after the Wisconsin game. "Pretty much everyone was chattering about it."
He finished with 288 yards of total offense, which helped propel Nebraska to victory. Martinez threw for 181 yards and two touchdowns and rushed for 107 yards and one score. All told, he was named co-offensive player of the week in the Big Ten.
A loss would have dropped Nebraska to 3-2 overall and 0-1 in the conference, striking a big blow to its Legends Division title hopes. Rarely has a team lost its first conference game and gone on to win the Big Ten and play in the Rose Bowl. The famed stadium in Pasadena actually played host to the Cornhuskers' lone loss on the season – 36-30 to UCLA.
Ohio State's confidence comes from winning a road game against a ranked opponent. The Buckeyes played their most complete game of the season in beating Michigan State, 17-16.
"Our confidence is high as a team," running back Carlos Hyde said. "I feel we're a complete team right now. We're all together."
The defense, a unit that was shaky the first four weeks, virtually shut down the nation's third-leading rusher, Le'Veon Bell, and forced an unproven quarterback to beat them. But Andrew Maxwell faced heavy pressure from the Ohio State front seven and ultimately couldn't make a big play in the fourth quarter when needed.
The offensive line also delivered its finest performance of the season. So much so that head coach Urban Meyer honored the starting linemen collectively as players of the game. They opened up holes in the fourth quarter to allow the Buckeyes to run out the clock, and also kept Braxton Miller upright in the pocket, limiting Michigan State to one sack.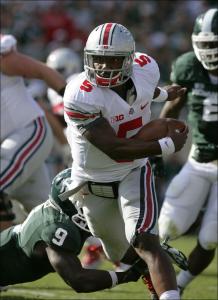 "It's a real confidence booster, definitely," wide receiver Corey Brown said. "I love this team. They know how to come out and win."
At 5-0, Ohio State is one of only two teams in the Big Ten that remains undefeated – Northwestern being the other.
Last season's meltdown against Nebraska was a popular topic of conversation on Monday at the Woody Hayes Athletic Center. Similar to this season, Ohio State was coming off a game against Michigan State. The result was remarkably different, however. The Spartan defense had nine sacks, battering Miller in his second career start. Ohio State's only points came on a touchdown with 10 seconds left in the game as Michigan State won, 10-7.
But the following week at Nebraska, a switch was flipped. The offense moved the ball at will against No. 15 Nebraska. The Buckeyes were 3-2 and still experiencing a great deal of uncertainty throughout the program. On one night, though – or two and a half quarters – they put everything on the backburner.
Miller was five of eight for 95 yards and a touchdown throwing the football. He gained an additional 91 yards running. It was the coming-out party everyone was waiting for, and it came a week after the worst game of his career.
Then he injured his ankle and could not return. A 27-6 lead evaporated quickly, and Ohio State lost, 34-27.
"We were up and then we blew it," left tackle Jack Mewhort said. "It hurt our confidence and ego. We owe them one."
That situation could have played out again this past Saturday – Miller leaving the game with an injury and Ohio State losing. But the signal-caller only missed a handful of plays and instead of watching a loss from the sidelines, he heaved the game-winning touchdown pass.
Miller went down twice and has done so in other games this year. On the Buckeyes' opening drive he was hit late out of bounds and crashed into an equipment case. Kenny Guiton led the final three plays of the series, handing the ball off until Jordan Hall reached the end zone.
What looked to be a serious knee injury followed in the third quarter. Miller planted with his left leg trying to elude a Michigan State defender, but his knee buckled. Miller fell to the ground without the football and remained down for several minutes before walking off under his own power.
Meyer is aware of the fragility of the situation.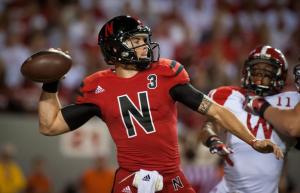 "Oregon had a chance to go play for a national championship and Dennis Dixon (was) finished (by an injury)," he said.
The 2007 Oregon Ducks were 9-1, ranked second in the nation and well on their way to a possible national championship when Dixon tore his ACL. Oregon lost its final three regular season games and finished the year in anonymity.
"What's interesting is (Miller) went down in the first drive," Meyer said. "Bang, Kenny Guiton goes in and stays cool. That was the same guy that I've mentioned since January probably from here to there in the biggest turn around. 
"I don't think Kenny is as good as Braxton. If he was, he'd be playing, but I think he's a very functional quarterback. And if Braxton had to go down, how do you win? Somebody else has to pick up that slack or they're not as good."
The health of Miller has been a theme throughout the season. Through five games, he's carried the ball 90 times, an average of 18 per game. That is well over Meyer's target of 12-15 carries a game. Miller's had games with 27, 23 and 17 rushes.
The double-edged sword shows Miller is also the 13th-leading rusher in the country and the driving force behind Ohio State's success to this point. Even Meyer admitted the Buckeyes wouldn't be undefeated without their quarterback.
Martinez is just as valuable to his team. Perhaps no quarterback in the country has faced as much criticism from his fan base as Martinez. But in his junior season, he's finally putting his immense talent and skills all together.
No one has ever doubted Martinez's running ability, but his passing has been the subject of much debate – similar to Denard Robinson at Michigan.
Martinez completed 59 percent of his passes for 10 touchdowns and seven interceptions as a freshman starter. His percentage dipped to 56 percent as a sophomore with 13 touchdowns and eight interceptions. Year 3 has been the turnaround. Martinez is completing 68 percent of his passes and has 11 touchdowns versus just one interception. He's ranked 12th in the country in passing efficiency and is averaging nearly a yard more per completion this season than over his first two years.
It doesn't just stop there, though. Martinez is the Cornhuskers' second-leading rusher with 298 yards and three touchdowns. He scored on a 92-yard run at UCLA. Martinez is only averaging a half-yard less per carry than Miller and he's rushed the ball 50 times – 40 less than Miller, which translates into fewer beatings.
Said Meyer: "You will see two of the finest athletic quarterbacks in America on the field this weekend."