There's a kind of symmetry in the combination of Ohio State's current probation and the renewal of the long-dormant series with Nebraska that was brought about by that school's entry into the Big Ten conference. Specifically, this applies to the second game of the series, when OSU opened their season with a home date against the Cornhuskers in 1956. Then, as now, the Buckeyes were on probation and ineligible for the post-season, which in those days meant only the Rose Bowl.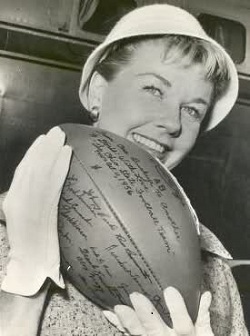 The story of how Ohio State was "caught" in violation of NCAA rules is more interesting than the violations themselves. Buckeye head coach Woody Hayes admitted to his wrongdoing, and he did it on television for all of Central Ohio to see and hear. The list of offenses bears a resemblance not only to the violations alleged to have occurred under Jim Tressel in 2009-2010, but also to the earlier scandal involving OSU head basketball coach Jim O'Brien.
Midway through the 1955 season, Hayes talked candidly on his weekly television show (which aired only on a local Columbus station) about the financial needs of college football players and that he sometimes loaned them money out of his own pocket. Sports Illustrated magazine picked up the story and the national press initiated investigations by the Big Ten conference and by the NCAA at large. As is often the case where a detailed investigation is launched, there was more to the problem than just the initial revelation.
The NCAA was interested in what was going on with OSU's "jobs for athletes" program. This program had been around in one form or another since the 40s, but by now it had grown to the point where the university had little supervision or control. NCAA investigator Jack Ryan (no, not that Jack Ryan) (or that one) found that players were getting paid for working despite not ever showing up for work, in addition to confirming the financial assistance that Hayes personally gave players. Based on that finding, Big Ten commissioner Kenneth "Tug" Wilson placed Ohio State on a one-year probation, and declared them ineligible to represent the conference in the Rose Bowl should they earn an invitation after the 1956 season.
Regardless of their post-season prospects, this was expected to be another excellent Ohio State team. After a mediocre start his first three years, Hayes had built the OSU program into a powerhouse, winning the national championship in 1954 and putting to rest forever the infamous tag line "the graveyard of coaches". As the 1956 season started, they were in the middle of setting a new conference record with 17 straight Big Ten victories, and trying to become the first school to win three straight Big Ten titles. 
The 1956 team was led by All-American offensive tackle Jim Parker, a senior who was on the cusp of one of the greatest careers ever for an offensive lineman. Gone was Heisman Trophy winner Howard "Hopalong" Cassady, but ready to step into his shoes as the feature back was promising sophomore Don Clark. Also returning were quarterback Frank Ellwood, fullback Galen Cisco, and ends Bill Michael and Leo Brown. 
Nebraska had visited Ohio State to open the season the previous year, and that game was far from a blowout. Nebraska led briefly in the 2nd quarter before the Buckeyes took control. In the end, Cassady led OSU to a 28-20 win in the first-ever meeting between the two teams. Fans would be expecting more of the same this time around.
The coach of that Nebraska team, Bill Glassford, had retired after the season to go into private business. Former Oklahoma assistant Pete Elliott was named to replace him. The choice of Elliott was ironic, since he had played his college ball at the University of Michigan (along with his brother, future UM coach and Iowa AD "Bump" Elliott). The fact that his head coaching career would begin with a game against his alma mater's greatest rival put a bit of a poetic touch on the matchup.
The game was anything but close, however. At this point in his tenure, Woody had perfected his "three yards and a cloud of dust" offense and Nebraska became another sad victim. The Buckeyes rushed for 416 yards and ground the Cornhuskers into corn meal on their way to a 34-7 victory. That rushing total was the most of any game Woody had coached up to that point.
Clark was impressive, rushing for 97 yards and two touchdowns on 10 carries. Even more impressive was reserve halfback Jimmy Roseboro, who rushed for 115 yards on 13 carries. After forcing a Nebraska punt, Ohio State drove 77 yards for their first TD, then blocked a punt for another score to go up, 13-0. From there it was all Buckeyes and the fans got what they would normally expect from an early non-conference home game. Clark scored on runs of 35 and 38 yards, Roseboro had a one-yard TD run, and Leo Brown scored on the blocked punt.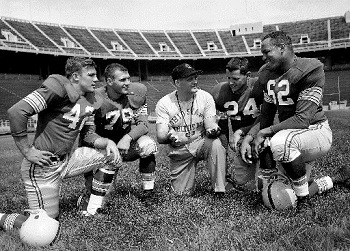 Ohio State began the season ranked #8, and they rose to #5 before being upset by Penn State, 7-6, in the fourth game of the season. Undaunted, they won their first four conference games to run their streak to 17 before the wheels fell off. The 6th-ranked Buckeyes went to Iowa City to face the Iowa Hawkeyes, and left with a 6-0 loss. The season concluded in humiliating fashion as they dropped their final game, 19-0, against Michigan.
The team had played excellent football at times, but there was too much youth in key positions and they did not hold up well as the season wore on. Still, they had laid the groundwork for greater things ahead. The 1957 team dropped their opener and then proceeded to win their last nine games, including a 10-7 triumph over Oregon in the Rose Bowl. As a result, Ohio State won their third national championship, the second under Hayes.
Don Clark would end up leading the Buckeyes in both rushing (797 yards on 139 carries) and passing (3 of 7 for 88 yards, seriously) for the season. After his career at Ohio State was done, he played football in the Canadian Football League, one season for Ottawa and 4 seasons at Montreal. He was a CFL All-Star in 1961, and in 1963 he scored 6 touchdowns in his last 8 games before suffering a career-ending injury. 
Leo Brown would lead the Buckeyes in receiving, but with only 8 receptions. Galen Cisco would finish the season with 438 yards on 64 carries, for a 6.8 yard average. He would rush for 892 yards in his OSU football career, winning All-American honors as a senior. He was also a standout on the Ohio State baseball team, finishing with a 12-2 record and winning All-American honors in that role. He pitched for 9 seasons in the major leagues, but became more well-known for is role as a pitching coach for such teams as the Kansas City Royals, Montreal Expos, San Diego Padres, Toronto Blue Jays, and Philadelphia Phillies. He retired after 31 years of coaching and now resides in his hometown of St. Marys, OH. 
Pete Elliott spent only one season coaching at Nebraska. After leading his 1956 Cornhusker team to a 4-6 record, he left to become the head coach for the Golden Bears of California. After three seasons there, he left to take over as head coach at Illinois. He coached there for 7 years, and then 2 years at Miami (FL) before retiring from coaching in 1974. Elliott currently serves on the board of trustees of the Pro Football Hall of Fame in Canton, OH, where he served as Executive Director from 1979-1995.