At one point in time, this award was known as the Buckeye NFLer of the Week. Thanks to a typo and the ensuing LOLsession from the commentariat, it was renamed as the Houndie. Same intent, but now with a better name.
As the current Buckeyes moved to 5-0, it was an up and down week for the former Bucks who play in the league. We saw last week's Houndie winner, Santonio Holmes, go down with an injury, Ted Ginn return from his injury and another wideout have a record-setting afternoon.
The week started off once again on Thursday and produced the first decent game of the year in that time slot. The Browns hung tough and had a chance to tie the game late, but fell to the Ravens, 23-16.
Ohio's other team, the Bengals, had to travel down to Jacksonville for a late Sunday game, pulling off the 27-10 victory for their third straight win. Nate Clements sat this one out due to injury, but Mike Nugent continued his perfect season, connecting on a pair of 35-yarders and all three of his XPs.
For the Jaguars, Mike Brewster continues to get some playing time, as the Jags O-Line battles some injuries during their not surprising 1-3 start.
In Atlanta, the Panthers also fell to 1-3 after their 30-28 loss to the Falcons. Chris Gamble had 3 tackles, but Matt Ryan threw for 369 and three TDs, even though Julio Jones was held to one catch for 30 yards.
New England went into Buffalo and took down the Bills, 52-28, scoring a remarkable 45 points in the second half. Nate Ebner continues to play special teams for the Patriots and recorded a tackle, giving him three on the year, but his first in two weeks.
Minnesota is an early surprise, moving to 3-1 after their 20-13 road win over Detroit. Michael Jenkins didn't help matters too much, catching just one ball for four yards, but Minnesota threw the ball only 26 times. Antoine Winfield continued his strong play, making a run for this week's award after leaving Detroit with 10 total tackles, including six solo stops and two PDs. Winfield now has 30 tackles on the season, which ties him for the NFL lead amongst corners.
You're not going to believe who led the Rams in tackles as they took down Seattle, 19-13. James Laurinaitis registered eight solo tackles and an assist, which gives him 39 on the year, good for 6th in the league. Both team now sit at 2-2 as they try to keep pace with the Cardinals.
In New York, the Jets got embarrassed by the 49ers, 34-0, as the Tim Tebow whispers are starting to get louder. Santonio Holmes was targeted eight times in the game, but caught just four passes for 29 yards and fumbled tossed the ball away in the fourth quarter when he went down with his injury. What exactly the injury is remains a mystery, as the X-rays came back negative, but he'll be out for a few weeks.
As mentioned, Ted Ginn saw his first action of the season, running once for seven yards and returning four punts for a total of 40 yards. Donte Whitner helped that defensive effort, earning six tackles next to his name in the box score. 
In perhaps the best game of the week, Green Bay held off the Saints, 28-27. A.J. Hawk and Ryan Pickett had quieter days compared to last week, recording just three and two tackles respectively.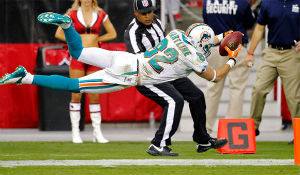 On the other side lines, Malcolm Jenkins had 10 total tackles and a fumble recovery, but the Saints' defense continues to struggle. Will Smith added three tackles and knocked down Aaron Rodgers once. Jenkins now has 33 tackles on the young season and sits atop the NFL leader board in that category for DBs.
In Tampa, Doug Worthington also saw his first action of the season, getting two tackles for the Redskins as they beat Tampa Bay, 24-22.
On Sunday night, the Eagles won another close game, beating the Giants, 19-17. Kurt Coleman led the Eagles with six tackles from his safety spot as Philadelphia has won three games by a combined four points. Brian Rolle didn't record a tackle and has just four on the year.
Monday night's game ended up as the perfect scenario for me in the Bears' 34-18 win over the Cowboys. Not only did it clinch my first fantasy win on the year, but Dane Sanzenbacher finally dressed for the Bears, instantly becoming my favorite NFL player on an active roster, and 'Da Bears destroyed the hated Cowboys at Jerry World.
While it would be easy for me to give this week's Houndie to Dane just for playing, I mentioned one of the former Buckeyes had a record-setting day for his team.
Brian Hartline was the first in Columbus to see what Terrelle Pryor was really about and left school early. Now, four years later, he leads the NFL in receiving with 455 yards through four weeks. You may remember, Hartline took home his first career Houndie two weeks ago, but obliterated his career highs on Sunday with 12 catches for 253 yards and an 80-yard TD in a 24-21 OT loss to the Cardinals.
The previous Dolphin mark was 238 yards, set by Chris Chambers on 15 catches in 2005. As we mentioned a couple of weeks ago, it's obvious Hartline has a strong connection with rookie QB Ryan Tannehill, who threw for 431 yards but had two costly turnovers late that led to Cardinal scores.
For the Cardinals, Beanie Wells had a front seat to the action, as he was placed on IR, with a designation to return after eight weeks. He suffered another turf toe injury, the same one that set him back his final year in Columbus.