Trust.
It's a quality that's needed in any relationship. Without trust, failure is imminent.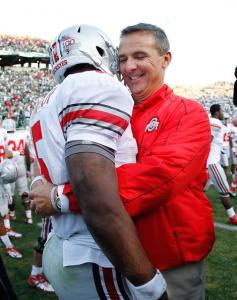 There is no secret to the amount of Urban Meyer's success in 10 head coaching seasons, split between Bowling Green, Utah and Florida. Part of it has come from the level of trust he's instilled in his quarterbacks.
The first four games of the Urban Meyer-Braxton Miller partnership resulted in the typical gaudy stats Meyer-coached quarterbacks have produced. There have been high rushing totals, clutch passes and willing a team to victory.
Last week another layer was peeled back in Meyer and Miller's evolving game-day relationship. The head coach allowed his quarterback to make decisions at the line of scrimmage and change plays if need be.
In a hostile road environment on Saturday, though, Miller became a bit unnerved at times. He was no longer in Kansas – or Ohio Stadium, the site of the Buckeyes' first four games. And it wasn't a creampuff non-conference opponent across the way. No, the venue was Spartan Stadium and the opponent was Michigan State, owner of the Big Ten's top-ranked defense.
There were three turnovers, all by Miller and all in Michigan State territory that could have derailed a promising season. Turnovers are a game killer in Meyer's "Plan to Win." They, too, can cause friction in the coach-player relationship. But Meyer knows what he has in Miller.
Trailing 13-10 late in the third quarter, there was no one else Meyer would have wanted with the ball in his hands. And there was no one else Miller would have wanted to throw the ball to. He connected with Devin Smith on a 63-yard touchdown pass that provided the Buckeyes with a 17-16 win in both teams' conference opener.
"He's one of my favorite receivers," Miller said of Smith, the recipient of three game-winning catches in the past 11 games. "I'm going to always throw to him."
The late-game heroics – something that has become a ritual with Miller and Smith – energized Miller, causing a postgame celebration on the field that lasted for several minutes. But once he made his way to the locker room it was all ice and rubdowns. In a game that saw a season's worth of big hits, Miller took the brunt of several collisions, to the point he had to leave the game for a brief period of time.
"A gutsy effort by our quarterback," Meyer said. "He had some miscues but just the toughness – he's banged up. He's banged up, and he just kept coming back."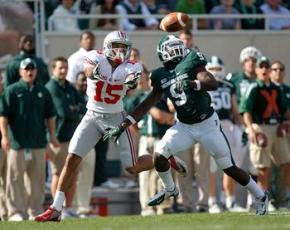 Three turnovers are no way to pump up a Heisman Trophy campaign. But what if it's offset by 315 all-purpose yards and yet another game-winning touchdown pass?
"The kid played tough," offensive coordinator Tom Herman said. "He played hard, he put the team on his back. We can fix the turnovers, but the attitude and effort and ability that he has can't be taught."
Miller completed 16 of 23 passes for 179 yards with one touchdown and one interception. He added 136 rushing yards on 23 carries, an average of nearly six yards per touch. His total rushing yardage was 89 more than Michigan State running back Le'Veon Bell, who entered Saturday's marquee matchup as the nation's third-leading rusher.
"No doubt he's the fuel in our engine," offensive coordinator Tom Herman said of Miller.
He started the game off with a full tank, finding a hole in the Michigan State defense and running for 20 yards on the game's first play. Seven plays later – two Miller rushes for 14 more yards – Ohio State led, 7-0.
The Buckeyes sent a message on the first series that the 2012 Ohio State-Michigan State game would play out far different than the 2011 affair. That day Ohio State had 35 rushing yards on 39 carries in a 10-7 loss. On Saturday, Miller had 54 yards after one quarter.
"Number five changed the game," Michigan State defensive coordinator Pat Narduzzi said.
Said Spartan linebacker Chris Norman: "He's very elusive. Braxton Miller is a dynamic talent. It was a really hard offense to defend. The guy can make plays. It was really frustrating at times, but you've got to roll with the punches."
Twice before halftime, with Ohio State leading 7-3, it had an opportunity to extend its lead. That's when Miller's turnovers came into play.
"Braxton, Braxton and Braxton," Meyer said after the game. "I gotta go visit with Braxton. Remember that family member? He's not in the family anymore."
It was said tongue-in-cheek, but the point is not hollow: turning the ball over will eventually lead to a loss.
In a year when the Big Ten has become a national punching bag – Ohio State and Northwestern are the only remaining undefeated teams in the league – Miller has provided excitement to an otherwise drab style of play in the antiquated conference. Denard Robinson, the Big Ten's most visible player, turned in two of the worst performances of his career in primetime games against Alabama and Notre Dame.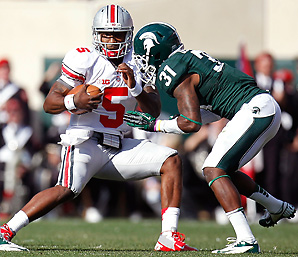 The conference's best team and player could be Ohio State and Miller, despite a postseason ban for the Buckeyes. Meyer has coached a No. 1 overall draft pick and Heisman winner. Still, he pronounced Miller the most dynamic player he's ever coached – before the season even started. With the praise came lofty expectations, but Miller has lived up to the hype with ease.
He is now the 13th-best rusher in the country, producing 577 yards and seven touchdowns on 90 carries. Miller is also completing a higher percentage of his passes – nearly 63 percent for 933 yards with eight touchdowns and three interceptions. Through five games, Miller is responsible for 1,510 yards and 15 touchdowns. Those totals have come on 211 plays. In his first five starts of 2011, Miler accounted for 670 yards of offense and seven touchdowns.
Robinson has experienced what comes with being a top dual-threat quarterback: soreness. Miller carried the ball 23 times against Michigan State, that coming on top of 17 versus Miami (Ohio) and 27 against Central Florida.
"You've got to forget about it," Miller said. "It's football, things happen."
Meyer has said 12-15 carries per game is the target number for Miller. It's rarely been accomplished and looks like it won't be paid much attention to this season. It's become necessary to have Miller run his way to victory in multiple games.
The spread offense has greatly complemented Miller's unique skillset. Meyer's M.O. is putting players in a position to succeed and blending the offense around their best attributes. Opposing defenses also have helped Miller. He has shown that he can create plays when he's flushed out of the pocket.
The unsung heroes from Miller's impressive numbers are the Ohio State offensive line. They showed up en masse on Saturday to help their quarterback – and running backs. Reid Fragel took on defensive end William Gholson and rarely let the All-American candidate into the backfield.
One year removed from historic offensive ineptitude against the Spartans, the two main culprits – Miller and the O-Line – hushed their nemesis: the Michigan State defense.
"I think it was just an attitude thing and a revamped program," center Corey Linsley, the guy who snaps the ball to Miller, said. "As Coach Meyer puts it, 'If you get kicked enough times, you are going to respond eventually.' That was us today. I am proud of our guys."