Ohio State never got the breather it wanted in the non-conference schedule. With two ranked opponents the next two weeks – Michigan State and Nebraska – the slate isn't going to get any easier.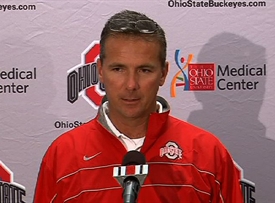 The problems on defense play right into the Spartans' strengths. Running back Le'Veon Bell, a 250-pound force, could be a handful – literally – for a Buckeye defense that has been miserable at tackling.
The Ohio State secondary, which ranks ninth in the country with seven interceptions, could give inexperienced quarterback Andrew Maxwell fits.
The Braxton Miller vs. Michigan State matchup is the one that's most intriguing. 
But on Monday the focus was still somewhat on last Saturday's 29-15 win over Alabama-Birmingham. It wasn't the win, though, that Meyer highlighted. It was the areas that need to improve. 
UAB awards: Jordan Hall (off. player of game), Christian Bryant (def. player of game) and Bryce Haynes (ST player of game).
Offensive Champions: Jordan Hall, Braxton Miller, Corey Brown, Jake Stoneburner, Evan Spencer and Reid Fragel.
Meyer said Saturday was Reid Fragel's best game of the season.
Defensive champions: Christian Bryant, Johnathan Hankins and Doran Grant.
Hankins graded out 81 percent, Grant graded out 91 percent, Bryant graded out 93 percent.
Ron Tanner was scout team player of the week.
Meyer calls Michigan State's defense one of the best he's faced in his career. He said they are loaded with NFL talent.
Mark Dantonio was the defensive coordinator at Michigan State under Nick Saban. Meyer said he sees a lot of the same characteristics in this MSU defense that he saw in Alabama under Saban.
Taking the run game away and forcing Braxton Miller to beat them with his arm is Michigan State's goal, Meyer said.
Ohio State went up against good cornerbacks in the California game – Meyer said Saturday will be another challenge for Devin Smith and Philly Brown. Michigan State cornerbacks Johnny Adams and Darqueze Dennard will pose a big challenge. Two of the best the Buckeyes will face all season.
UAB's onside kick recovery was a "major error," Meyer said. He joked that he needs to tell everyone on the kick team you have to catch the ball.
Meyer again talked about the youth and inexperience on special teams. He said the same thing after the game Saturday.
The coaching staff is not thinking about redshirting Michael Bennett. Meyer said that could be reevaluated if he doesn't play Saturday, but he said he expects he'll be ready to go.
CJ Barnett, Bradley Roby and Carlos Hyde are likely to play at this point.
Meyer said the offensive line has been OK but not great. Hall and Hyde healthy at the same time could make a difference.
The Ohio State defense is more equipped to stop Michigan State, according to Meyer. He said the dink and dunk, sideline to sideline passes aren't the strength of the defense.
Meyer thought tackling was improved against UAB, but said it'll be addressed again this week in practice.
Meyer called Saturday a "rivalry game."
After the game Saturday, Braxton Miller said he called 20 audibles at the line of scrimmage. Meyer said he doesn't know if it was that many but said it was "a lot of times."
At yesterday's Victory Dinner, Meyer brought up the Leaders Division championship. It's the first time it's been mentioned all season. Meyer said it's very important to win a title.
"Are we playing for something? You're damn right we are." –Meyer
Le'Veon Bell reminds Urban Meyer of a more athletic Ron Dayne.
Meyer said whichever two cornerbacks has the best week of practice between Travis Howard, Bradley Roby and Doran Grant will play on Saturday.
Meyer said he had honest conversations with Rod Smith and his father in January about having Smith transfer. Meyer thought that'd be best for Smith's career.
Smith stayed to prove he could make it at Ohio State. It's worked out well for everyone involved.
"At the end of the year, this might be a hell of a football team. It might be sooner than that." -Meyer on the Buckeyes
Wide receivers coach Zach Smith says he feels very comfortable with the progress and results from the OSU wideouts.
Coaching Devin Smith is great, Zach Smith said, because he's so hard on himself and always striving to improve.
Michael Thomas is continuing to develop, Smith said. He feels good about the direction Thomas is going in.
Stoneburner had zero catches on Saturday. Smith said he was a viable option on several plays, just didn't get ball thrown his way.
Smith said the offense doesn't play as well when the wide receivers struggle with blocking. He said that is one reason Stoneburner is so good at WR because his size allows him to own perimeter blocking.
Defensive coordinator Everett Withers also said the tackling was improved on Saturday. He also said the same thing about Michigan State's offense being a good matchup for the OSU D.
Withers said this week will be big in Ohio State finding out exactly what they have on defense. He said Le'Veon Bell is sound in all facets. Knows when and where to run, good with a stiff arm.
Christian Bryant has matured immensely, Withers said. Bryant was in the WHAC this morning getting the defensive game plan.
Withers said the routine in Columbus and at the game site do not change for road games.
On UAB's chop blocks: "Maybe they allow that in Conference USA." –Withers