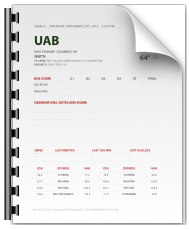 Bucknotes are your pocket guide for the game. Print them off and amaze your friends with your knowledge and insight.
We're not even going to try to summon our inner-Lou Holtz to build up the UAB Blazers, because this is a terrible team.
UAB ranks in the bottom quarter of all FBS teams in scoring, rushing, total defense, rushing defense, scoring defense, net punting, punt returns, tackles for loss, sacks allowed and a half dozen other categories.
Whatever ailed the Buckeye defense in last week's nail-biter against Cal, tomorrow will serve as a booster ahead of a pivotal Big Ten opener against Michigan State in East Lansing.
Suggested parlor game: Drink every time Eric Collins or Derek Rackley mispronounce a player's name.