1,044.
That's how many career rushing yards Ohio State will have at running back on Saturday versus California. It sounds like a good figure. One thousand is one of those numbers that causes heads to turn when football is the topic of conversation.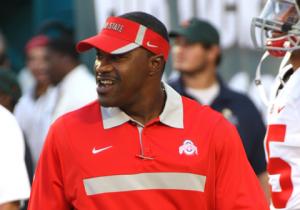 But in this instance, it's not all that impressive. The yardage is split among four different players, and they have a grand total of eight touchdowns between them.
Jordan Hall has 814 yards and five touchdowns, while Rod Smith (142 yards), Bri'onte Dunn (60) and Zach Boren (28) have each crossed the goal line once.
Compare those numbers to sophomore quarterback Braxton Miller: 1,017 yards and 11 touchdowns. Now you see why head coach Urban Meyer and running backs coach Stan Drayton are worried about the early-season hits Miller has taken – because they could continue well into the conference schedule.
Hall's misfortunes have been well documented, leaving him on the sideline the first two weeks. Then disaster struck Ohio State in its 31-16 win over Central Florida, when backup-turned-starter Carlos Hyde suffered a sprained MCL.
It has thrust Dunn into the starting spot on the depth chart with Smith as the backup. On Wednesday, however, Meyer said he would not name a starter until Saturday. He also indicated Hall will make his return this week, though he doesn't know how many plays he'll be in for.
"He's going to be rusty," Drayton said on Monday. "It's an offense based on timing. He has to get in with the quarterbacks and get extra work."
The running backs performed well in the opener, gaining 139 yards on 29 carries and scoring four touchdowns. All of those numbers took significant dives against UCF.
Twenty-two carries, 82 yards, zero touchdowns.
"Based on performance, last week was not very good," Drayton said. "However, we wipe the slate clean every week. They have to have an unbelievable week at practice this week to earn their time on the field."
Miller and wide receiver Corey "Philly" Brown combined for 174 rushing yards and three touchdowns last week. In the first two games, Miller alone has more rushing yards than the combination of tailbacks. His 302 yards rank first in the Big Ten and fourth nationally. At this pace, he'll accumulate far more than that magic 1,000-yard threshold, becoming Meyer's first millennium-mark runner.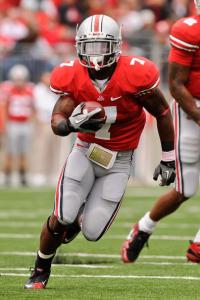 "We have got to be smart," Meyer said. "He got tattooed a little bit (versus UCF). But we've all got to take care of him."
Said Boren: "With (Hall) coming back, hopefully that will help, and (Brown) getting a bigger role. You definitely don't want (Miller) carrying the ball that many times, but we'll see. He's our go-to guy. So hopefully we can distribute the ball and get some points this week."
The most recent injury to Hyde may leave Ohio State more vulnerable, even with Hall's return, because the team is potentially without a true No. 1 running back.
Hall could still feel the effects of his foot tendon injury, Dunn and Smith have limited experience and Boren has never been a feature back. That's why Drayton likes to have so much depth.
In the rugged world of the Big Ten, injuries are inevitable. But late-October and November are usually when the aches and pains become an issue. The timetable has been moved up dramatically for the Buckeyes.
"My mindset every week is I need to have three (running backs) prepared," Drayton said. "Three need to be able to play this game, especially when you're talking a no-huddle offense, high-power, the whole deal."
The level at which Hall returns is of particular intrigue to Drayton. If Hall can take a burden off the young tailbacks and help alleviate the pain felt from his and Hyde's absence, it could go a long way in the offense becoming more balanced.
Following practice on Wednesday, Meyer indicated that Hall looked good and had a solid grasp of the playbook. Meyer also brushed aside any concerns about Hall being properly conditioned, an issue Drayton talked about earlier in the week.
"He's making cuts like he always does," wide receiver Devin Smith said of Hall. "He said his foot feels normal, so I hope that's good news."
The other thee options are talented and have promise, but they are also flawed up to this point. Dunn is a true freshman who will be playing in just his third game, Smith's production has been inconsistent in the limited amount of carries he's had in two seasons while fumbles have plagued him and Boren had one career carry entering the season.
"He's Tarzan, no question about it," Drayton said of Smith. "He looks the part. But you don't put a player out there based upon how he looks. It's all performance-based."
The trio has also never prepared to start as feature backs. Meyer touched on that factor Monday. The mindset of approaching a game as a starter doesn't compare to knowing you're the backup or third-stringer who will take minimal carries.
"That is certainly a topic of conversation that will impact how we game plan," Meyer said. "Those kids are talented, so it's not like we have a bad player back there. I have got to look in those guys' eyes. The psychological approach to coaching now is with those two young players. Who can handle it?"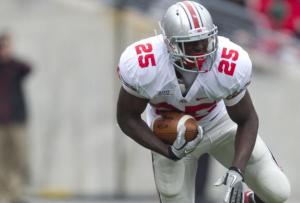 Miller said Dunn, the presumptive starter, has performed well in practice but also said he's shown some nervousness this week, which is to be expected. But Dunn is taking his role seriously.
"He's doing the same thing he does each and every week," Boren said. "He's in the film room all the time, and he'll be competing on Saturday."
The onus is on them to prove in practice they can handle the workload and pressure of being a primary back. With that comes dependence in short-yardage situations and to get the ball out of Miller's hands. That responsibility is now magnified in light of how often he's been carrying the ball.
"One of those guys has got to pick their game up," Drayton said. "They have to. We can't go into this ballgame with the thought process of not having a running back."
The wild cards in the backfield are Boren and Brown. Through two games, even Boren doesn't know exactly what his responsibilities are, but he said he likes the mystery entering a game and not knowing what's in store.
"We ask him to do, from a job description stand point, probably more so than everyone else in that offense," Drayton said. "He's a young man that can get us four to five yards on an inside zone play and turn around and block a five technique."
Brown, meanwhile, was a star running back in high school and would like to catch some passes behind the line of scrimmage. With the ground game grounded, so to speak, getting Brown in space could be the best course of action for the Buckeyes.
Devin Smith said on Wednesday that practices have been heavy on passing this week and that Brown has taken on an added role in the offense. 
"(Brown's) a wide receiver," Drayton said. "I don't want to send the wrong message out there. He is the wide receiver, and we need him to be productive on the perimeter."
Despite Brown's willingness to help the rushing game, Drayton has not warmed to the idea of having him get touches over running backs. Through two games, though, Brown is the clear gamebreaker on offense, a necessity for Meyer to keep defenses honest.
"I feel as though if Zach Boren continues to progress along with Bri'onte Dunn and Rod Smith, those younger backs progress, I think we can be solid there," Drayton said. "There's some things that they cannot do that Philly Brown may be able to do."
For the Buckeyes, it doesn't matter who gets the yards – unless it's Miller's 16th carry – just as long as they advance the ball upfield.