Just two games into the season, it appears that all those adjectives used to describe Ohio State's defensive line were greatly exaggerated.
Elite, great, stout, dominant – throw them all out. At least for now.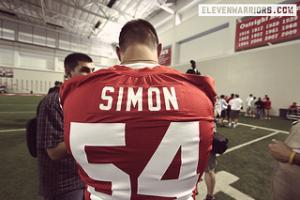 Three sacks – none by John Simon or Johnathan Hankins – and five tackles for loss are all the front four has to their name. And this is from a unit that was hyped as being one of the best in the country.
The lone sackers have been freshmen Noah Spence and Adolphus Washington and sophomore Steve Miller. The lack of production is partly due to the opponents' style in the first two games. Miami (Ohio) and Central Florida each used three-set drops to quickly get the ball out of the quarterbacks' hands. As the defensive stats show, the opponents' goal was accomplished.
"It's very frustrating," Washington said. "You prepare to get off the ball and get to the quarterback, and all of a sudden you get there and the ball is already gone."
UCF head coach George O'Leary said there was good reason for the quick passes.
"Ohio State's front seven is outstanding," he said. "John Simon is as good as anyone in the country. You don't want to take your time passing against them. The quarterback can't take more than three- or four-step drops."
But with All-American candidates and possible first-round draft picks, pressure, knock downs and sacks should still scatter the stat sheet. For two Saturdays, however, that hasn't been the case.
The veterans who have excelled in college already and the freshmen that entered Columbus with so much promise have instead been stymied. All of it has left Meyer mystified.
"The negative I see right now is I don't see the quarterback getting hit," he said after Ohio State's 31-16 win over UCF. "And that's something that has to be addressed. That's going to solve a lot of problems in pass defense. We'll address that and have a conversation about that this week."
Even the players have been startled by the lack of hurries on opposing quarterbacks. It's a task co-defensive coordinator Luke Fickell and defensive line coach Mike Vrabel stress to the defense. A segment of each practice is dedicated to ball pressure drills. So far, that magic formula hasn't been discovered.
"I'm a little surprised," Spence said. "We just have to keep working hard and keep getting better every week.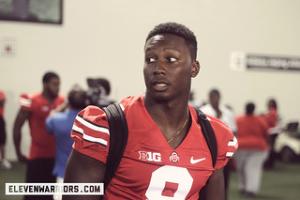 "I feel like when we get to the game, we forget about all our moves and everything. It's easier to forget about our assignments sometimes. I don't know, we're just not living up to our potential."
On Saturday, UCF converted seven of 15 third downs and had scoring drives of 84 and 78 yards. Those are stats that give credence to Meyer's frustrations. The Knights were able to line up across from the Buckeyes and not only display confidence, but also punch them in the gut.
"We need to find a way to get off the field on third down," linebacker Etienne Sabino said.
Injuries have played a part in the lack of pressure, which directly correlates to quarterbacks being successful. Two of the team's top defensive linemen – Michael Bennett and Nathan Williams – have missed action. It's a conundrum that has caused head coach Urban Meyer and his defensive coaches to go back to the drawing board.
UCF opted to take Simon out of the game with double teams. Add Bennett and Williams into the picture and the opportunity to eliminate Simon wanes. The question becomes, which defensive lineman steps up when opponents move Simon out of the way? And might the run defense suffer if the top four pass rushers play together? So far that hasn't been an issue. The Buckeyes field the eighth-best rush defense in the country, allowing 51 yards per game. Miami didn't even gain a single yard; instead, it was held to negative-1.
"We do a drop eight which means there's only three pass rushers," Meyer said. "Teams made a decision when they drop back to pass on quick game, they are getting guys out. On a non-quick game, they are max protecting, which is not usual. So teams are doing a good job of defending us and defending our best pass rusher. I think Nate Williams would help on the other side. Right now we are counting on a true freshman to be on the other side of Simon.
"I could list a multitude of reasons and excuses and so on and so forth. We have to get better pressure on the quarterback or it's going to be a long year. There's two ways of doing it. One is defeating a man on a pass rush…(the other is) I'm going to blitz and try to confuse you. And the answer is, we need to do both."
Ohio State has never been a blitz-heavy team, though Fickell and co-defensive coordinator Everett Withers do have experience with blitzing. At a 7 a.m. meeting on Monday morning, Meyer and his defensive coaches discussed the possibility of relying on blitzes as the season goes forward. The personnel the Buckeyes have to work with prompted the conversation.
"Michael Bennett is a guy we counted on, Bennett, (John) Simon and (Johnathan Hankins), and then you have (Garrett) Goebel," Meyer said. "Those are kind of our four guys. And now you're playing with freshmen and some other guys are getting better out there, but just we were kind of counting on that.
"So as all teams deal with injuries throughout the course of the year, that's kind of set us back a little bit. It's not discomfort, but traditionally, are we a huge blitz team, as the Buckeyes have been for the last decade? No. But that's certainly in our package and that might happen this week."
On the season, opposing quarterbacks have completed 56 passes for 552 yards and three touchdowns. But when the pressure comes, like it did for UCF signal-caller Blake Bortles in the third quarter on Saturday, turnovers follow.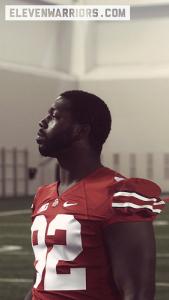 The saving grace has been the secondary, a unit that ranks third in the nation in passes intercepted. Cornerback Travis Howard is the owner of three of those interceptions, tied for the most by a single player in the country. It also tied his single-season career-high.
"It's better to bend, not break," safety Orhian Johnson said. "But you're not happy bending too much. The whole team steps onto the field with a chip on its shoulder, and we all have that 'hold them' mentality. We've been doing a great job at stopping the run. Now we just have to find that happy balance."
Cal receiver Kennan Allen is projected as the No. 6 overall pick in the latest CBSSports.com mock draft. If ever pressure was needed, it's against the Bears.
Howard, Johnson and Sabino helped intercept three passes against UCF, the first three-interception game for Ohio State since the 2009 Michigan game. But the secondary will be affected if the Buckeyes do decide to blitz.
"Anytime you add guys into the rush, you're taking them out of the coverage," cornerbacks coach Kerry Coombs said. "There's a give and take there. Whether it's a zone-pressure or a man-pressure, you're going to sacrifice something out of the backend in order to add to the rush. I think our kids are very good man-coverage guys. They're capable and able to do that. If we're going to add guys to the pressure, we're going to shorten the clock for the quarterback, and if we're doing that, that's great news."
A positive side effect from Bennett and Williams' absence has been the emergence of Spence, Washington and fellow freshman Tommy Schutt. The three first-year players impressed the staff the second they walked on campus, and nothing has changed since the dawn of the season.
Spence and Washington have been regulars in the front-four rotation and Schutt started in place of Bennett last Saturday versus UCF.
"They are great, great guys," Meyer said. "They work their tails off and then they are talented. There's no issue as far as want to, and there's no issue as far as try hard. It's just freshmen playing defensive line.
"So it's going to get better and better and better and as a result, you're going to get many learning issues or production issues. We had some just flat misalignments and that's usually one of those kids that just lined up wrong. So as they continue, those are three good names that the Buckeye fans are going to like to watch for the next several years. We just have to get them ready sooner."
Schutt said it was an "unreal moment" when Meyer announced the first-team defense in the locker room on Saturday.
"It was unbelievable," Schutt said. "It was something I had to take in and something I'll never forget."
Meyer doesn't forget, either. He has a long-term memory, and what's currently on his mind isn't an up-tempo offense; it's a slow-moving defense that can't reach the quarterback.
Ohio State may be near the top of most defensive statistics, but it doesn't fool Meyer. At this point, it's all a mirage
"We have a long way to go," he said. "You'd think we'd have a little more pressure. He had far too much time to throw the ball."