Here we go again. The importance of the punt.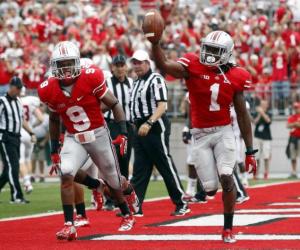 For Jim Tressel, who considered the punt the most important play in football, it was the execution of the kick and field position battle that had the most value.
For Urban Meyer, punts represent an opportunity for a block. The group of 11 players who comprise that unit are affectionately known as the "Freak Show."
And in one game, they've already made their presence felt. In Saturday's 56-10 victory over Miami (Ohio), no one even had to block a punt. The mere thought of the coming rush rattled Miami long snapper David Zulandt enough that he sailed the ball over punter Zac Murphy's head and into the end zone. Bradley Roby dove on the ball for the Buckeyes' first Meyer era special teams touchdown.
"I heard the crowd and I knew something had happened," Roby said. "Then I saw the ball on the ground and I went for it. I don't know who I beat for the ball, I just wanted it."
Along with a high-powered offense, Meyer also brings along superior special teams. Part of his 120-plus-page manifesto titled, "A Plan to Win," centers on winning the kicking game. That's why Ohio State is paying its special teams coach $4.44 million dollars. No, the Buckeyes don't have a dedicated special teams assistant. Instead, Meyer doubles as the head coach and special teams coordinator.
Virginia Tech head coach Frank Beamer has long set the gold standard for blocking kicks, but Meyer is certainly giving chase. In 10 seasons as a head coach, his teams at Bowling Green, Utah and Florida have blocked 51 kicks, third-most during that time frame (Texas 60, Fresno Sate 58).
"Coach Meyer definitely puts a tremendous premium on special teams," said sophomore Adam Griffin, the special teams player of the game in week 1. "He treats the special teams players just like they're starters on offense or defense. We work on special teams in practice every single day, probably harder than any team in the country."
Meyer's six years at Florida coincided with one of the best stretches of special teams play in college football history. All six of his Florida teams ranked in the top 12 nationally in net punting, and five of the six were in the top 10. They led the nation by allowing just 361 cumulative punt return yards. In 25 of Meyer's final 33 games at Florida, the Gators did not allow a single punt return yard.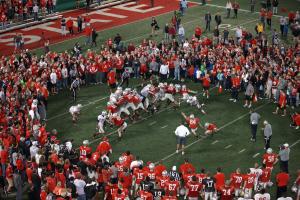 On Saturday, Ohio State continued that tradition, as Ben Buchanan didn't yield any punt return yardage on seven punts. Buchanan put two punts inside the 20 and averaged 42.1 yards per boot, with a long of 52 yards.
"We always say that if we aren't the best in America, then we're not as good as we should be." Griffin said. "On punt coverage, we don't want to allow any yards this season."
During an 80-game tenure in Gainesville, Meyer's Gators blocked 32 kicks (21 punts, eight field goals and three extra points). Florida was 16-0 when it blocked a punt. The Gators blocked multiple punts each season.
"The best place to start would be punt block," Meyer said. "One year we blocked an NCAA record seven or eight in a year. We want to come after it. We want to be a punt-block team, so that kind of tells you about the mentality we have. Our best players are on it. We want to change the game."
Saturday's "Freak Show" was Roby, Griffin, Orhian Johnson, Curtis Grant, Evan Spencer, Philly Brown, Pittsburgh Brown, Christian Bryant, Travis Howard, Ron Tanner and return man Devin Smith.
The objective is to not necessarily have the biggest guys on the punt-blocking unit, but instead the most athletic players. They aren't just there to give off a vibe, either. Their key word is aggressive. 
"A whole bunch of freaks out there," linebacker Etienne Sabino said. "Any one of them can block it. Bradley Roby, Travis Howard, all the real fast guys.
"You pick your poison. You block one of us and we have someone else who can block one."
Sabino showed a sense of disappointment that he wasn't included in the group, but knows the coaches scrutinize each pick closely. During his freshman season, Sabino returned a blocked punt for a touchdown against Purdue. Ohio State won the game 16-3 with Sabino's score being the lone touchdown of the afternoon.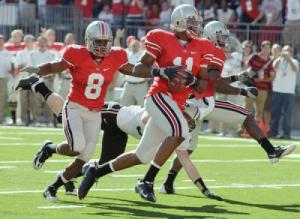 "He puts his best players on special teams," Philly Brown said of Meyer. "We're trying to lead the country in all sides of special teams this year."
Meyer devotes part of his day to scouting special teams before practice, and then he works with the unit during practice. In his book, "Urban's Way," Meyer explains the importance of special teams and his philosophy. It has continued to evolve every season.
"We play the game of field position, which means that any opportunity we can to go force a punt or after a bad punt we will," he said. "There's risk involved. Sometimes you run into a punter. I had that meeting right away with our players. Understand, I don't need any complaining by the defense if we run into a punter. Here's why we do that. I have the field position chart that we live by. (We'll be) very aggressive."
Philly Brown was recruited by Tressel and played under him, so he knows about the focus that is dedicated to punting. But he wasn't aware that so much time and emphasis could be put on blocking punts.
"I never knew it could be broken down this much," Brown said. "He preaches direct angles, indirect angles, getting people where they need to be. We know that if we block a punt, we have a 90 percent chance to win the game."
For a long stretch of Tressel's tenure, the Buckeyes enjoyed great success on special teams. At various points, Ohio State had Mike Nugent, one of the best placekickers in the country, and Andy Groom and B.J. Sander, two of the best punters during their time with the Buckeyes. The unit fell off tremendously last season, however, with Tressel's departure.
His brother, Doc, the running backs coach, dedicated some of his time to coaching special teams in 2011. But the level of focus never matched up with Ohio State's philosophy of how important special teams were to the overall product.
"Every day you're sitting in there thinking, 'What even happened last year,'" kicker Drew Basil said. "It was like one of those classes where when you show up, you get an 'A.' This year, we're learning stuff bit by bit."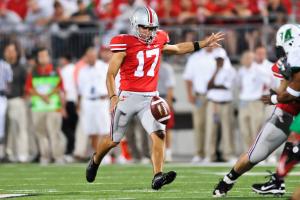 Basil quickly found out the stock Meyer put into special teams. At an open practice in the spring, with more than 2,000 fans in attendance, Meyer put the ultimate pressure on his kicker. During field goal drills, he had all of those who attended surround Basil as he sent field goals sailing over their heads. For good measure, Meyer stood at Basil's side.
"It's just awesome that everyone around you is Ohio State people yelling for you," Basil said. "I didn't know if they were yelling for me or against me, but I thought it was for me."
In the spring game, Meyer again put his kicker into pressure situations, having him kick field goals repeatedly as he stood close by. Hovering near kickers as they attempt field goals has been a practice employed by Meyer since he took over at Bowling Green.
"It took a few practices to get used to it," Basil said. "Now it's kind of weird when he's not standing there. It's going to be an adjustment in games when he's not there."
Through one week, Basil didn't get to find out. The Buckeye offense was too efficient, scoring eight touchdowns, not allowing any time for field goal attempts. The chances of Basil not attempting a field goal again against Central Florida are slim. And when he does, he better put it through the uprights because he knows an earful will be coming from his coach if he doesn't.
After punting the ball into the end zone against Miami, Buchanan trudged to the sideline knowing what he would encounter was menacing. Sure enough, Meyer approached him to unleash his displeasure. Buchanan tried to walk away several times, but to no avail.
With a head coach who stresses the significance of special teams and works individually with each kicker, there is only one objective when it comes to the 2012 special teams unit.
"If we're not the best in the nation with how much we go over everything, it's going to be a failure," Basil said. "We have to be the best. We're going to be the best."