The emotion of the season opener for coaches, players and fans is now gone. It's all about business from here on out. Venturing to Ohio Stadium on Saturday for the first time is the Central Florida Golden Knights. And dealing with a postseason ban themselves, UCF's opportunity to beat Ohio State becomes priority No. 1 for 2012.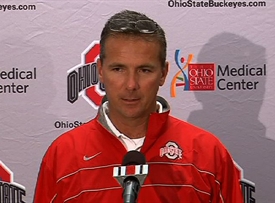 With 16 returning starters, the Golden Knights have been a sexy pick to be the best non-BCS school this season. They showed why in their opener, dismantling Akron to the tune of 56-14. Running back Latavius Murray finished with 108 yards, most coming in the first half, but there are murmurs a shoulder injury will keep him out of Saturday's game. 
After Meyer basked in the glow of his first game at the Horseshoe, he went back and watched the film. Several offensive, defensive and special teams players graded out winning performances. Meyer also revealed the players of the week. 
Without further ado:
Meyer thanked the crowd for the second-most attended season opener in Ohio Stadium history.
After Miami's first quarter, Meyer said the defense did a good job limiting Zac Dysert. Meyer pointed out that Dysert had only 138 yards passing in the final three quarters. He was also happy about holding the RedHawks to negative-one rushing yard.
Meyer's Plan to Win is clearly defined and winning the turnover margin is one of the key components. Ohio State was plus-three on Saturday.
Another part of the Plan to Win is red zone execution. Ohio State was five for seven, leaving Meyer disappointed.
Bradley Roby was defensive player of the game, Braxton Miller offensive player of the game and Adam Griffin special teams player of the game.
Roby graded out 83 percent. To be graded a winner at defensive back, you must grade out at least 80 percent.
Meyer said Christian Bryant played excellent and he was also happy with Travis Howard. Bryant graded out 96 percent, Howard 90 percent.
The players who graded out Champions on offense were Andrew Norwell, Jack Mewhort, Braxton Miller, Carlos Hyde, Philly Brown, Zach Boren and Devin Smith.
Hyde graded out 93 percent and 70 percent of his yardage came after contact.
On Smith's touchdown catch, Meyer said the wide receiver came to the sideline and was hanging close to him waiting for a compliment, but Meyer gave him the silent treatment.
Jordan Hall is doubtful this week.
Michael Bennett was planning on playing Saturday but re-injured his groin during warmups. Bennett is listed as a backup to JT Moore for this week's game. There is no word on whether Bennett will be able to go or not this week.
Meyer said he Tom Herman and Ed Warinner discuss offensive plays when the defense is on the field.
The wide receivers were given a grade of "B" by Meyer. He said they had a good, solid day, but there is much to improve on.
"Playing receiver in this offense is a grown man's job" - Urban Meyer.
Following Ohio State's first-quarter offensive adjustments, Meyer said he was pleased with the flow of the offense and number of big plays.
Meyer said Nathan Williams was very sore on Sunday. After the game, Williams said he thought that would be the case. Meyer says he thinks Nathan Williams played 30 snaps.
The goal-line offense is likely to be adjusted after Hyde was stuffed before halftime. Meyer said Ohio State has to score on those plays in the future.
Told Braxton has been mentioned in the same sentence as the Heisman, Meyer said, "Oh, Gosh."
Meyer said Ohio State expects more out of Braxton Miller, especially throwing the ball, despite his record-setting day on the ground.
Craig Cataline, a walk-on, last played football in 2005. After serving in the Navy in Iraq, he is now a member of the OSU team.
Ohio State had no serious injuries besides Bennett, who had already injured his groin.
Meyer said Adam Bellamy will not return to the team. He said Bellamy lost his love for the game of football.
Fullbacks/tight ends coach Tim Hinton jokingly said Boren was excited to have his career rushes doubled Saturday.
Hinton said Boren called him Saturday night to go over things he thought were good and others that could be improved upon.
When you get close to the goal line, Hinton said it's as much about mentality as execution and ability.
The Buckeyes need to come off the line with a hard-nosed mentality that they are going to push opposing linemen off the ball and get the rusher into the end zone.
Saturday was Hinton's first game with Meyer, and he said he was struck by the head coach's professionalism even when things were not going in Ohio State's favor.
Hinton said Nick Vannett showed promise catching the ball and Jeff Heuerman was great blocking. Heuerman should have more opportunities to catch some passes in the future. 
Defensive line coach Mike Vrabel said the most important part of Saturday for Williams was building his confidence back up.
On Williams' near sack, Vrabel refused to call it an opportunity. He said Williams' responsibility was to get the sack and he failed.
Vrabel will be inducted into the OSU Athletics Hall of Fame in two weeks. He called it an exciting time.
UCF's offensive scheme will be totally different than what they showed against Akron, Vrabel said.
Meyer commented on players watching opponent film on iPads. Vrabel said John Simon is old school and watches in the facility and takes notes with pencil and paper.