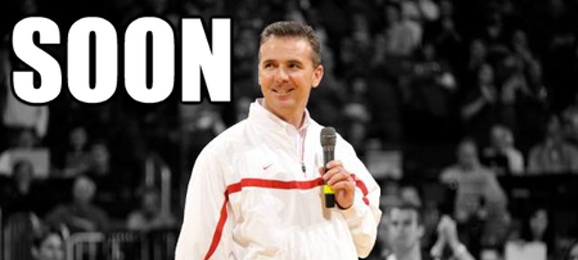 Congratulations. You made it to Zero Day.
Have any trouble sleeping last night? Perhaps you were up watching Michigan State running back (and Reynoldsburg product) Le'Veon Bell go off against Boise State. The win was not only huge for Mark Dantonio and the Spartans, but also for the Big Ten Conference as the Broncos suffered just their 7th defeat in the last seven years.
Bell finished with 44 carries for 210 yards, good enough for the most by a B1G player vs a ranked non-conference team in a regular season game since Maurice Clarett ripped off 230 yards in the 3rd game of his freshman season against Washington State.
Or maybe you were up late watching big time coaches friend it up with 2014 prospects on the first day juniors are allowed to receive written offers.
If you're into hot and sexy legal action, you may have caught the late-breaking news of a lawsuit aimed right at the heart of the NCAA's amateurism fortress. Keep an eye on that.
Urban Meyer's Buckeyes will face Miami at noon and we'll have you covered with a live blog, but today's slate features several other games to keep an eye on. Here they are:
| Time | GAME | TV | INTERNET | FAVORITE |
| --- | --- | --- | --- | --- |
| 9:00am | Notre Dame vs Navy (Dublin, Ireland) | CBS |   | ND (-15) |
| 12:00pm | Buffalo at #7 Georgia |   | ESPN3 | UGA (-38.5) |
| 12:00pm | Marshall at #11 West Virginia |   |   | WV (-26.5) |
| 12:00pm | Northwestern at Syracuse | ESPN2 | WatchESPN | NW (-1) |
| 12:00pm | Ohio at Penn State | ESPN | WatchESPN | PSU (-6.5) |
| 12:00pm | Western Michigan at Illinois | ESPNU | WatchESPN | ILL (-10) |
| 3:30pm | Northern Iowa at #10 Wisconsin | BTN | BTN2GO |   |
| 3:30pm | Southern Miss at #17 Nebraska | ABC/ESPN2 (Map) | WatchESPN | NEB (-20) |
| 3:30pm | Bowling Green at #24 Florida | ESPN | WatchESPN | UF (-29) |
| 3:30pm | Iowa vs Northern Illinois | ESPNU | WatchESPN | IOWA (-9.5) |
| 3:30pm | Eastern Kentucky at Purdue | BTN | BTN2GO |   |
| 6:00pm | Murray State at #6 Florida State |   | ESPN3 |   |
| 7:00pm | North Texast at #3 LSU | ESPNU | WatchESPN | LSU (-44) |
| 7:00pm | Jacksonville State at #12 Arkansas |   | ESPN3 |   |
| 7:00pm | #14 Clemson vs Auburn | ESPN | WatchESPN | CLEM (-2.5) |
| 7:00pm | Savannah State at #19 Oklahoma State |   |   |   |
| 7:30pm | Hawaii at #1 USC |   |   | USC (-42) |
| 8:00pm | #8 Michigan vs #2 Alabama | ABC |   | BAMA (-14) |
| 8:00pm | Indiana State at Indiana | BTN | BTN2GO |   |
| 10:30pm | #5 Oklahoma at UTEP |   |   | OKLA (-30) |
| 10:30pm | Arkansas State at #4 Oregon | ESPN | WatchESPN | UO (-37) |