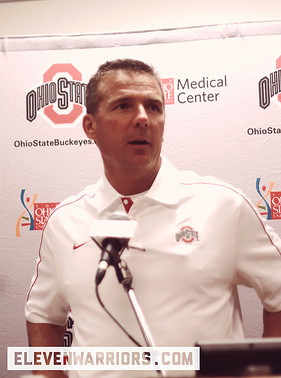 Another day of Ohio State camp began this afternoon, just a day before classes resume. Head coach Urban Meyer set the tone at the beginning by demanding competitive excellence out of his team. The staff made it clear that the mentally strong players would see the field and the mentally weak wouldn't.
A handful of players were limited in action today, but nothing serious to where anyone is expected to miss any time. John Simon did not practice but does expect to resume activity tomorrow. Frank Epitropolous, Josh Perry, Nathan Williams, and Jordan Hall were doing work on the side and kept out of team drills. Michael Bennett, Ryan Shazier, and Kyle Dodson were on the field with the team but donning green jerseys, indicating they would not be at full strength for the practice. 
In more positive news for Buckeye fans, another freshman had the privilege of removing his black stripe from his helmet today. A symbol representing the culmination of the journey through the rite of passage for the freshmen, preferred walk-on Joe Burger officially became a full-fledged Ohio State football player. Burger, who became the 8th freshmen to remove the black stripe, had Adam Griffin as his big brother. 
• Coach Meyer demanded competitive excellence from his team at the beginning of practice. Meyer said they needed to continue to "build their toolbox". Meyer said the toolbox was almost full but it was up to them to do the rest. Meyer said the mentally weak would not play, and that only mentally strong football players win games.
• During the running portion of warm-ups Coach Vrabel was very energetic, participating with the team. At one point he was challenging and racing Marcus Hall, pushing him to exert maximum effort. Later on in warm-ups, Coach Warinner was doing the same with Kyle Dodson.
• Meyer was coaching the punt in the portion following warm-ups. Meyer stressed that they didn't just need to practice the punt, but the perfect punt. Fickell was very involved in the punting practice as well.
• Bradley Roby and Chris Fields were receiving the punts.
• With Simon sidelined and Michael Bennett somewhat limited, J.T. Moore and Steve Miller saw reps with the first team today.
• Corey Brown was on the first team playing the STAR position today. Christian Bryant and C.J. Barnett were the safeties. 
• Roby and Travis Howard were the cornerbacks on the first team.  Doran Grant was with the second team.
• Zach Boren was grouped with the running backs today instead of the fullbacks/tight ends group.
• C.J. Barnett said they feel good about where the defense is at.  He said they are returning everyone in the secondary and have a very strong defensive line unit.
• Barnett mentioned that Devan Bogard and Noah Spence have made an impact.
• Doran Grant said that Armani Reeves and Najee Murray have caught his eye as freshmen that have done well. 
• The five that were named captains did not surprise Grant.  He said all five are born leaders.  They were the ones he voted for.
• C.J. Barnett, Travis Howard, and Johnathan Hankins have also shown great leadership according to Grant.
• Throughout his freshman year, Travis Howard was like a big brother to Grant and they have a great relationship.  There is no tension despite the battle for playing time.  Grant said, "The best man wins. Play ball."
• Grant said that he expects himself, Howard, and Roby to all see the field and play.  He said they just do what Coach Coombs tells them to.
• There has been a big difference this year for Grant.  He feels faster and is able to react much better. 
• The wide receivers are more competitive and hungrier.  Grant mentioned Michael Thomas as a guy who has impressed him.  Grant also said Devin Smith was stronger and is running quicker routes.
• Devin Smith said the offense is much more fast-paced and he enjoys it that way.  He said you just have to go out and beat the man in front of you.
• Smith could not believe it when he heard Urban Meyer was hired.  He was excited because of the history of winning that Urban Meyer had. 
• Meyer has shown a lot of emotion according to Smith.  You can tell how much he loves Ohio and enjoys being back.
• The biggest change Devin Smith has seen has been the transformation in the bodies on the team and the leadership on the team.  Braxton Miller has been more vocal and taking control of the team. 
• Johnathan Hankins said the offense has been more competitive and is beginning to catch up.  He said that the offense has been challenging them more now than in the past.
• Coach Fickell has kept the defense the same, but has emphasized attacking.  Hankins said they are stressed to get up field, penetrate, and wreak havoc on the offenses.  They want to get after the ball and the quarterback.
• Hankins always told everyone he wasn't that big.  He said it's nice to have Chris Carter around so everyone knows that now.  He said that Carter can help the team this year but that he can't take plays off when he's tired. 
• Hankins said that Garrett Goebel is an important piece to the defensive line and that he wasn't surprised when Goebel was named a captain.  Goebel does the dirty work and allows everyone else to do their job at a high level. 
• Adolphus Washington is a great pass rusher according to Hankins.  Hankins said Washington had a great practice stopping the running game.  He said that with Washington and Spence, there will be more sacks. 
• Hankins made it clear he wouldn't need to come out too often this year for a break.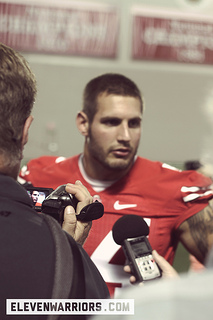 • John Simon said he missed practice today only for precautionary reasons.  He could have been out there if needed.  It was the only day he has missed and expects to get back out at full strength tomorrow.  However, Simon did find a way to get out there at the end of practice, he said.
• This year's defense is the best conditioned group Simon has played with.
• Keeping the younger guys focused and to have them continue to get better everyday is a goal of Simon's.
• It was a tremendous honor to Simon to be named captain.  He said it is a great group of captains and it is their job to lead well and be responsible.
• Simon said the team had good leadership last year and that those guys do not get enough credit.
• Garrett Goebel said the strength of the defensive line is the depth they have at the position.
• It was the winter when Goebel believes the coaching staff began to take notice of his ability and value.
• The difference for Goebel this year he says is his much improved technique.
• Goebel played last year at 280 pounds and is now up to 290.
• Goebel said Coach Marotti is awesome, and that he can't look at Marotti without smiling.
• Jordan Hall said the offense is tired of losing in response to the success the offense had in the latest scrimmage.
• Hall was "giddy" when saying that Braxton Miller and Kenny Guiton both look very good.
• The staff always stresses ball security.  Hall said that you do not want to have to participate in the "pry drills", which are a result of putting the ball on the ground as a running back. 
• This is the type of offense you want to play in if you are a playmaker, according to Hall.
• Hall said the fans can expect a lot of excitement and points from the offense this year.
• What has made Braxton better this year is how vocal he has been, Hall said.  He did not do that last year.
• Hall said this team can be great, and that Coach Meyer is good at motivating them to be.
• Coach Herman said the coaching staff told Zach Boren not to worry, and that if he worked hard and proved his value, they would find a place for him.  Herman said Boren now has a different attitude because he knows he will be involved and get the ball.
• There is not a benchmark on the number of plays Herman wants the offense to run per game.  That decision will be game dependent.
• The offense will not take more unnecessary risks than other offensive styles just because it is a spread attack.  Herman said ball security is always key.
• Coach Herman says just because he is now the offensive coordinator at Ohio State doesn't mean he has more pressure on himself.  The pressure he has is all internal pressure, and it has been the same since he was a 23-year-old wide receivers coach.  The job of a coach is to get your players to perform their best regardless of what team you coach for.
• Nick Vannett and Philly Brown had a great practice according to Herman.  The offense also ran the ball very well today. 
• Herman said they ask a ton out of their tight ends.  For that reason, Herman said the tight end position is probably one of the more mentally exhausting positions on the team to play.  He said the tight ends have so much to learn.
• The offense is very rhythmic, Herman said.  They will be able to crank the tempo up when they find a rhythm. 
• Herman said Carlos Hyde has grown up.  Hyde has more speed than you think in the open field.  The difference has been the way Hyde has stepped up his mental game.  Hyde has taken ownership of the position meetings and has embraced that it's his time to shine with Jordan Hall being out.  When Hall returns and is healthy, Herman said Hyde and Hall could find themselves on the field at the same time.
• At Ohio State Herman said they will fit their offense with their best players.
• Fickell joked around when told Tom Herman said the offense had caught up to the defense.  He said "Where's Coach Herman now?  He didn't say that with me in here."
• In response to Joe Burger being a walk-on and getting to take off the black stripe, Fickell said "The stars and ratings in recruiting don't matter.  It's all about getting from point A to point B and 4 to 6 seconds of non-stop hard work and effort."
• Fickell can tell the linebackers are trying.  Their maturation takes longer because they have a lot to learn. 
• The new defensive coaches have things they bring to the table that they will integrate into the scheme.  It's going to be a group effort.  Fickell said they will keep most of the defensive terminology the same so there's some turnover. 
• Fickell said they don't know who will start at the STAR position.  It has bounced around.  He mentioned Corey Brown and Christian Bryant as possibilities.
• Fickell said they know they will play Noah Spence and Adolphus Washington, but they're not sure when or how much.  It comes down to how they react and respond.
• Garrett Goebel is the unsung hero on the defense according to Fickell.  Goebel contributes in ways that don't show up on the stat sheet.
• Fickell was asked if it is a concern for the defense that they have only seen the spread offense in practice and not any other styles.  Fickell said it is tough to tell at this point.  He said that Meyer is always asking him what more he can do for Fickell to help prepare his defense and that he can make it happen.
• Fickell said it's great to have to pull a guy like Simon back instead of pushing him forward.
• Josh Perry, Camren Williams, and David Perkins all have opportunities to see the field at linebacker this year, Fickell said.
• Fickell said if you do not have 6 linebackers you are comfortable playing, you don't have a good night's sleep.