Ryan Shazier grew up in South Florida and committed to Florida, Etienne Sabino watched the classic Miami Hurricane teams of the 90s and 2000s while growing up in the shadows of the Orange Bowl and Michael Thomas hails from Los Angeles, the nephew of former USC standout Keyshawn Johnson.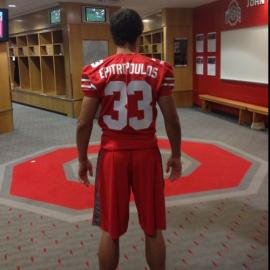 They're all Buckeyes now, and no one is questioning their loyalty. But none of the three know the history and tradition of the Scarlet and Gray quite like freshman wide receiver Frank Epitropoulos.  A native of Upper Arlington, Epitropoulos' father, John, and uncle, Ernie, suited up for Ohio State under both Woody Hayes and Earle Bruce from 1978-1980, and his mother, Alice, earned her degree from the university.
More than three decades later, Bruce's grandson, Zach Smith, is Epitropoulos' position coach. In a sense, it is history repeating itself and both are living out a fantasy of sorts. When Epitropoulos runs out of the tunnel in Ohio Stadium on Sept. 1 as a member of the Ohio State football team, a lifelong dream will have been fulfilled.
"I've been coming to games hoping I'd be playing for Ohio State someday," Epitropoulos said. "I grew up wearing Ohio State jerseys. Now I'll have my own. All that hard work finally paid off. Hopefully, I can get out there and contribute on the field."
He calls his greatest thrill sitting in Sun Devil Stadium watching the Buckeyes beat Miami to win the 2002 national championship.  Epitropoulos' adoration for Ohio State is unwavering. He committed to Ohio State during the height of the TatGate saga, proving through thick and thin that he was a Buckeye.
"It was very frustrating, especially because we lost Coach (Jim) Tressel," Epitropoulos said. "He gave me the opportunity to come to OSU, so it was heartbreaking to see him go. But I committed to the program and the school, not the person. I wasn't going to break a commitment."
The loss of Tressel hit Epitropoulos especially hard. The two had developed a close relationship from the time Epitropoulos was a middle schooler. When your father and uncle played at Ohio State and you live a short jaunt from the Horseshoe, the chances of seeing the Ohio State head coach are fairly high.
After Tressel was ousted, he still called Epitropoulos to check in on his progress with the Upper Arlington Golden Bears. The answers undoubtedly were good, because Epitropoulos produced despite being injured. He missed four games but still managed to snag eight touchdowns. After a three-year hiatus from the state playoffs, Upper Arlington ventured to the postseason in 2011.
During his junior season, Epitropoulos caught 25 passes for 459 yards and seven touchdowns. He was also the punter, averaging 39.2 yards per punt last season, down from 42.2 as a junior. His punting prowess earned him All-State honors for two seasons.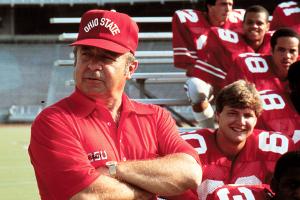 Epitropoulos was rated as one of the top players in the state last season and in the Top 100 nationally as a wide receiver. In February, he represented Team USA in the International Bowl in Austin, Texas, where he finished with three catches for 98 yards, including a 59-yard touchdown reception.
Ohio State's freshman class of 2012 has developed a special bond after enduring harsh treatment from other recruiters and constant uncertainty surrounding possible NCAA sanctions. For Epitropoulos, who committed in April, the unknown lasted the better part of a year.
The level of confidence inside the walls of the Woody Hayes Athletics Center 16 months after Epitropoulos' declaration is striking compared to the depths the program fell to.
"There's relief because everything is stable," he said. "We have a head coach that is going to stay here for a while, and he's going be great.
"The intensity oozes out of him. He's very intense. He encourages you, but his intensity makes him special."
The 25-member recruiting class is also bound together by black stripes on their helmet, signaling that they're not yet Buckeyes until it's removed. Epitropoulos is one of the more than a dozen freshmen who still have the stripe.
"It gives you something to work for," he said. "You go in to practice every time with the mindset of what do I have to do to get it off. It motivates you and you work that much harder to prove yourself."
In an interesting twist, Bruce is the mentor of head coach Urban Meyer. Epitropoulos has known Bruce for years and the words he uses to describe the Buckeye legend – demanding, intense, challenging – sound like the same adjectives people use when labeling Meyer.
And like Epitropoulos and Bruce, Meyer is a Buckeye, born and bred.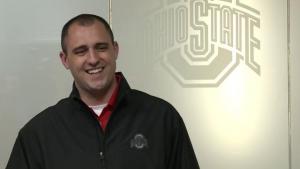 "He's a great fit for this program," Epitropoulos said. "He is doing great things here already. He's had success wherever he's been, and I think that will carry over to Ohio State."
As seen on ESPNU's All Access Training Days production, Smith has some of his grandfather in him: a yeller. In the second episode, a segment on the wide receivers featured Smith raising his voice to the receiving corps. It wasn't all harsh; motivation is the coaching staff's objective.
Wide receiver is the position that has been under the biggest need to improve. It's been a well-documented process. So far, Epitropoulos believes the fall has been a step in the right direction.
"Practice has been going well," he said. "The staff has been on us. They're definitely intense. Everything is competitive. We're all trying to do our best and improve. We've got a great group of wide receivers, and people will see that in the fall."
Listed as 6-foot-1, 197 pounds, Epitropoulos is in the mold of former Buckeye Dane Sanzenbacher. Following his commitment to Ohio State, Epitropoulos was immediately compared with Sanzenbacher, who may have been somewhat undersized, but made up for it by catching anything thrown his way. 
He made an immediate impact by catching a touchdown pass on his first career reception. Sanzenbacher developed into a reliable receiver his sophomore season and then took off his last two years, hauling in a combined 91 receptions for 1,518 yards and 17 touchdowns. He tied the school-record with four touchdown receptions in one game and was named the Team MVP for his senior season.
Sanzenbacher reached out to Epitropoulos, telling him hard work, being smart on the field and studying the playbook were three must-do tasks.
"He gave me some great advice," Epitropoulos said. "I'll use it throughout my career. It takes hard work and dedication, putting in extra work before and after practice. That's how you succeed. I want to be remembered like he is, as a great receiver. I just want to be the best player I can be."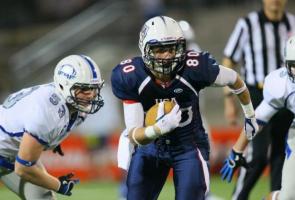 No one has a guaranteed spot at the position yet, and it's something Epitropoulos is aware of. But two veterans have stuck out to him. One – Corey "Philly" Brown – is no surprise; Meyer has mentioned him numerous times. But the other has gone under the radar.
"Every day and every practice is a new opportunity to try and earn a spot," Epitropoulos said. "Corey Brown has been impressive. Chris Fields has too. I think each guy has done good things. Everyone is improving."
That includes the guy getting them the ball: Braxton Miller. Not only have his mechanics gotten better from a season ago, but he's become a leader in the locker room and inside the huddle, Epitropoulos said.
Epitropoulos isn't just a one-trick pony. He has an entire arsenal, one of which includes punting. With Ben Buchanan in the midst of his final season, Epitropoulos could find himself behind a long snapper next season, as well as split out wide.
He's been working in limited time with the punters in practice, and he's delivered some booming kicks into the sky. Place kicker Drew Basil is listed as the backup, but it looks like Epitropoulos could be getting groomed for the fulltime job next season.
"If I am one of the best punters on the team, I'll do it," he said. "I'll do whatever it takes to help the team. It's the coaches' decision on that. We'll see how it goes."
In the meantime, Epitropoulos will continue a grueling camp that pushes players to the limit. At night when he's exhausted and calls it a day, he'll lay his head on his pillow and fall asleep.
The dreams, however, won't compare to real life.