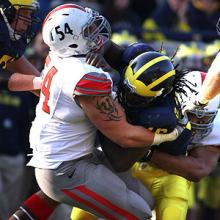 By now the story has been repeated countless times. After strength coach Mickey Marotti worked Ohio State's entire roster to the brink and Urban Meyer ran his first spring practice, the head coach described his defensive stalwart as "Tebowish."
The high marks have continued to pour in over the summer from Meyer. It is clear how much stock he puts in his senior leader, John Simon, and how critical Simon's presence on the field and in the locker room is to Ohio State's success.
At the Big Ten's annual media days in Chicago last week, Meyer altered his statement.
"I should say Tebow is Simonish out of respect. Just incredible character, incredible," he said of Simon. "He's got a job with me anytime he wants. I hope he goes and plays football for 20 years, and then when he's done, I'm hiring him."
All the talk is humbling to Simon, who, despite his hulking figure, is a quiet, reserved young adult from blue collar Youngstown. It's no surprise that his work ethic has reached legendary status when his rust-belt roots are discovered.
Workouts – possibly even those of the Marotti variety – come easy for Simon, considering he began lifting weights in fourth grade at the urging of his father. Compare that with fellow defender Etienne Sabino, a senior linebacker, who didn't begin weightlifting until he was a junior in high school – seven years after Simon.
Simon anchors a defensive line that will be among the Big Ten and nation's best. And if Ohio State is to reach the lofty expectations surrounding the 2012 season, the line will have to perform up to the standards set by Buckeye defenses of the past, something that was lacking one year ago.
"We're kind of banking on it," Meyer said of the defensive line setting the tone. "That's where you start. The spread offense and shovel passes are cool, but at the end of the day, do you have one of the best defensive lines? If so, you have a chance to have one of the better teams in our conference. I like our guys. I don't love them yet, but I like them. I love the guy who is here (Simon)."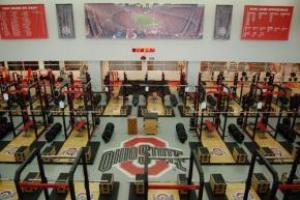 Simon doesn't have the polarization of Tebow and he doesn't elicit Heisman hype, but Simon does evoke the same competitive fire in himself and his teammates. He sets the bar in the weight room, on the practice field, in the locker room and on game day.
Meyer believes elite players of Tebow and Simon's stature are wired differently, calling them "freaks" and "bizarre" in regards to their self-discipline, self-respect and work ethic. The two persuaders are 1 and 1A, according to Meyer, in terms of hardest workers. And they also have an aura of optimism that becomes infectious.
It's that quality – affecting teammates positively – that Meyer appreciates more than any other. Once the floodgates open, motivation swells through the locker room like an out on control force.
"It's called harnessing the power of the elite," Meyer told a group of Ohio high school coaches this spring. "Because John Simon can go in there every day and lift with Mickey Marotti, and that serves no purpose. And that's what he used to do here, come in every day and lift with the strength coach. He's going to lift anyway."
Meyer has since added a wrinkle to the team rules, or rather Simon's own personal set of instructions: he cannot enter the Woody Hayes Athletic Center alone.
"For a while there, (Marotti) would say, 'Simon is in at 6 a.m,'" Meyer said. "OK, let's have Simon bring two or three guys who wouldn't come in, and he's not allowed to come in with Zach (Boren) because he and Zach are the same type of guy. So he brought in Curtis Grant, Ryan Shazier and Noah Spence. So here's a true freshman (Spence) who's learning from the best. Now he's giving something back to the team. He brings in guys that are not necessarily the most motivated guys. He tries to teach them a work ethic."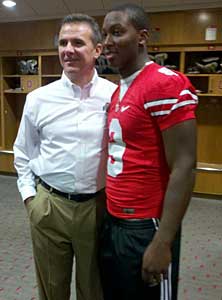 The teacher and pupils don't just toil during the work week, either. They are also present on the weekend. Simon may have to rouse them in the morning. After all, this is someone who awakes willingly at 4:30 a.m. on a near daily basis. But once the trio of underclassmen gets into the weight room, determination takes over.
"They do a great job," Simon said. "I'm looking forward to what they do in the season."
Most people, whether it's running or lifting, tolerate working out but never fully embrace it. Simon is not most people.
"If you're going into workouts and not having a good time, you're not reaching your full potential of what you can achieve," he said. "I'm not saying they're not hard, but the physical pain and the mental pain you have to go through to endure those workouts is what makes it fun."
Clearly Simon has a different idea of fun than most people. In Ohio, riding rollercoasters at Cedar Point, jet skiing at Lake Erie and other forms of outdoor recreation are considered summer fun. It's reached a point where Meyer doesn't even ask his strength coaches for reports on Simon. The response has become like the chorus of an annoying song played over and over on the radio – it never changes. 
"He's a nut job," Meyer said. "He told me his dad texts him every morning and says, 'great arm workout.' So I see where he gets it now. His dad's out of his mind like he is. Great family."
He leaves his teammates flabbergasted, as well, even Boren, who also uses the facility as a living room. 
"It's hard because your arms are dead," he said of working out with Simon. "John will give out a big yell, call us some names and pull out the 80s and start rubbing it in our face."
In the fall, quarterbacks will play the part of protagonist. Simon, as always, will have the starring role.