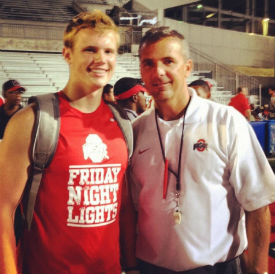 There was a lot of buzz heading into the first Friday Night Lights camp in Ohio Stadium, with much of it surrounded the quarterback position.  
Four of the top signal callers in the class of 2014 showed up to the camp as expected in DeShone Kizer, Joey Duckworth, Caleb Henderson, and Drew Barker.  These quarterbacks did not disappoint as they all delivered strong performances, making things even harder for the staff to decide which player they will decide to offer in the next few months.
Hebron (KY) Conner product Drew Barker caught the eye of many immediately at FNL, as he continues to grow in size and stature.  Barker said he is now up to 210 pounds and he was easily the most consistent and accurate passer throughout the camp, along with Henderson.  
Barker's latest visit to Columbus was already his fourth time on campus before his junior season even starts.  He visited Ohio State unofficially in the spring, visited for the annual spring game, and competed at the Buckeyes' camp at the end of June.  Heading into his third high school season Barker is already very familiar with the OSU coaching staff and campus, a big plus for someone Urban Meyer once compared to his former star quarterback at Utah, Alex Smith.
Have Barker's camp performances been enough to earn an offer?  Will he be next in line to stand under center for the scarlet and gray? Keep reading to find out.
What did you think of your fourth visit to Columbus?
It was a great trip.  I got there midway through Friday afternoon and just hung out before we went to the stadium.  I was able to meet some of the kids in my class that I talked to on Twitter and Facebook like Thaddeus Snodgrass, Mikel Horton, Dante Booker Jr., Raekwon McMillan, Clifton Garrett, and Artavis Scott.  I talked to Artavis for a while and he did really well at the camp.  It could work out where we all play together, but we all know we have to make the best decision for ourselves.
What did you think about the overall experience of Friday Night Lights?  
Coach Meyer had told me before that this would be a special camp.  He said that others would try to mimic it or duplicate it, but that they would be unable to do so.  He reiterated that there wouldn't be anything out there like Ohio State's version of Friday Night Lights, and he was definitely right.  It was the best camp I've been to.  It was just amazing to be out there with the lights on, the music loud, being in the shoe, and competing in front of the fans.  I also enjoyed watching the highlight videos on the scoreboard.  Talking with the former Ohio State quarterbacks, Craig Krenzel and Bobby Hoying, was a real joy to me.  Krenzel talked about his national championship experience so that was awesome to hear.  
What did you think about your overall performance in the 'Shoe?
I definitely felt a lot better about my performance this time around than my previous camp at OSU.  I was more consistent this time and I got in a rhythm a lot quicker than I did during the camp in June.  
Did you get a chance to talk to any of the coaches afterwards?
I did get a chance to talk to them  They complimented my performance.  They also said they aren't going to offer any 2014 quarterbacks until about midway through the season.  They want to see us in action and how we lead our teams to wins and react to different situations.  I'm perfectly fine with it.  They're going to recruit the heck out of me they said.
Have the coaches told you how many quarterbacks they plan on taking at this point?
I have talked to them about it and they said that at this point they only expect to take one.  They were honest and let me know that it could change, but as of now just one.
Are any schools recruiting you harder than others?
I do not think so really.  It's all pretty spread out and even currently.  I would just say Cincinnati and Louisville have been recruiting me the longest, which is understandable because of how close I am to those campuses.
Do you have any plans for the fall as far as visits go?
I'll definitely be at Ohio State for a game this fall, maybe two.  I want to see them play Michigan for sure.  I plan on seeing a game at Alabama as well, and possibly one at Purdue.  
HIGHLIGHTS: